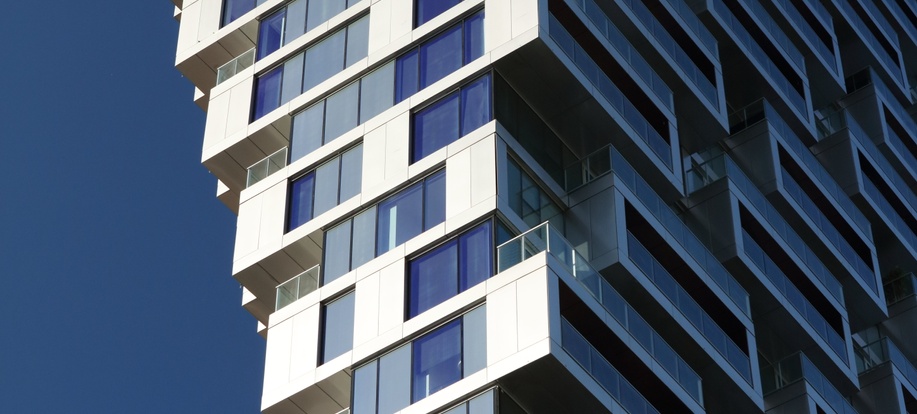 Project Team
Mechanical Engineer

: Integral

General Contractor

: ICON

Developer

: Westbank

Sustainability Consultant

: Integral

Structural Engineer

: Glotman Simpson

Design Architect

: BIG Bjarke Ingels Group

Local Architect

: DIALOG

Landscape Architect (Design)

: Phillips Farevaag

Landscape Architect (Local)

: Smallenberg
Green Building Audio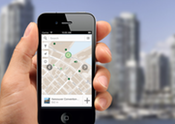 Targeting LEED Green Education Credit?
Our audio tours qualify.
Get one today!
style="font-size: 12px;">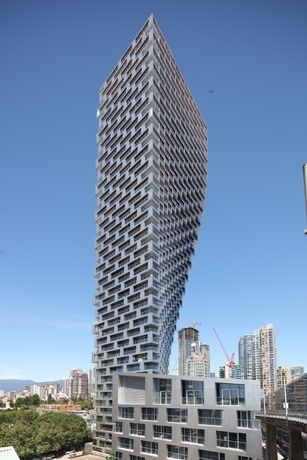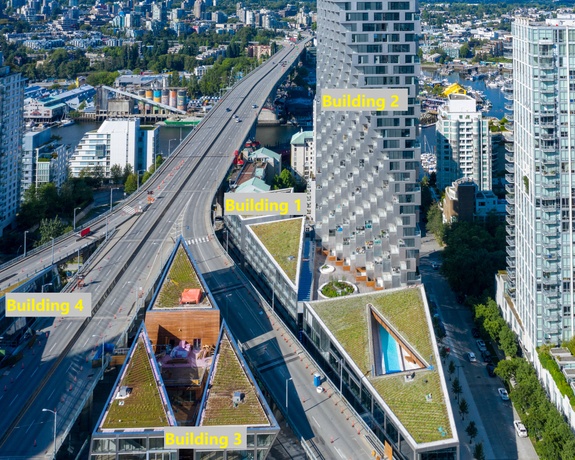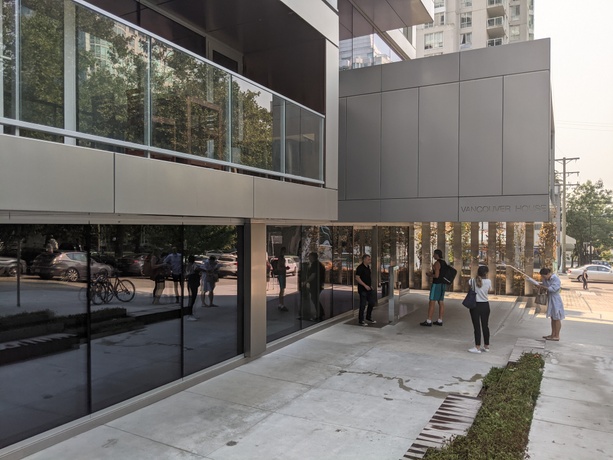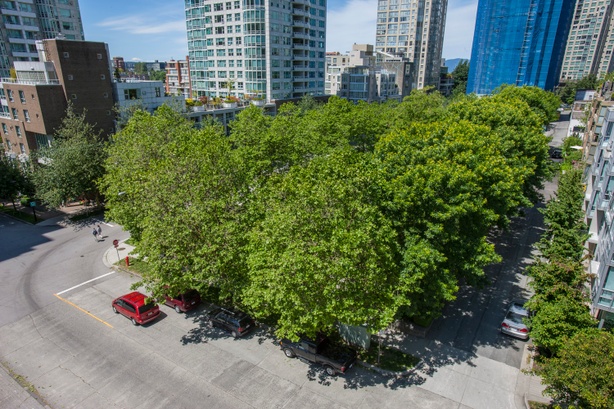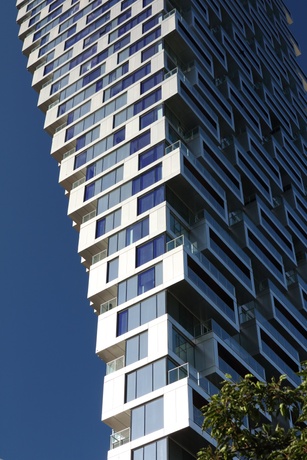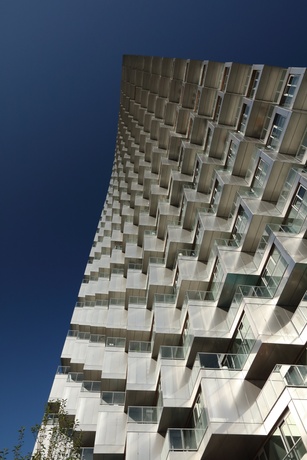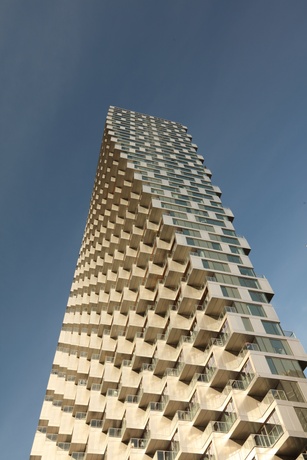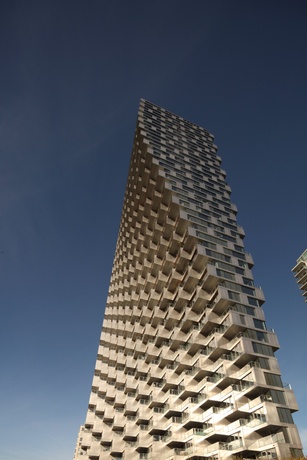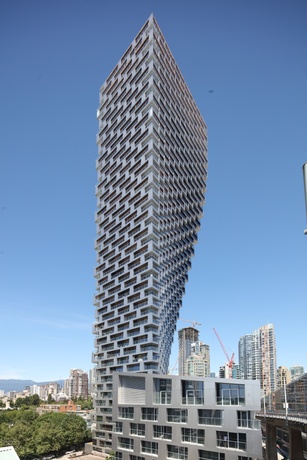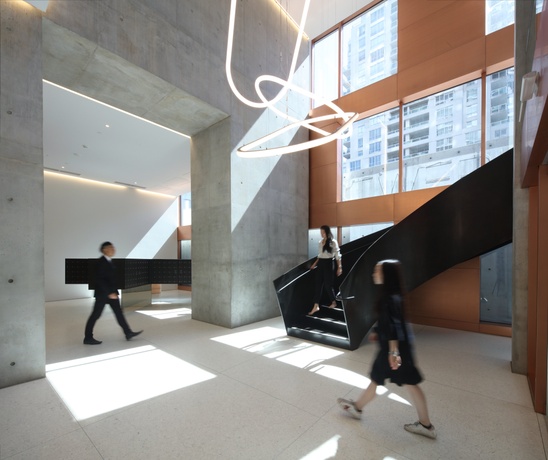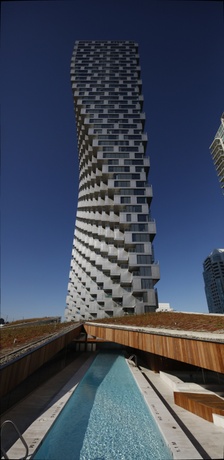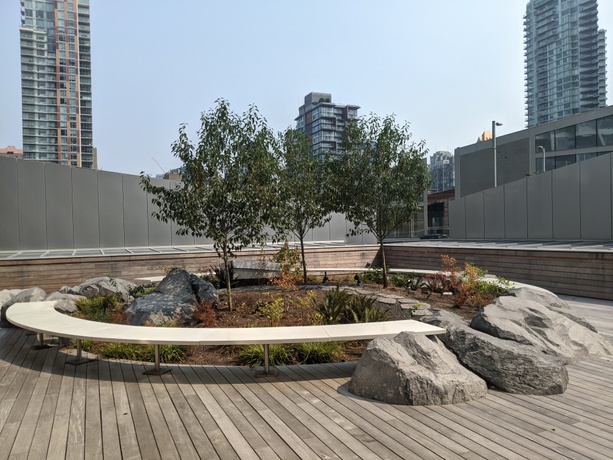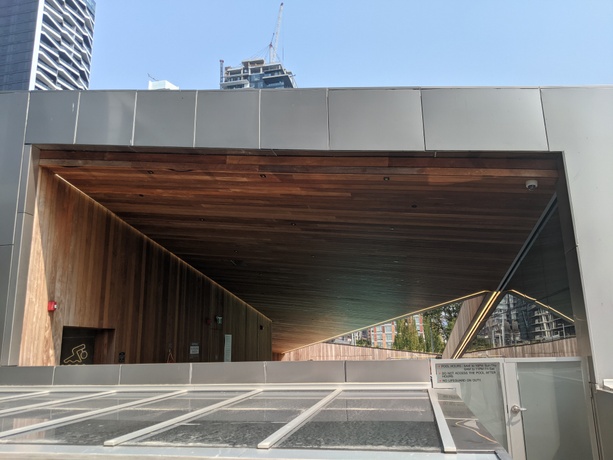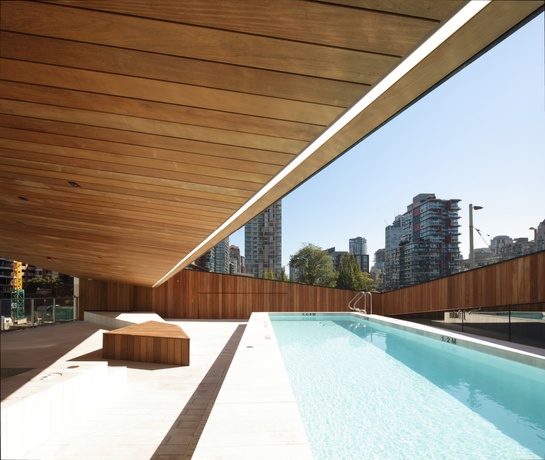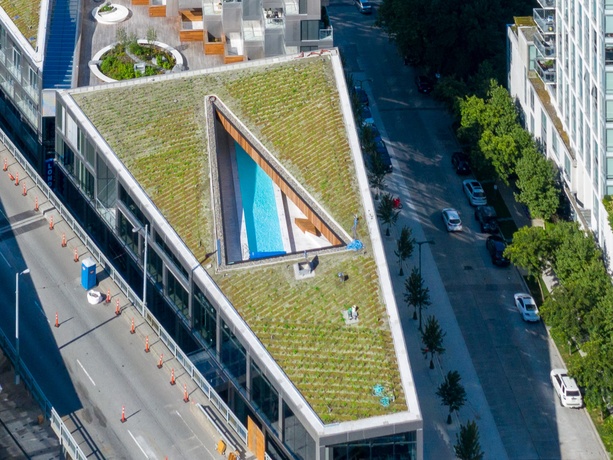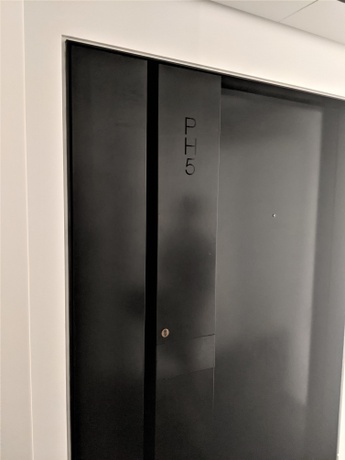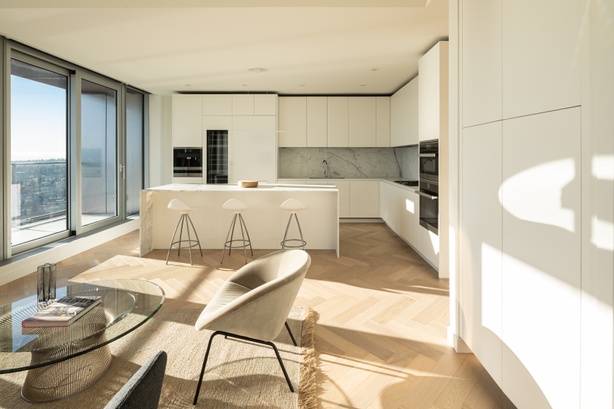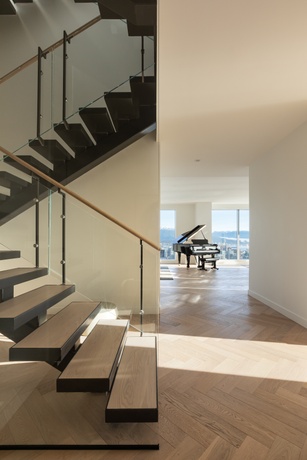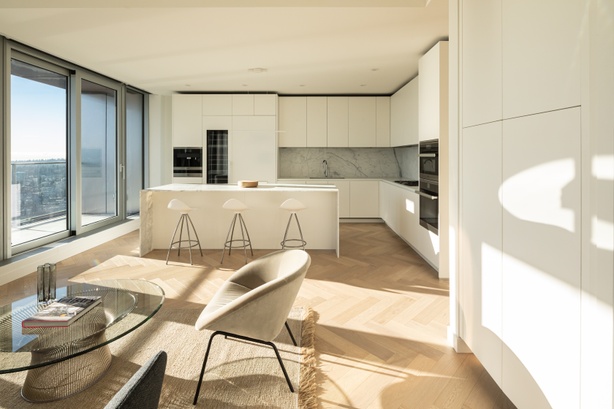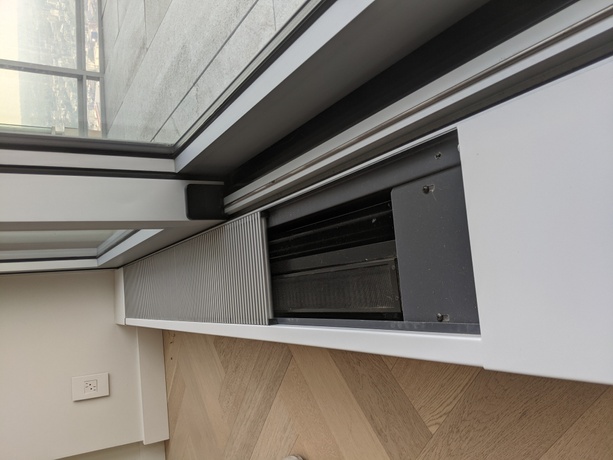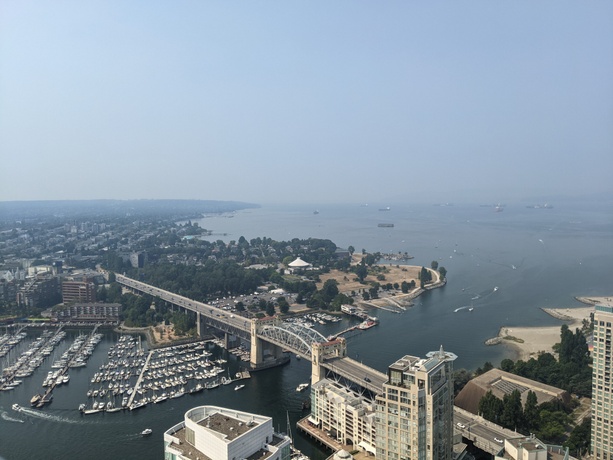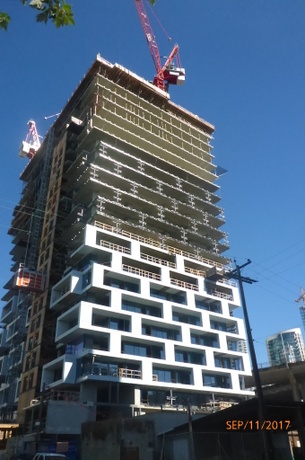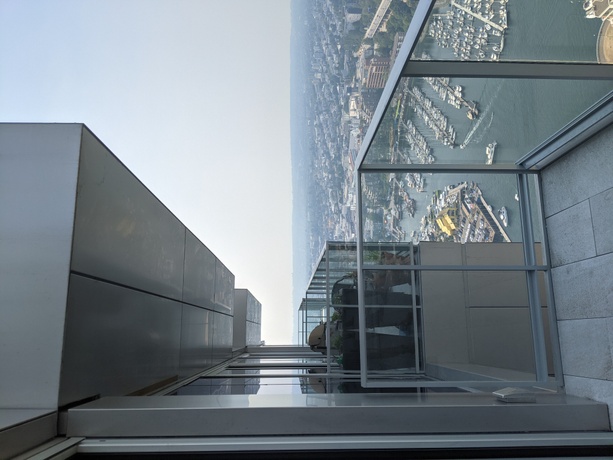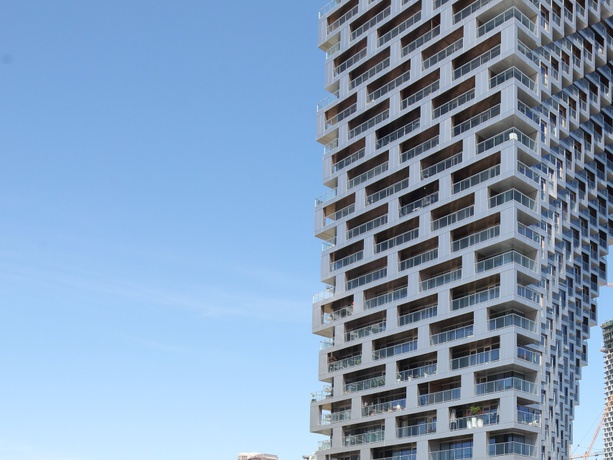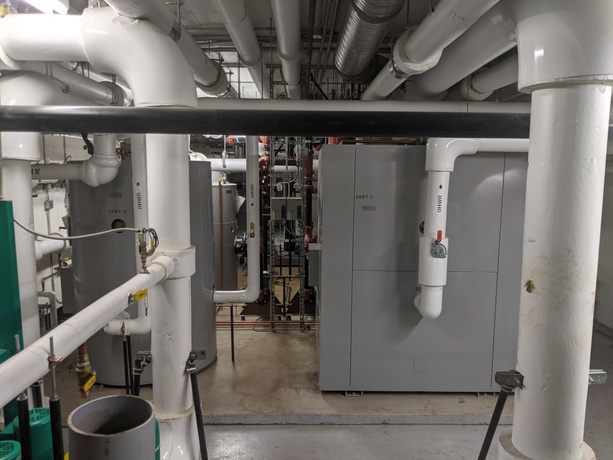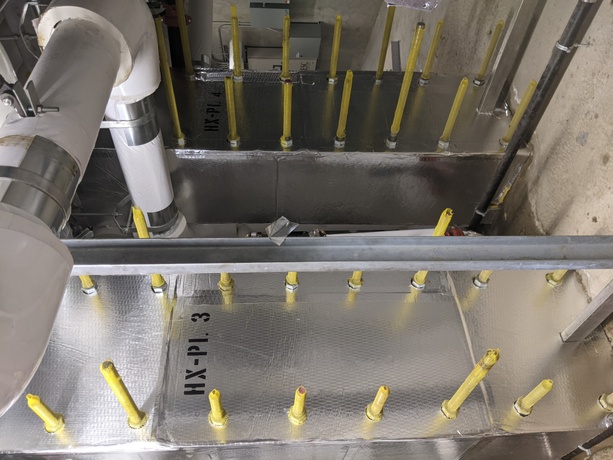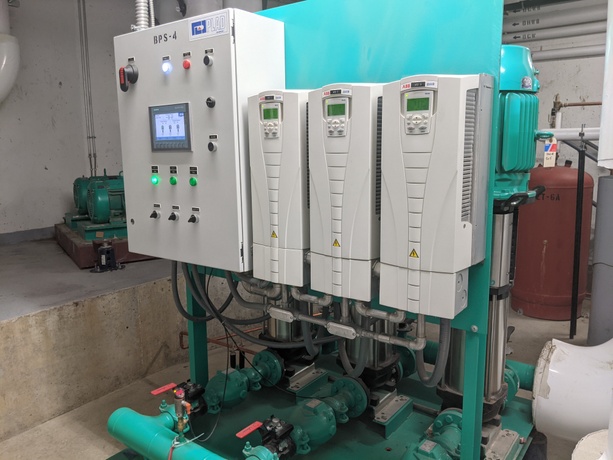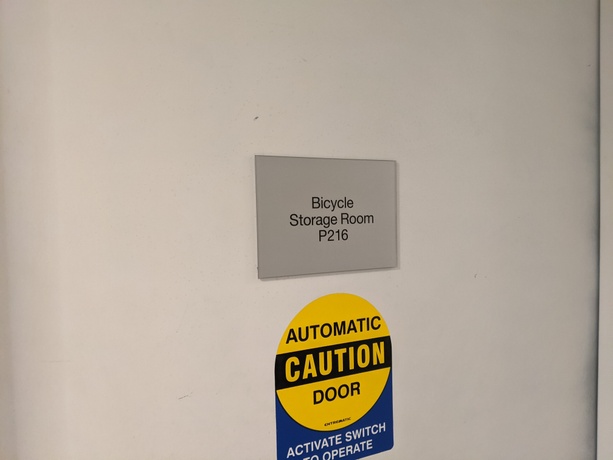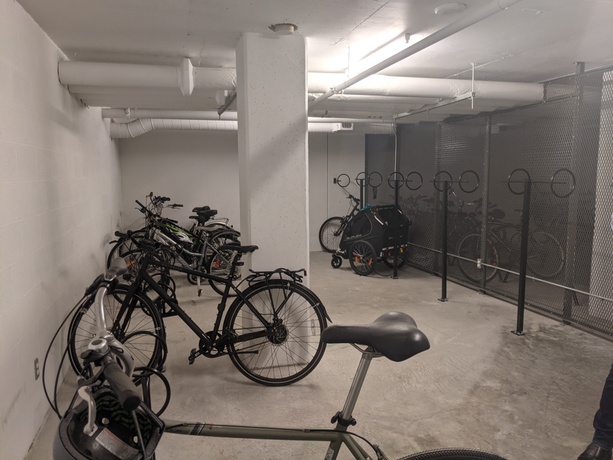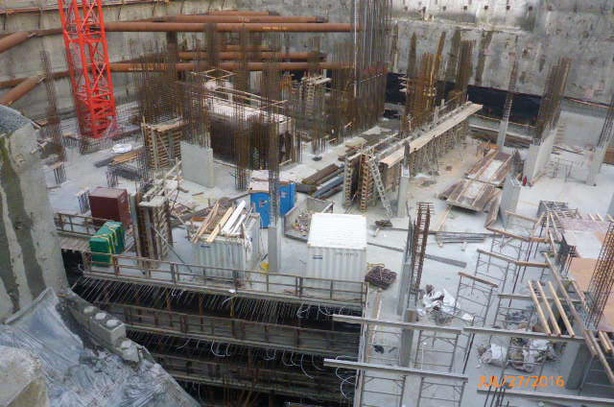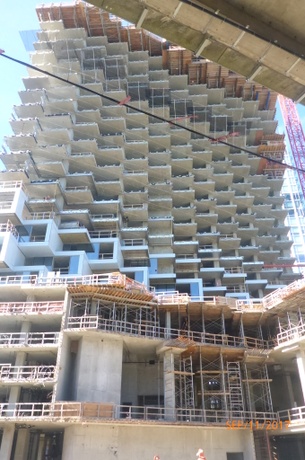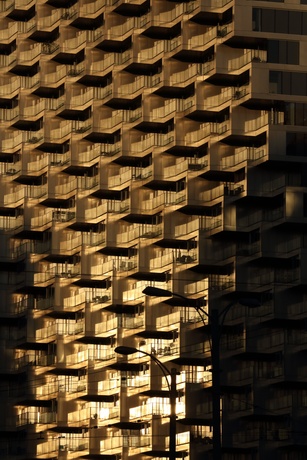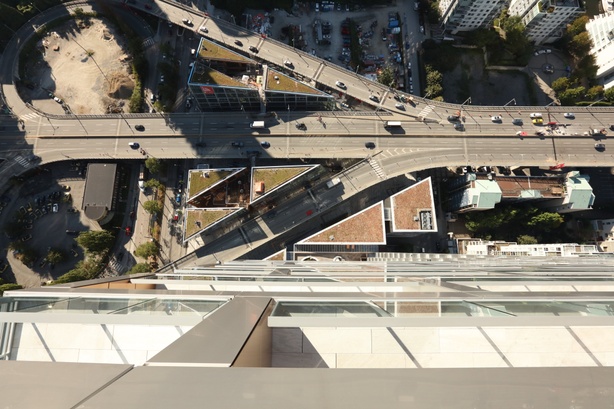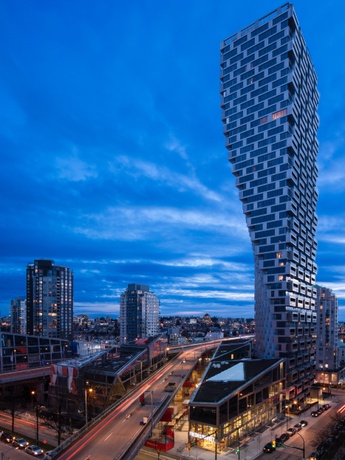 Vance Harris of DIALOG Architects and Jacqueline Che of Westbank
Summary
Building 2
The Vancouver House tower and overall development is a landmark development in Vancouver owing to its unique design and location.
Vancouver House Tower is a 52 storey 462,000 square foot residential tower located next to the Granville street bridge in Vancouver, BC. The project consists of 375 condo units, and 106 rental residential, from one-bedroom units to 4-bedroom penthouse units.
In terms of form, it rises from a 6,000ft² triangular base and twists and grows into a 14,000ft² rectangular building, surrounded by a 9-storey podium at the base. The podium is covered in a separate audio tour.
Sustainable Sites
Soil remediation – removal of previous  soil  contamination was conducted. The site contained repair and service stations, parking lots and automotive manufacturing that left residues in the soil This was cleaned up prior to construction.
The project is in a highly dense location right next to the Granville Street bridge which is a key connection between Vancouver Downtown and Mainland.This development on an existing site within the existing urban fabric, creates:
many connections to public transit including light rail, bus and commuter ferry 

an established community with extensive services within walking distance

Extensive bike lane connectivity and proximity to bike share stations

Bike repair spaces for residents

Active transportation (walking, biking) =healthier occupants, lower carbon emissions
Landscape:
Over 20% of the total site area is vegetated with native or adaptive vegetation.
Native/adaptive plants are plants that either are part of local natural ecosystems or are from further away but still suited to local climate conditions. This assures vegetation can survive with less irrigation, pesticides and fertilizer relative to non-native/adaptive varieties.
This allows the site to use over 50% less irrigation water compared to a baseline building.
Urban agriculture plots are provided to residents on the outdoor terrace.
Energy and Carbon Emissions
Building Envelope
High performance building envelope including heavy lift and slide doors that also provide air tightness.  This  
high level of air tightness keeps filtered conditioned interior air separate from outdoor air and saves energy.
Concrete balconies were fully wrapped in insulation to reduce heat loss.
Connection to a district heating and cooling system that will be converted to low carbon energy will deliver further operational carbon emissions reductions in future.
Materials
75% construction waste diverted from landfills
20% of the materials in the project by cost was recycled, primarily by replacing the cement in concrete with fly ash, as well as recycled content in the structural steel, and drywall made with recycled gypsum.
Over 20% by cost of the project materials were locally harvested and manufactured, reducing transportation related emissions.
Indoor Environmental Quality
Indoor Air Quality
Highly air-tight envelope keeps polluted air from infiltrating into the building in an uncontrolled manner while the ventilation system provides fresh filtered air. 
All the interior paints, coatings, adhesive and sealants are selected to be low emitting.
Thermal comfort
High performance windows are more comfortable to be close to when it's cold outside, and greatly reduce overall heat loss.
Auditory comfort
The heavy lift and slide sliding doors and high performance windows block much of the outside noise
Daylighting & Views
Generous amounts of glazing bring in plentiful daylight and connection to the outdoors