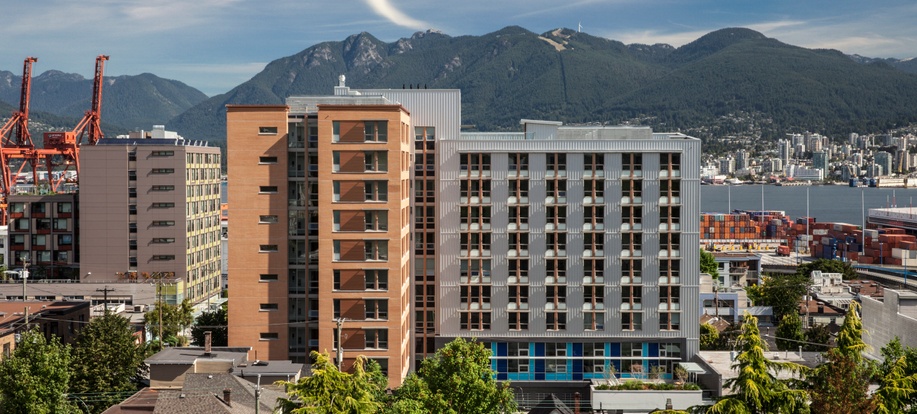 Certifications & Awards
LEED Canada for New Construction and Major Renovations (registered)
Project Team
Commissioning Authority

: Inland Technical Services Ltd.

Energy Engineer

: MMM Group

Structural

: Fast + Epp Structural Engineers

Electrical

: MMM Group

Civil

: CJ Anderson Civil Engineering

Mechanical

: MMM Group

Landscape Architect

: Perry + Associates

LEED Consultant

: Blue Camas Consulting Ltd.

Tenant

: Raincity Housing

Architect

: NSDA Architects

Contractor

: Stuart Olson

Building Science

: exp Services Inc.
Green Building Audio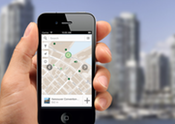 Targeting LEED Green Education Credit?
Our audio tours qualify.
Get one today!
style="font-size: 12px;">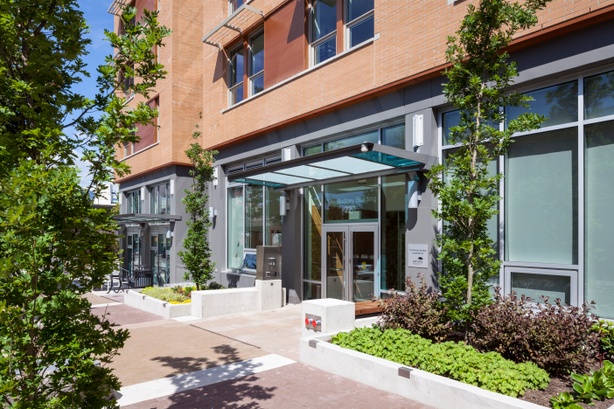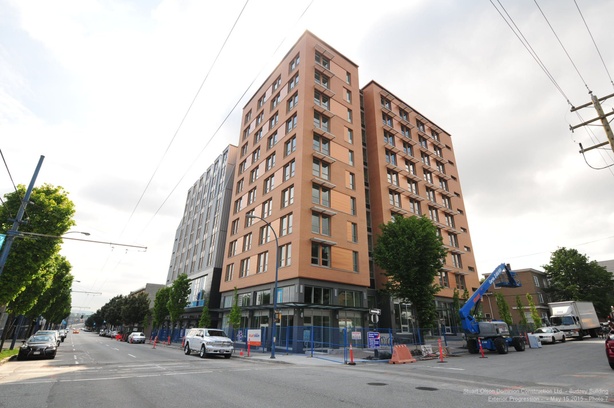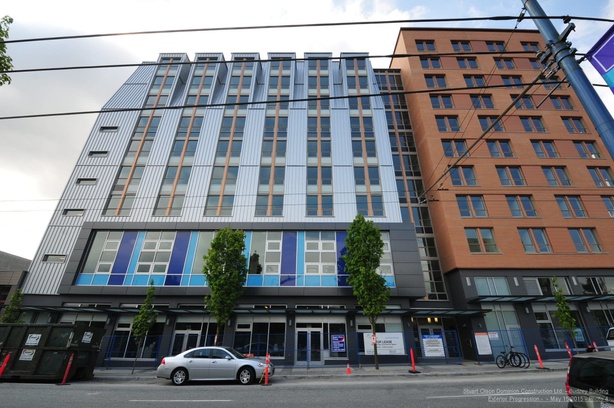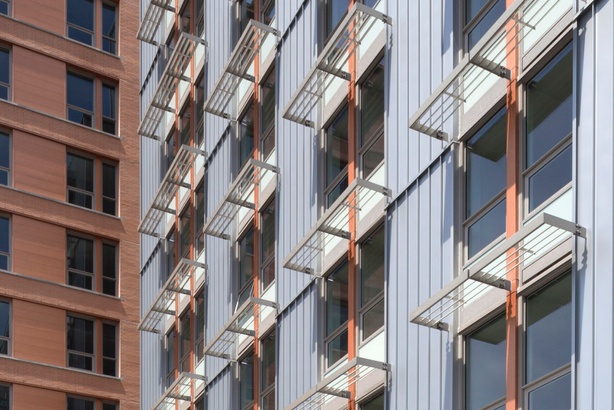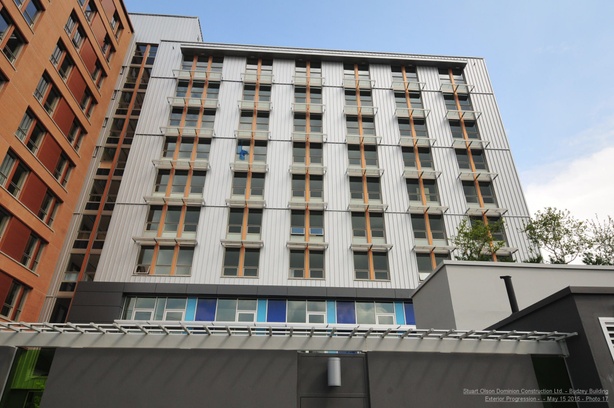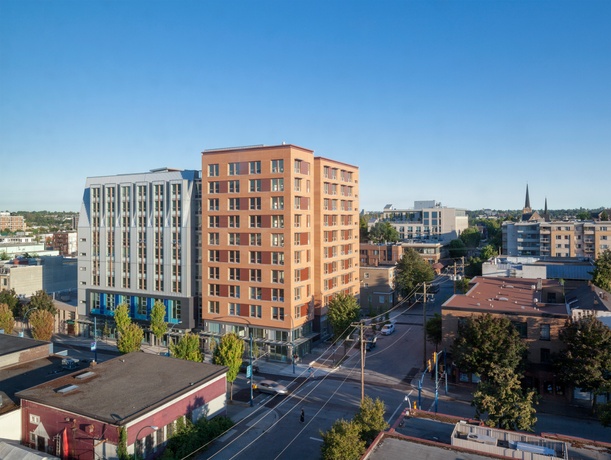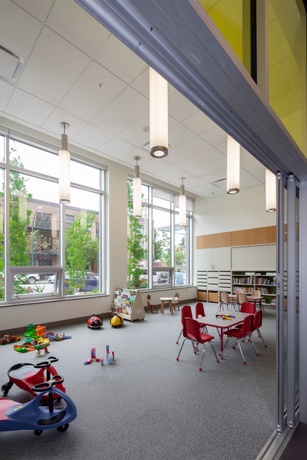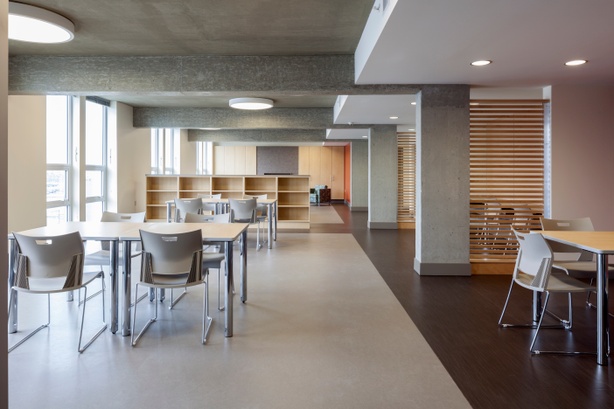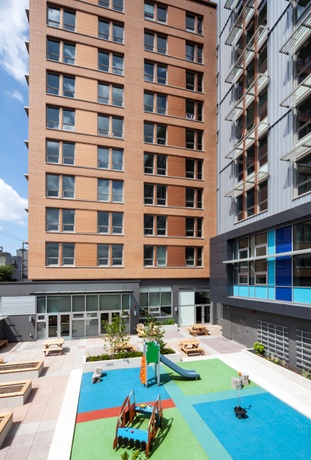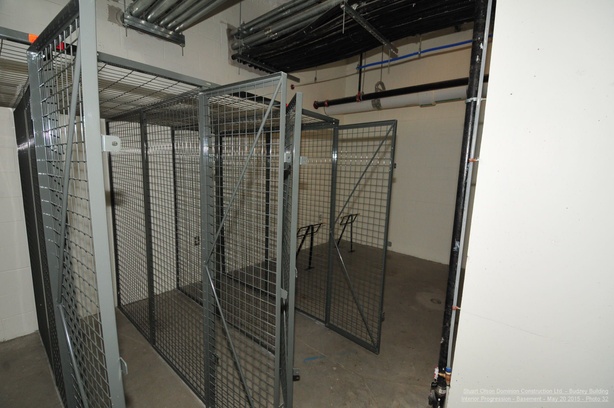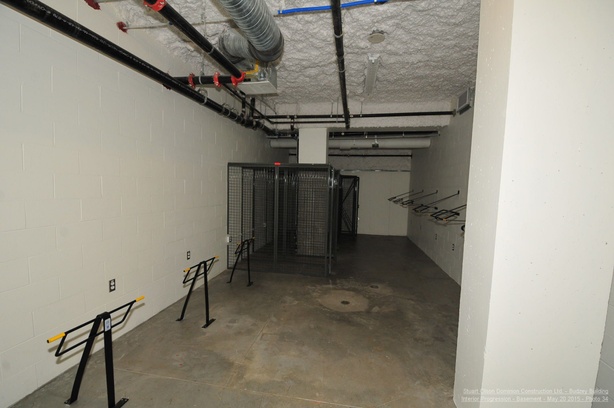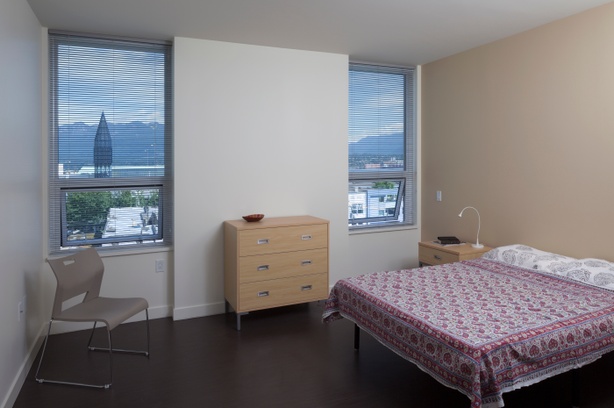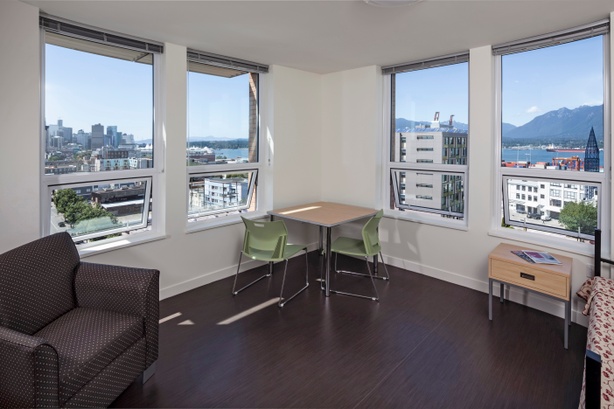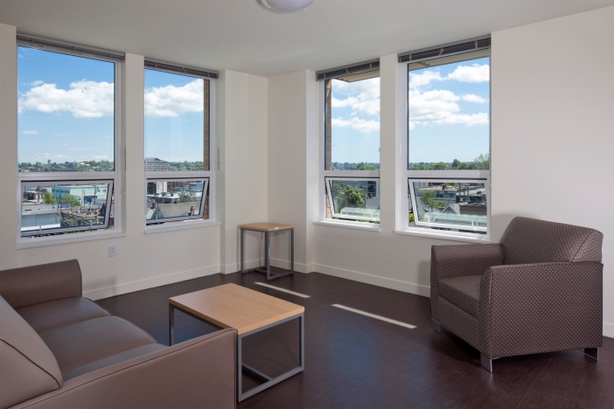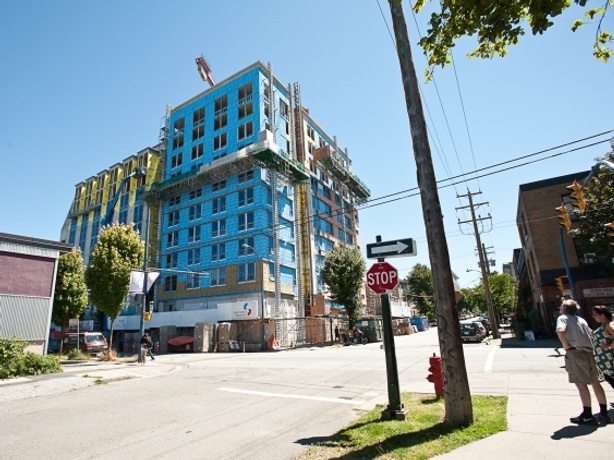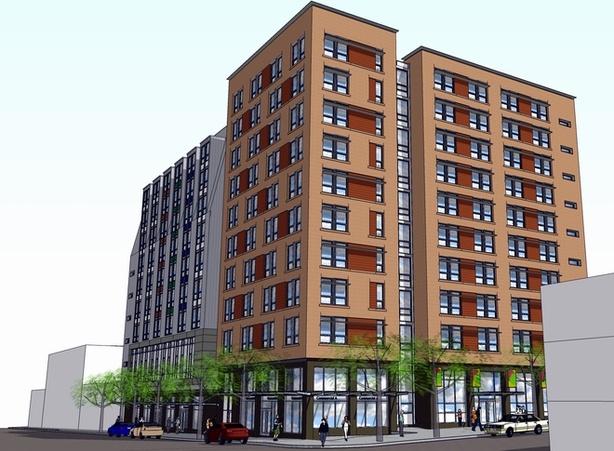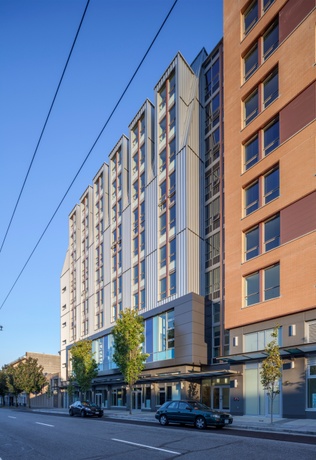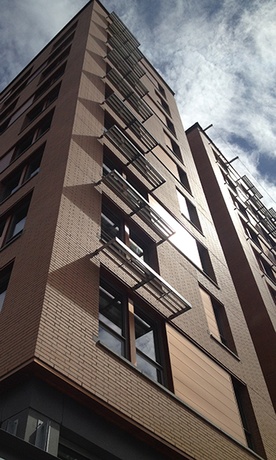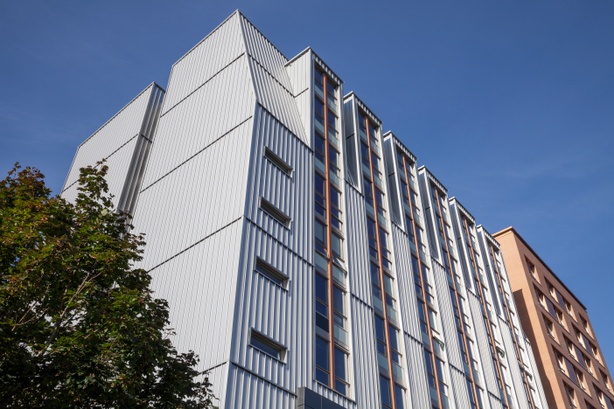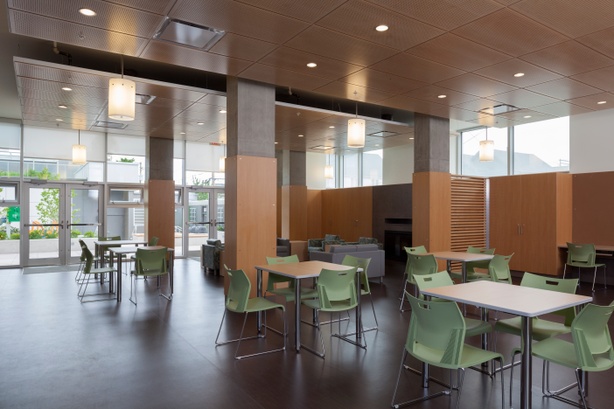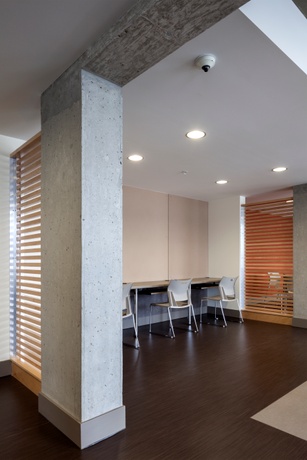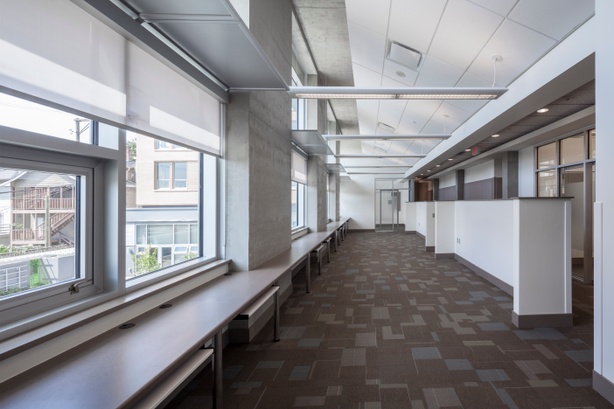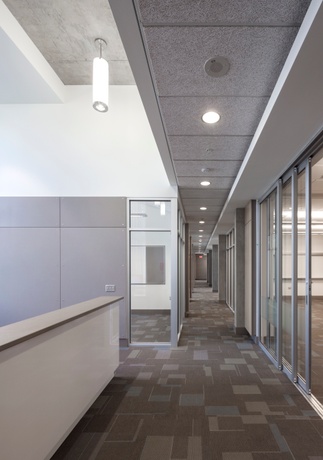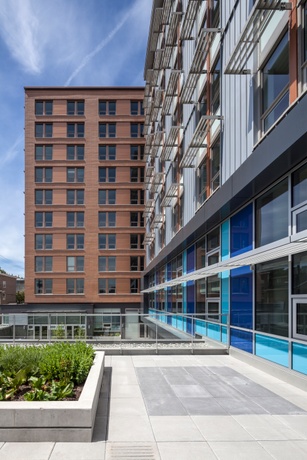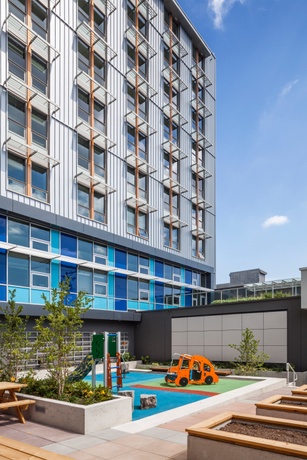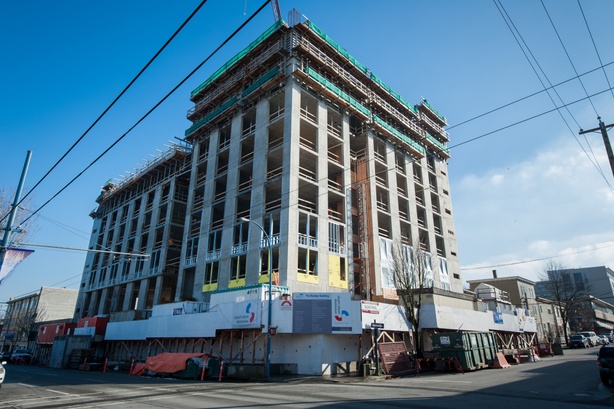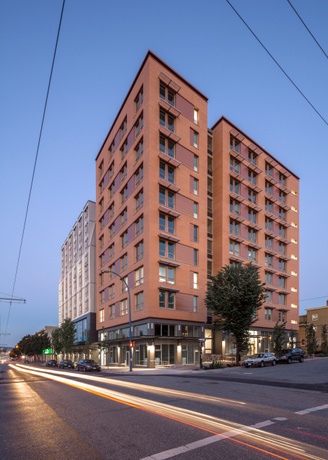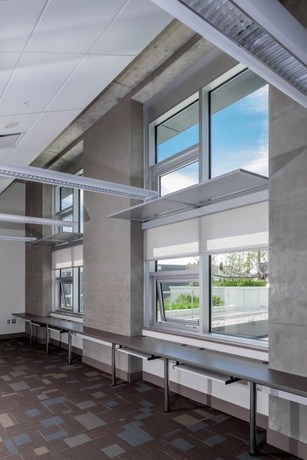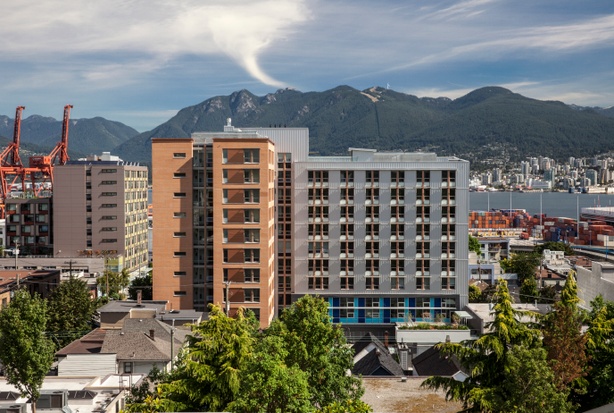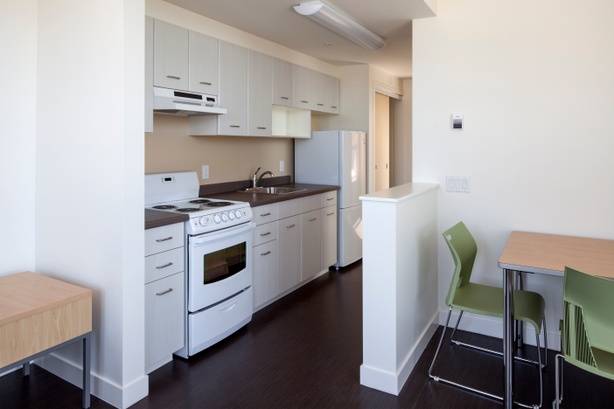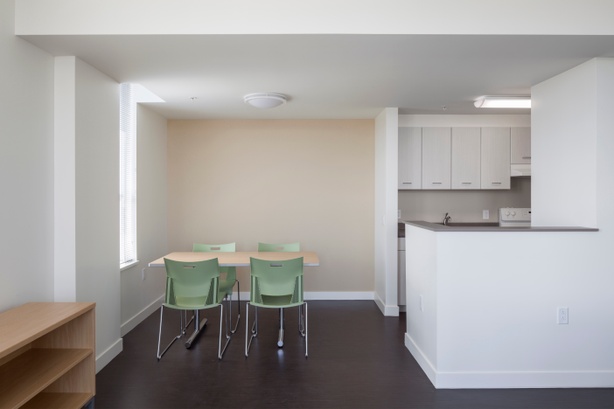 Budzey Building - George Simpson, Raincity and Wanda Felt, NSDA Architects
Summary
The Budzey Building is a 10 storey, 10,989 m2 multi-unit residential social housing development with ancillary support services and amenity spaces combined with secondary use leased spaces. The project is located on a site purchased by the City of Vancouver in 2007, which was identified as on one of the 12 City-owned sites to be reserved for social and supportive housing. Built as a home for women and women-led families who require supportive housing, the housing project is managed by RainCity Housing and Support Society. RainCity helps families address issues, which may include mental health concerns or substance abuse, through various programs and support services to build community and partnerships for tenants.
In honour of a vibrant resident of Vancouver's Downtown Eastside, the building was bestowed with the name Budzey, after Lorna Budzey who died in 2000. Lorna stayed with RainCity due to the lack of supports and housing that recognized her unique experiences. She invited RainCity to take the time to listen and be aware of how to interact with and support individuals while challenging the organization to be inclusive and welcoming to everyone.
Sustainable Feature Highlights
Indoor water use savings equal to 6 million L per year, 40% less than baseline building
Exterior wall R-values over 237% and roof R-value at 254% better than MNECB baseline!
Air-to-water heat pump with radiant in floor heating to reduce space conditioning energy needs
Durable, reinforced concrete building with expected design service life of 60 years
Continuous air barrier between suites for superior indoor air quality and envelope performance
Summary
Located at 220 Princess Ave in Vancouver, B.C., Budzey Building project contains 41 family units and 106 studio units, complete with amenity and ancillary areas. The dwelling units are self-contained with full washrooms and complete kitchen. Spaces were designed to be adaptable to changing dynamics such as children growing into adulthood, empty nesters, aging in place and changes in mobility due to illness or aging.
Amenity and support spaces include a dining area, lounges, meeting rooms, washrooms, laundry rooms, and computer access area. Play areas in the building have access to the outdoor areas, which also have equipment storage, furniture, play equipment and raised planting beds. The rooftop is equipped with a garden and raised planting beds.
The project's goals from a resource efficiency and green building perspective were to achieve energy and water efficiencies, and a safe and healthy indoor environment. To this end, the project aimed to meet and exceed LEED Gold certification, following the requirements of LEED Canada New Construction v1, Multi-Unit Residential v1, Core & Shell v1 and Major Renovations & New Construction 2009. B.C. Housing's High Performance Green House Gas Strategy (GHG) sets a bar for new projects to pursue a minimum of four Optimized Energy Performance points within the rating system, with a maximum of 10% end use energy coming from fossil fuels.
Sustainable Sites
The site was previously home to the Drake Hotel, a small 24-room hotel. Utilizing a previously developed property can be a means of urban revitalization, which prevents the development of green field sites. This project significantly increased on-site density, while situating tenants in an accessible area close to many nearby and walkable amenities. For access to further destinations, the site facilitates easy access to public transportation, as well as secure and accessible bicycle storage for occupants and staff. To make efficient use of site area and prevent a heated microclimate associated with dark surfaces such as asphalt, all of the project's parking was tucked underground, below t3he building.
Water Efficiency
Like most new construction projects, the mechanical consultants on the Budzey building project ensured water saving fixtures were specified. The single flush low flow toilets in the building use only 4.8 litres per flush (1.28 gal/flush). Washroom faucets at Budzey run 1.9 liters of water per minute (0.5 gal/min), with kitchen sinks in kitchen running 5.7 l/min (1.5 gal/min). The showerheads flow water at 5.7 l/min (1.5 gal/min).
These measures combined result in an overall indoor water savings of over 40% compared to a baseline building of similar occupancy and usage, a target achievement worthy of a innovation in design credit for exemplary performance in water use reduction. Indeed, their annual water savings is over 6 million liters per year, the equivalent to over 31,700 baths! These water savings do not even account for the 50% water use reduction in landscaping, made possible by the planting of native and adaptive species.
Water Efficient Landscaping
A water efficient landscape was pursued through the design and implementation stages. Practices used to meet a 50% water reduction are found in the plant selection used and with the mulching of planting beds. The planting palette was selected with an emphasis on hardy and drought tolerant plants adaptive to the climate, such as sedums and grasses, which require moderate to low volumes of water. All planting areas meet the BCNLA requirement for soil depths and are topped with composted mulch to help retain soil moisture by minimizing water runoff and evaporation. The project is using a highly efficient irrigation system with drip lines to minimize evaporation and a rain sensor has been installed to delay operation for weather events.
Energy
Throughout the design, construction, and occupancy phases, energy use and energy savings objectives were followed. And, like every building project pursuing LEED certification, all systems and equipment in the building had to be reviewed to optimize energy use and compliance with the National Energy Code.
Passive Design
Passive design strategies were identified for the Budzey Building project in order to supplement the HVAC systems, reduce energy consumption and greenhouse gas emissions. Windows were sized and placed accordingly, in order to maximize the amount of natural light entering the building via apartment units and amenity spaces while simultaneously supplying natural ventilation with operable windows. Those units facing south have solar reflection integrated to reduce heat in summer.
In terms of insulation, the project improved wall, roof and window conduction compared to the Model National Energy Code for Buildings (MNECB) baseline, thereby providing superior building envelope performance to save energy. In fact, the exterior wall R-value is nearly 238% higher than the MNECB baseline, with the roof R-value at 254% better than the baseline!
The project's mechanical system was designed to reduce energy as well as fossil fuel consumption. To that end, a rooftop central air-to-water heat pump unit was installed to reduce the energy needed for heating and cooling. This switch-over system is capable of generating low temperature hot water for heating or chilled water for cooling. The residential suites utilize this heated water via radiant slab (in floor) heating, which also provides a thermally comfortable heat that is more efficient than baseboard heat and usually more efficient than forced-air heat as it eliminates duct losses.
The ventilation system utilizes heat recovery units serving the West and East Towers and main and second floors to take advantage of heated exhaust air. Ventilation air is preheated by the heat recovery systems to provide energy savings. The fans in the system are controlled with Variable Speed Drives for energy savings and include a heat recovery wheel.
Lighting
A number of the Budzey Building lighting features were designed with energy efficiency in mind. Lighting control systems were designed in accordance with ASHRAE 90.1-2004 (with addenda/2007 and errata), a standard that includes a maximum indoor lighting power density (LPD). Low voltage lighting controls were used on the project, with dimming on lighting systems. Time clocks, photocells and local switches were incorporated as energy conservation devices also. Daylight sensors were integrated with the overall lighting system design to maximize the building's energy conservation. Occupancy sensors in storage rooms, common washrooms, amenity area, kitchen, and offices create additional energy savings whenever these spaces are unoccupied.
To ensure the building operates the way it was designed, all of the building's mechanical systems were reviewed, tested and balanced in collaboration with the LEED Commissioning Authority, who also ensures training is in place for building operators and managers.
Materials and Resources
Durable building
The building is made of reinforced concrete and has an expected lifetime and design service life of 60 years. The building materials and finishing materials specified in the project had to be durable and easy to maintain. Quality materials with a high recycled content were specified, tracked and documented, as well as local materials with a low transportation footprint.
Indoor Air Quality
A number of measures were implemented in the Budzey Building to provide a safe and healthy indoor environment for residents and staff. Air infiltration was one such consideration. Air infiltration can deliver pollutants, allergens and bacteria into buildings and between suites. Improper air pressure differentials can bring in pollutants such as environmental tobacco smoke. All multi-unit residential projects pursuing LEED must provide a continuous air barrier for each suite to prevent pollutant infiltration. Continuous air barriers are also a good preventative measure for the spread of pests such as bed bugs.
From the care that went into wall assembly design to the delivery of ample fresh air, which balances the need to save energy, all the way down to the specification of low-emitting materials of the building's interior, indoor air quality was a green building and health concern since the project's inception.
The HVAC system needed to balance energy efficiency with providing the right amount of air for a healthy indoor environment. To achieve this end, the building's HVAC was equipped with DDCs (direct digital controls). Efficiencies through scheduling via the DDC provide energy savings. Monitoring sensors in the residential suites control temperature as well as monitor CO2 and humidity. These controls are crucial not only for the quality of breathable air in the indoor environment but for residents and staff to be able to adjust conditions for personal comfort.
Providing appropriate levels of daylight and accessible views to the outdoors within suites and regularly occupied areas not only makes a pleasant place to live but also contributes to a healthy indoor environment.
Sources: Blue Camas, MMM Group, Perry + Associates, Whole Building Design Guide (WBDG), U.S. Department of Energy (DOE)