Certifications & Awards
LEED Canada for New Construction and Major Renovations (registered)
Project Team
Operator

: PHS Community Services Society

Building Science Professional

: Trow Associates Inc.

Environmental Consultant

: Hemmara Consulting

Commissioning Authority

: KD ENGINEERING (TBC) CO.

General Contractor

: Darwin Construction (Canada) Ltd

Landscape Architect

: Eckford and Associates

Geotechnical Engineer

: GeoPacific Consultants Ltd.

Electrical Engineer

: MMM Group

Mechanical Engineer

: MMM Group

Structural Engineer

: Fast + Epp Structural Engineers

Sustainability Consultants

: Recollective Consulting, Blue Camas Consulting

Architect

: Neale Staniszkis Doll Adams Architects

Developer

: Terra Housing Consultants
Green Building Audio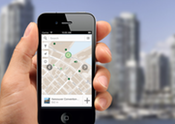 Targeting LEED Green Education Credit?
Our audio tours qualify.
Get one today!
style="font-size: 12px;">
1005 Station St, Vancouver - Ken Wong and Larry Adams of NSDA Architects
Summary
Station Street Community at 1005 Station St. is a 41,172 sq. ft. six-storey multi-unit residential, LEED Gold Targeted building located in Vancouver's downtown eastside. The project is a partnership between the City of Vancouver and BC Housing, and will provide 80 self-contained 325 sq ft. studio apartments for the homeless and those at risk of homelessness due to physical or mental health, substance dependencies, or forensic history.
Sustainability Features
To achieve a 46% reduction in water consumption from standard fixtures, high efficient toilets, faucets and shower heads were installed.
Construction materials contain over 13% recycled content.
75% of construction waste materials were diverted from landfills.
Electric vehicle charging stations provided.
Bicycle parking and shower facilities.
Minimal parking facilities are provided underground to reduce exterior paved areas and heat island effect.
Energy
The high performance building envelope is designed for durability and ease of maintenance. Quality insulation, walls, doors, and windows designs were chosen to minimize air leakage and thermal bridging.
Station Street Community was designed to use over 44% less energy than a conventional building, and electric baseboard heating power use is reduced to 58%. Natural gas usage is reduced to 41% and electric lighting power use is reduced to 89% of a comparable building with standard lighting. A ground source heat pump manages the ventilation, domestic hot water pre-heating, and space heating for the amenity and retail spaces on the main floor.
To assess, verify, and obtain a comprehensive measurement of building systems, metering has been installed to monitor activity for more than a year after occupancy. Energy model predictions will be put to the test, with actual systems being measured and compared to determine optimal operational performance.
Indoor Environment and Air Quality
The incorporation of natural lighting was a necessity for Station Street architects. 25-foot candles of natural daylight reach 94% of the regularly occupied building space. 97% of the building space has a direct line of site to an exterior window. High quality air filtration housed by a central heat recovery ventilation unit contributes to building energy efficiency.
Volatile Organic Compounds and other sources of indoor pollution are minimized by use of low-VOC emitting paints, adhesives and sealants, carpets, doors, cabinetry and millwork. In addition, "blow door testing" confirms individual suites are air-tight, preventing the spread of tobacco smoke and other odours but it is also energy efficient, sound-proofing and controls vermin.
Sustainable Residential Activities
Station Street Community boasts a peaceful patio facing east, where residents have converted a climbing wall into a garden. What started as a drought-resistent landscaping approach was quickly adapted by residents. Beans and pumpkins sprouted up, nourished by water collected in the on-site, 250 gallon water barrel on the south side of the patio, harvested straight from the roof. Residents have reported the strong therapeutic value they feel when spending time in their community garden.
Residents' lifestyles contribute to the building's low carbon footprint. Most don't own a car, they treasure their resources, and recycling is an everyday activity. Consumption of new materials remains low as maintenance and creativity skills are put to the test first. Many units are furnished with gently used items diverted from landfills and helping contribute to waste reduction.
Site Context
Located in Vancouver's downtown east side, Station Street Community is located within walking distance of bus and train transit facilities at the foot of the Georgia Viaduct. Residents are steps away to Vancouver's Via Rail station, shops, restaurants, entertainment and other community resources.