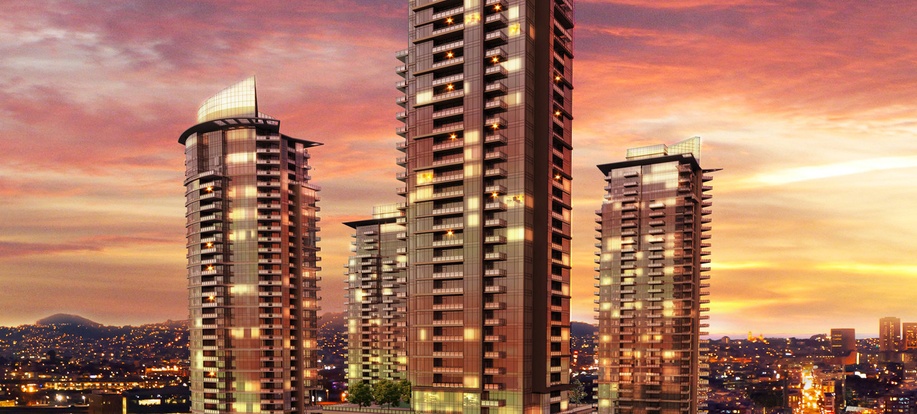 Solo District Altus Office
Project Team
Environmental

: Pottinger Gaherty

Interior Design

: Cristina Oberti Interior Design Inc.

Landscape

: Sharp and Diamond

Building Envelope

: JRS Engineering

Structural

: John Bryson and Partners

Civil

: Vector Engineering Services

Electrical

: Nemetz (S/A) & Associates Ltd.

Mechanical

: Integral Group

Architect

: Chris Dikeakos Architects Inc.

Owner

: Appia Developments Ltd.

Sustainability and Energy Modeling

: Integral Group
Green Building Audio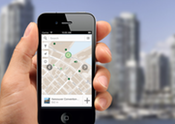 Targeting LEED Green Education Credit?
Our audio tours qualify.
Get one today!
style="font-size: 12px;">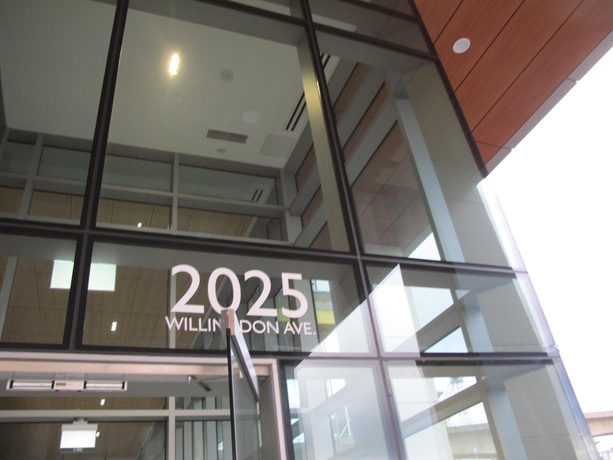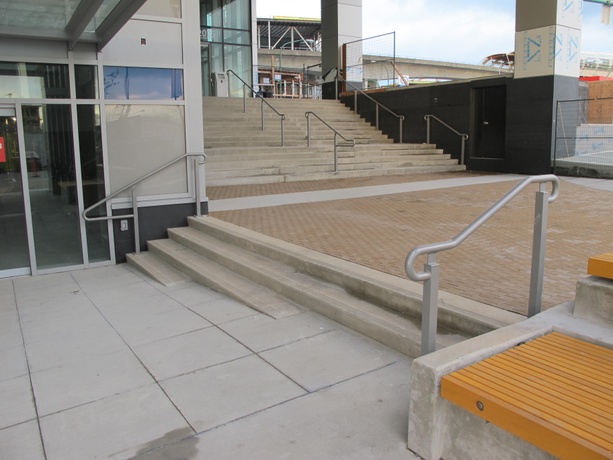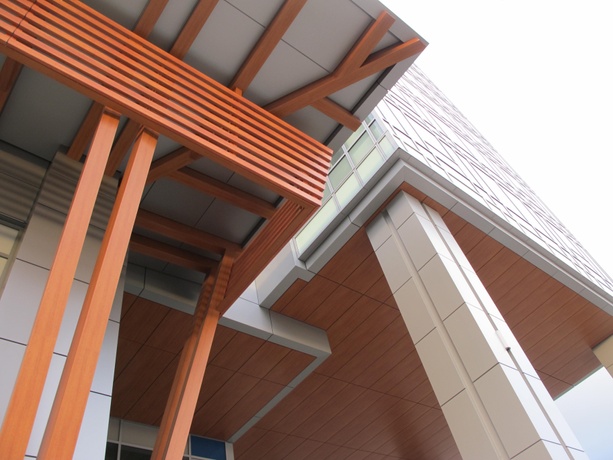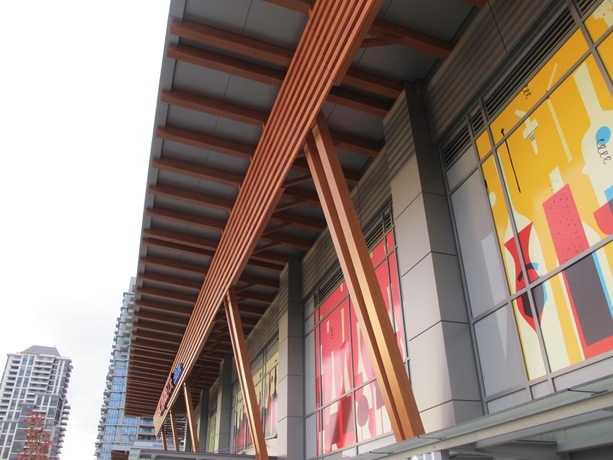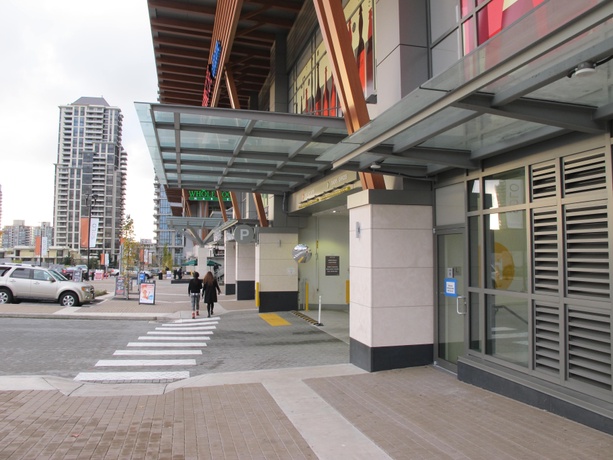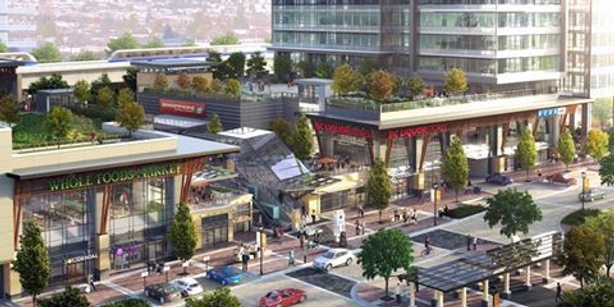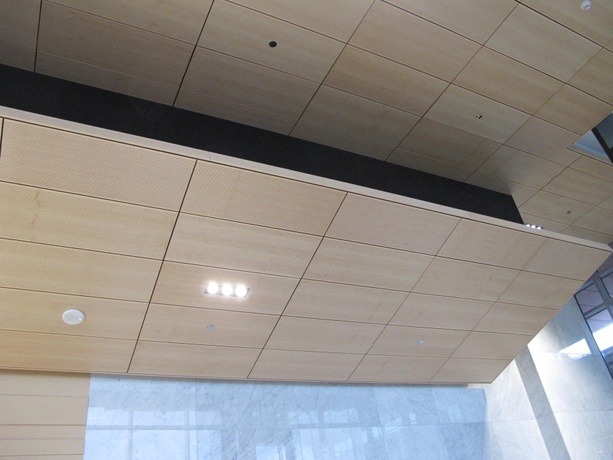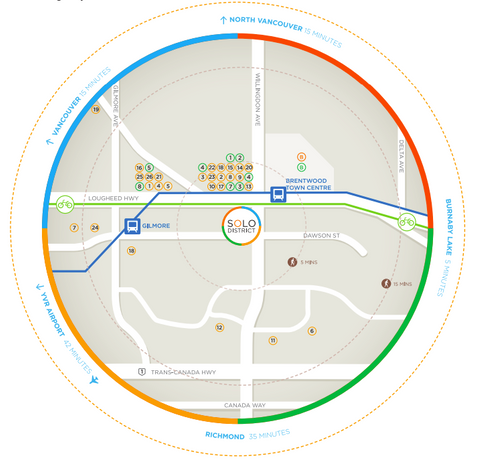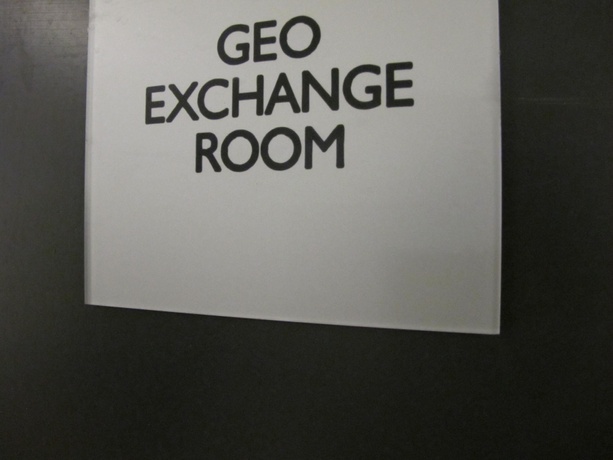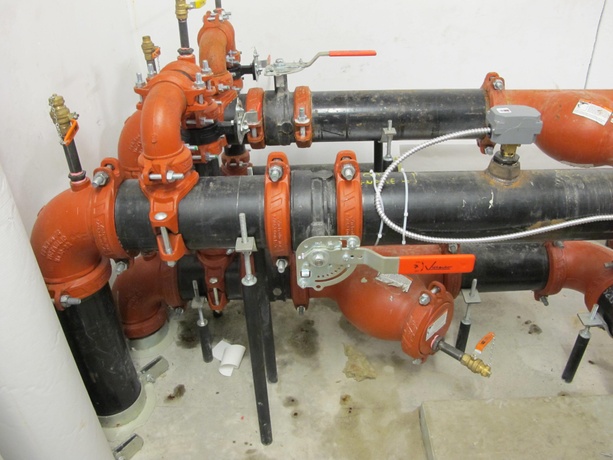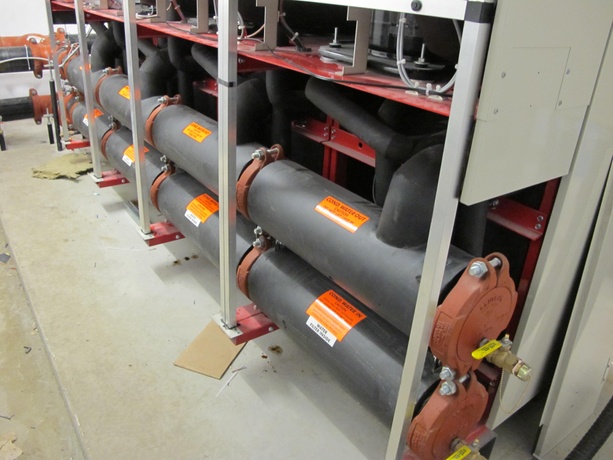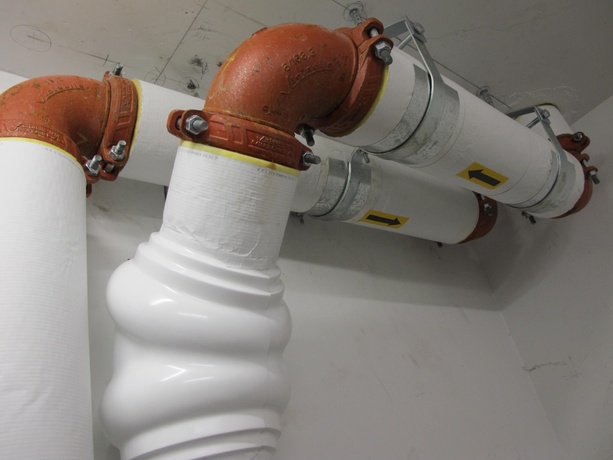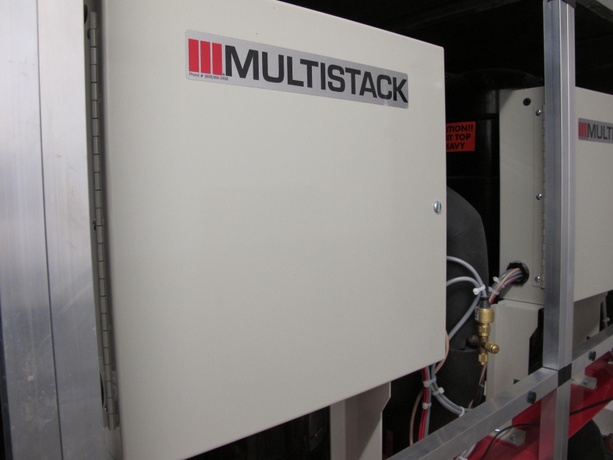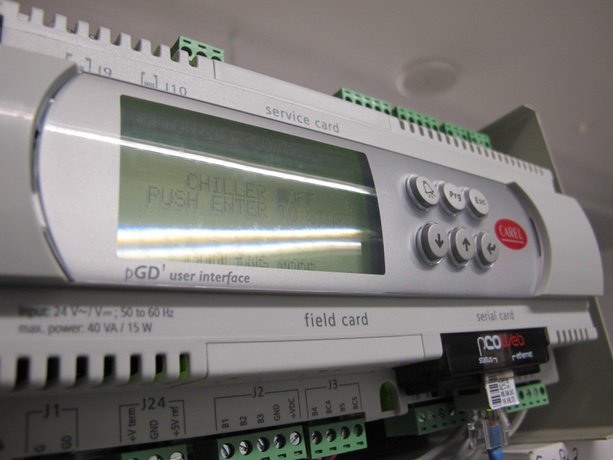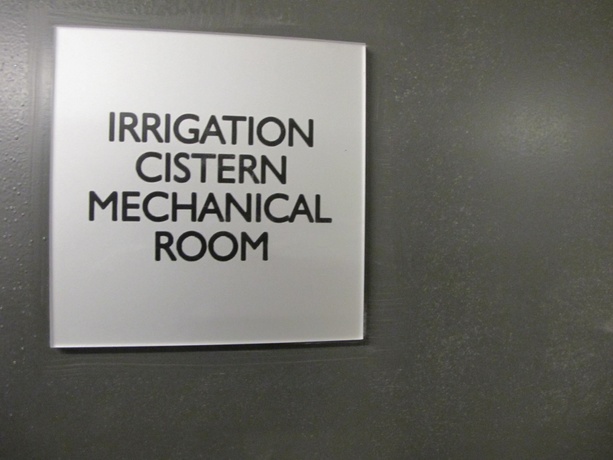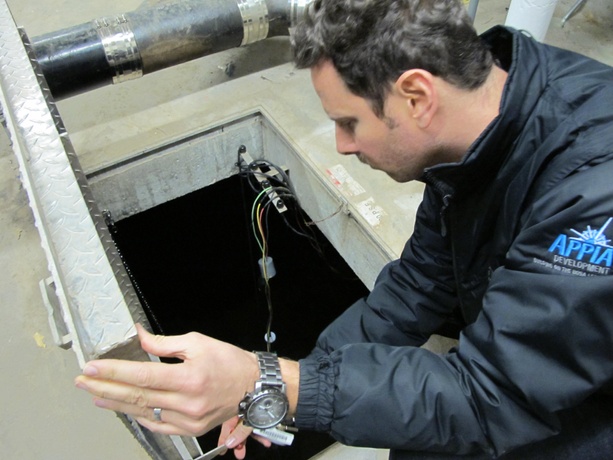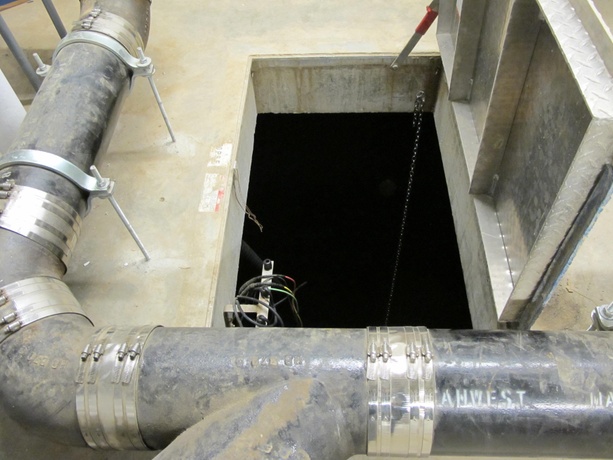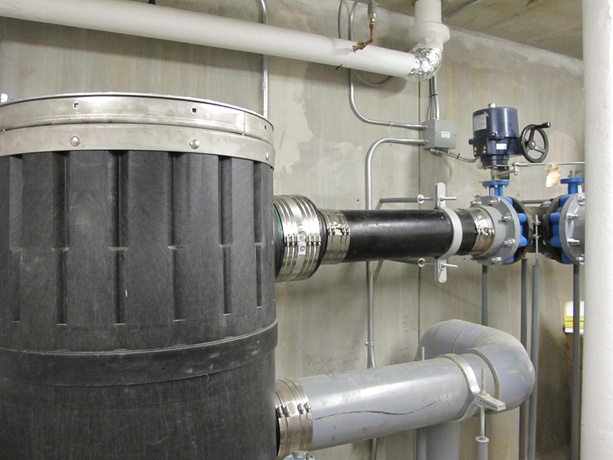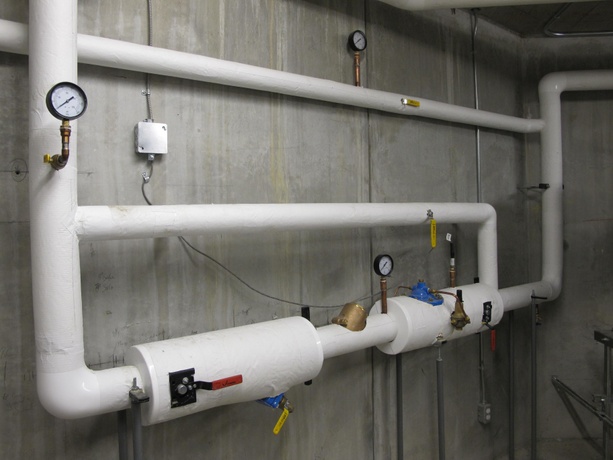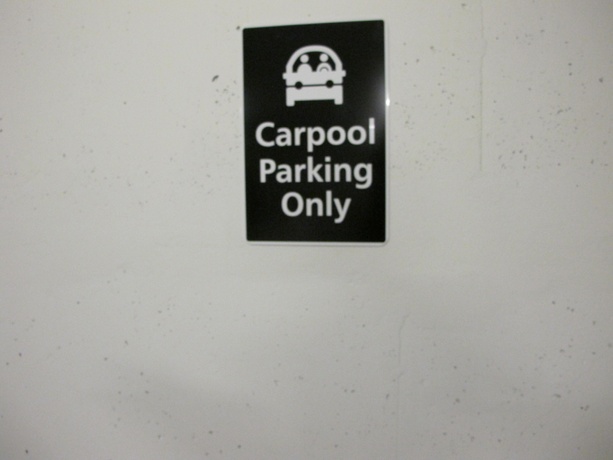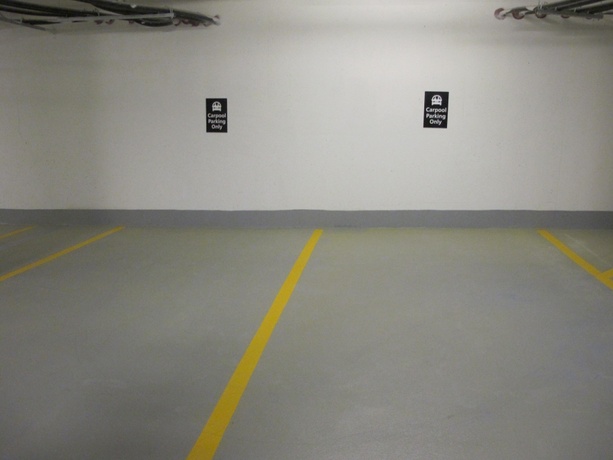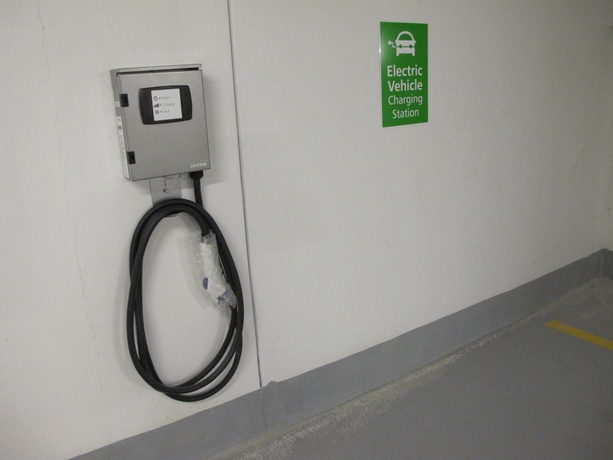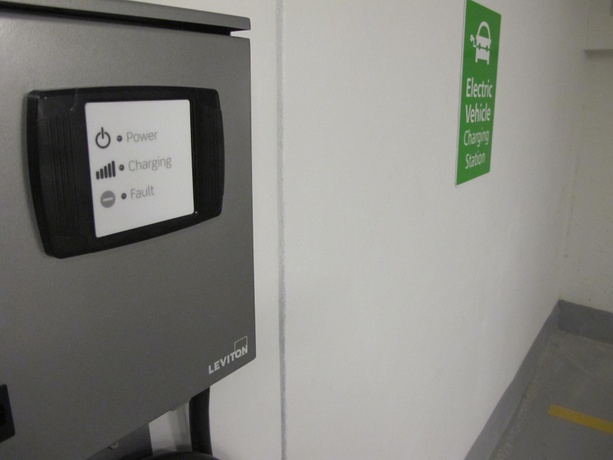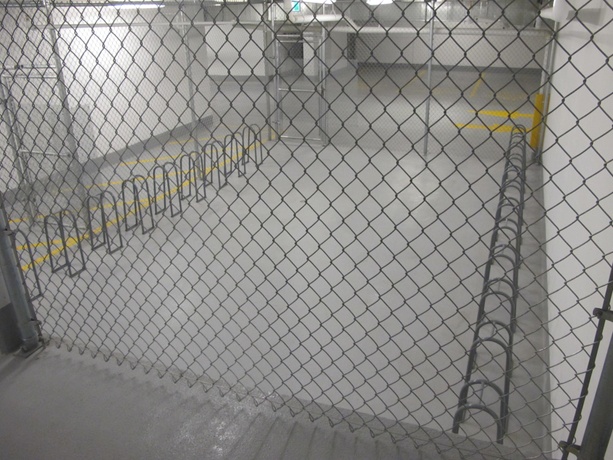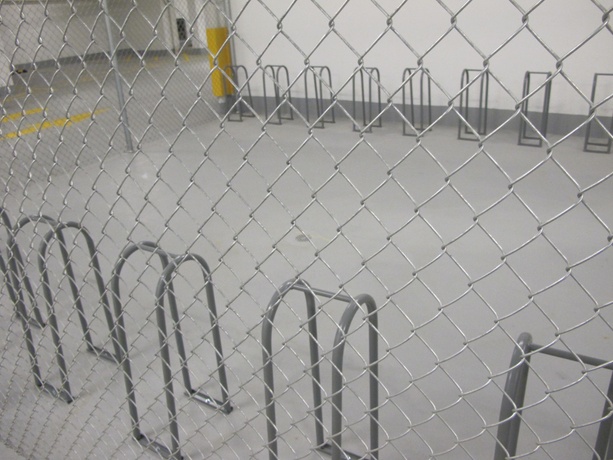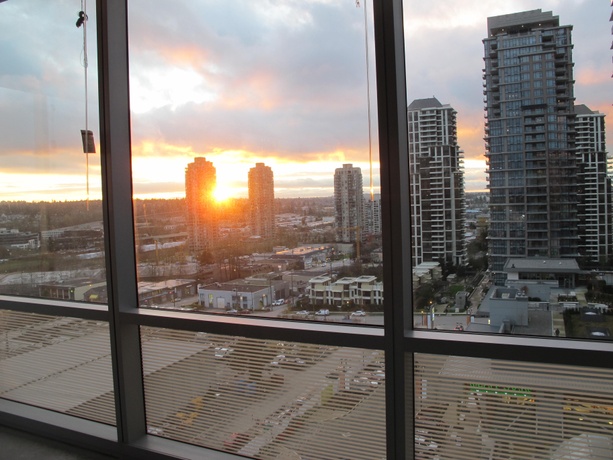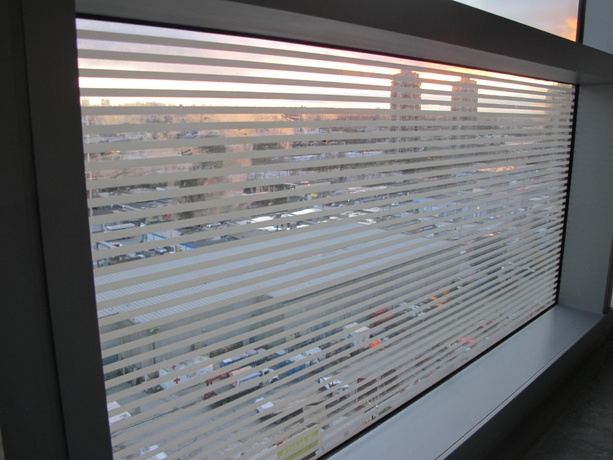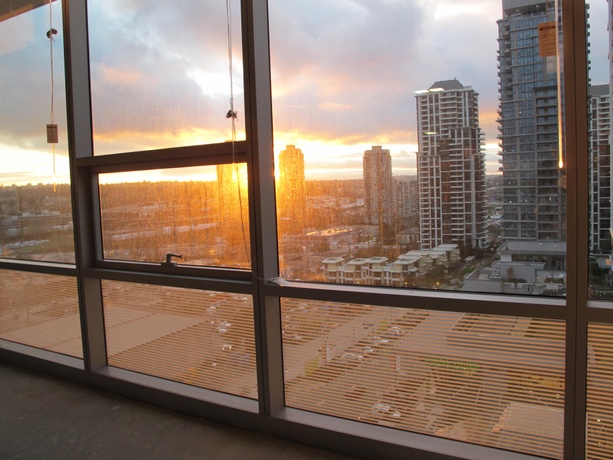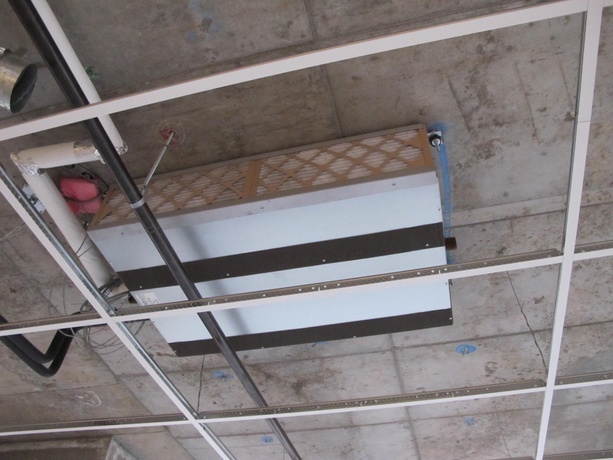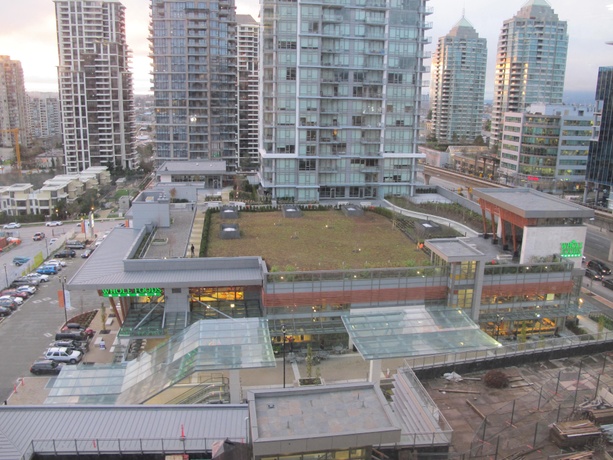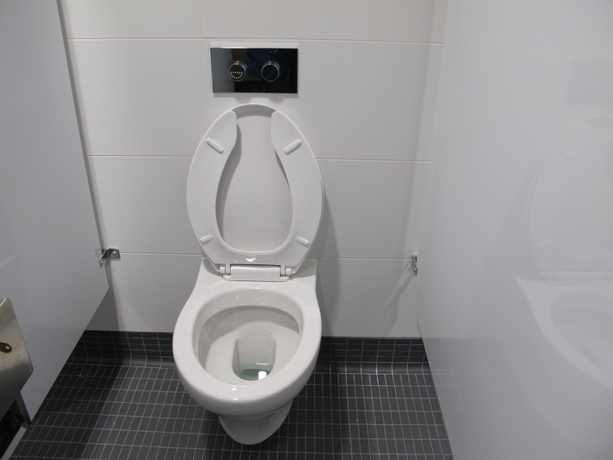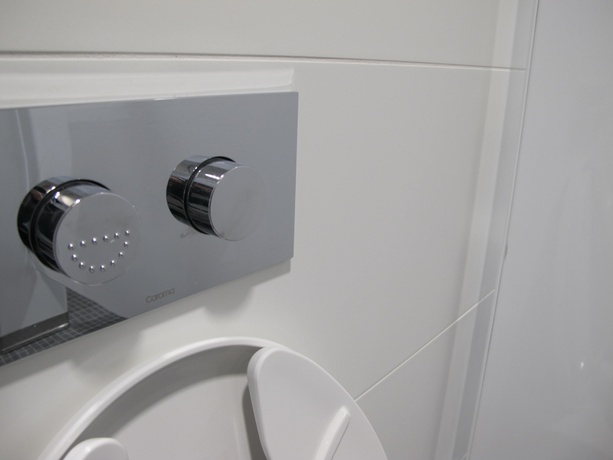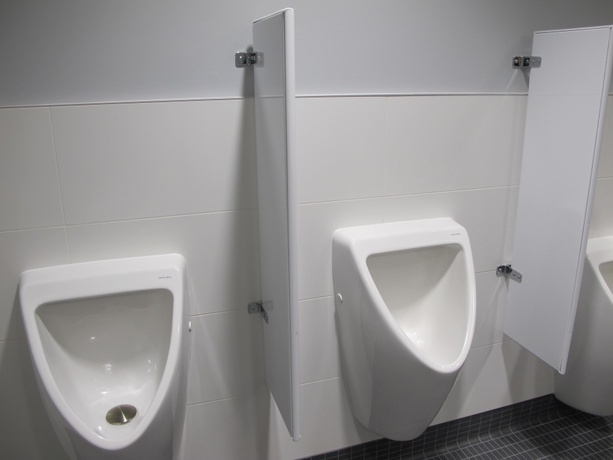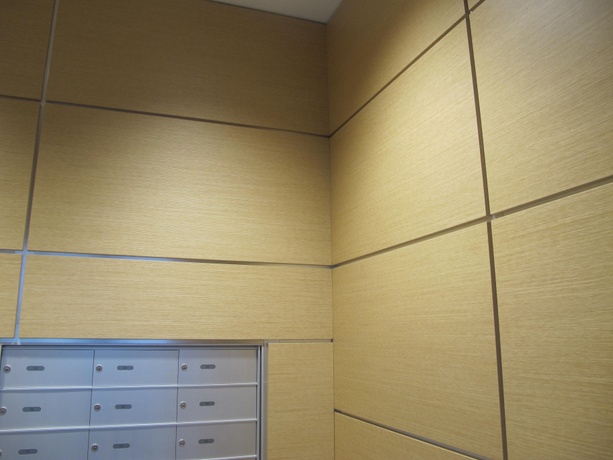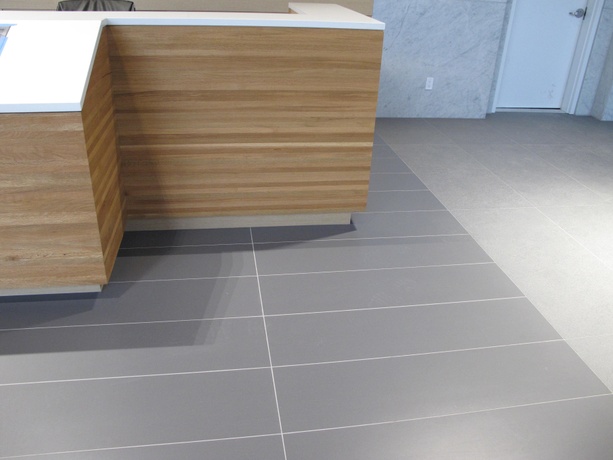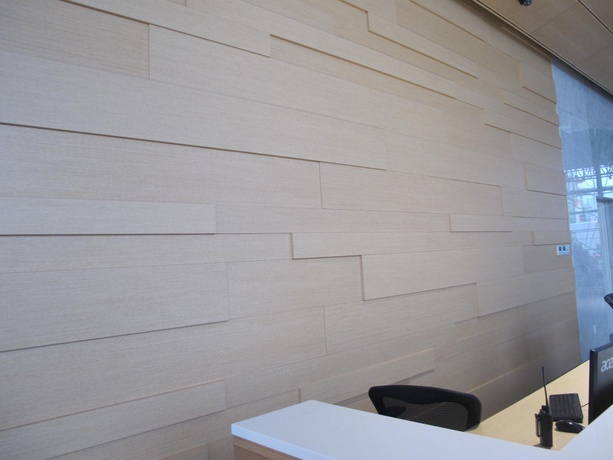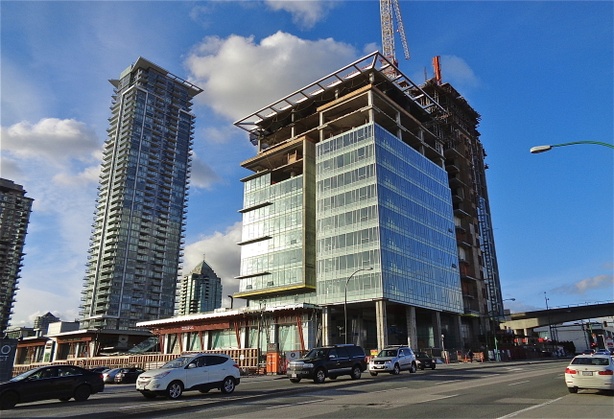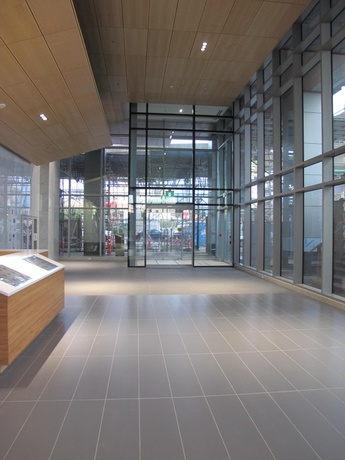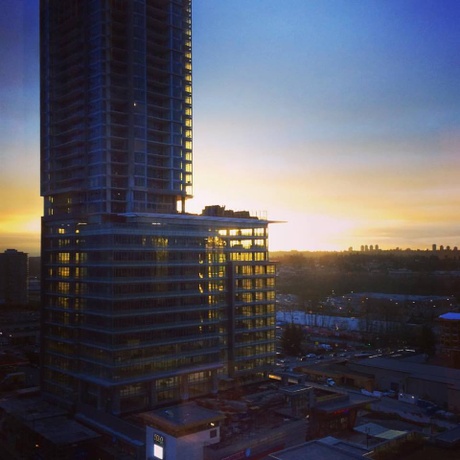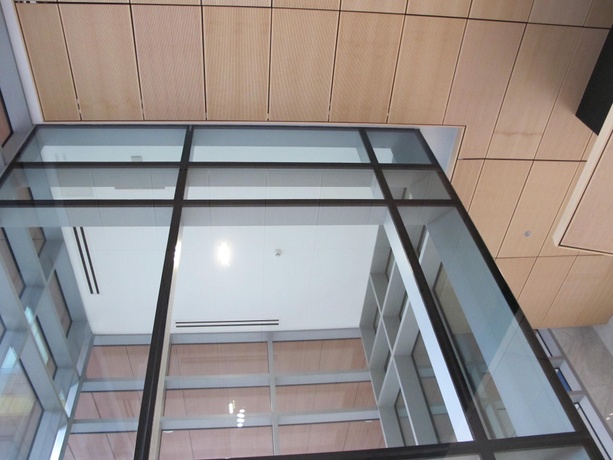 Solo District Altus Office - Marc Swanton, Appia Group of Companies & Kevin Welsh, Integral Group
Summary
Solo District Altus Office is the new destination office location in Burnaby, BC. Consisting of 12 levels of efficient 20,000 square foot floor plates, this 230,000 square foot class 'A' office space is encompassed within the 48-storey Altus tower which hosts a 2-level podium structure with 31,000ft2 of commercial retail and restaurant space, 35 levels of residential spaces in the upper stories, and five levels of underground parking.
Located next to Brentwood Town Centre Shopping Centre, Altus is part of a larger 4-phase 1,800,000 square foot master planned urban community known as the SOLO (South of Lougheed) District development.
The Solo District Altus Office is pursuing a Platinum level certification in the Canada Green Building Council's LEED CS (core & shell) program to ensure the highest level of sustainability and environmental quality.
The office and residential tower were designed to integrate into a 'whole building' systems approach to significantly reduce carbon dioxide emissions and create an "intelligent building" that is environmentally and socially responsible.
Sustainability Feature Highlights:
➢ State-of-the-art geo-exchange and variable refrigerant flow (VRF) air conditioning systems
➢ Optimum space thermal comfort, indoor air quality, and acoustics
➢ Office portion of the tower targeting LEED Platinum certification
➢ Flexible design for tenant flexibility and subdivision
➢ Energy efficient operation for low operating cost
➢ Maximum HVAC system controllability, flexibility and energy efficiency
Sustainable Sites
Located South of Lougheed Highway and West of Willingdon Avenue, SOLO Altus is an amenity-rich and walkable mixed use urban area that is enhancing the North Burnaby commercial and residential density and quality of life.
Centrally located and surrounded by amenities, occupants at Solo District Altus Office enjoy a very high 'walk score' and potential for a highly reduced transportation carbon footprint. With a grocery, liquor store, pharmacy and restaurants located directly on site, over 40 restaurants and 5 bank branches located within 2 blocks, and an elementary school, day care and park within 15 minutes, occupants of the Solo Altus office can enjoy the ease of accessible services.
The SOLO District location was ideal for an urban infill project due to its central location. Prior to its current development, the site's previous use as a gas station and automotive center led a brownfield designation. To remediate the site of residual additives from its previous industrial use, soils were excavated and treated off site. Cleaning up brownfield locations such as this one is a viable urban renewal strategy, which helps improve the quality of environment in the local community.
Working at Solo District Altus Office enables occupants to reduce their need for single occupant vehicle use. Commuting to site is highly accommodated with active transportation modes such as walking and cycling. Steps nearby is the Brentwood Town Centre Skytrain Station to provide access to light rail transportation and buses for longer trip needs.
In an effort to further minimize occupant demand for single occupant vehicle use, office parking was minimized so as to not exceed minimum requirements. Priority spaces for carpools are enhanced with a program encouraging the uptake of carpooling. Electric vehicle drivers enjoy prioritized parking as well, with charging stations increasing visibility and uptake. For cycle-commuters, end-of-trip facilities, complete with secure bike storage, showers, lockers and change rooms, provide incentive and reward for ditching the car.
High above the ground floor of the SOLO District building is a sedum garden. Close to half the roof area is covered in extensive vegetation, equal to 1564 m2. This green roof slows down rainwater while also moderating heat island effect.
In an effort to manage local nighttime lighting intensity and reduce the amount of light spillage from the site, which might affect the nighttime environment around the residential buildings, the Solo District Altus Office integrated light pollution reduction strategies in its design. Direct uplighting was avoided and automatic shut-off times were implemented for evening operations.
The office area tenants in the SOLO District enjoy a number of benefits from the base building's green building design strategies. These businesses can further leverage these beneftis to lower their operational carbon footprint. Detailed tenant design guidelines were developed and shared with tenants to highlight opportunities to maximize the efficiencies built into their fit-out. These guidelines have proven successful in encouraging a major tenant to consider certification in LEED for Commercial Interiors (LEED CI).
Water Efficiency
Solo district saves an estimated 5,384 liters of water each day per day. This 35% reduction was possible through the use of low-flow washroom fixtures. Based on a modeled use incorporating basic occupancy information, this reduction demonstrates the type of water savings that are possible from specification and installation alone. Even greater water savings can be achieved on a project like this with occupant and tenant programs that encourage water conservation behaviour.
Materials and Resources
In an effort to demonstrate leadership and support on the use of sustainable wood products, the construction team pursued an aggressive target to have all wood based finishes in the commercial office area be FSC certified. They were highly successful, with 95% of all wood-based finishes used on the project originating from certified sustainable forests and chain of custody, including an exposed wood ceiling, creating a visible message on the importance of sustainable forestry practices.
The architect and contractor worked in tandem to source, specify, supply and track, as many building products as possible with high recycled content or materials that were harvested, extracted and manufactured within the local and regional economy.
A building durability plan was created to ensure a high design service life for the building, with assurance measures for assemblies to be constructed with durability in mind. The building was designed to have a very low air leakage rate for this type of tall structure in order to minimize the impacts of the stack effect that stems from pressure differentials between lower and upper stories. Additional measures for durability included a clear delineation in the design of wall assemblies, flashing and caulking details, and considerations for maximum exterior water shedding capabilities.
Energy and Atmosphere
This project takes advantage of energy from the earth and the sun for greater energy resilience and long-term savings and reduced greenhouse gas (GHG) emissions, with energy-conserving features from top to bottom.
High atop the project, the SOLO District Phase 2 incorporated solar panels for electrical energy production. Equipped with a 31.2kW photovoltaic (PV) system, the project holds 120 Conergy solar modules at 260 Watt each. This grid-tied solar system will produce over 28,000 kWh of electricity a year.
These PV solar panels sit on a roof that was constructed with 30% better energy performance than a baseline roof.
Deep below the project, a state of the art geo-exchange system reduces the project's reliance on GHG-emitting fossil fuels. A high efficiency variable refrigerant flow (VRF) water-source heat pump was connected to the geo-exchange heat pump and backup condensing boilers. The VRF fan coil systems allow for a more efficient collection and distribution of heating energy where needed within the building, transferring waste heat from one zone to another. The equipment has a high coefficient of performance (COP) value to further support the collection and conversion of ground heating energy into usable heating energy within the project's office space.
Running all the way up the building are windows that are 24% more efficient than the conventional baseline window. These windows have a reduced solar heat gain coefficient (SHGC) to lessen the solar radiation into the building so interior temperatures stay comfortable while saving energy on regulating indoor air temperature.
Inside and outside the building, project lighting design specified an overall low lighting power density. In the interior, there were occupancy sensors installed to control lighting and daylighting sensors with continuous dimming control lighting in the perimeter open offices. The use of occupancy sensors ensure that lights are only on when they need to be. The use of these sensors alone reduced lighting for energy by 30%, making these simple devices a good bang for their buck for long-term energy savings throughout the building's lifetime.
The low-flow plumbing fixtures not only reduce potable water use, but the amount of water heated for domestic consumption, saving even more energy.
Heat recovery ventilators were incorporated into the building's ventilation design. The central HRV has a 59% sensible effectiveness, which takes advantage of 'used heat' in the building by mixing it with fresh outdoor air for recirculation. Demand control ventilation in the office areas reduces fan energy and energy use for heating.
Indoor Air Quality
The SOLO project wanted to ensure that occupants would have a comfortable indoor environmental with good air quality. To that end, the project's high thermal performance building envelope creates the proper conditions for optimal thermal comfort of occupants. Inside the building envelope, the heating and ventilation system at SOLO District Phase 2 was designed to meet the ASHRAE 55 standard, which establishes the range of indoor environmental conditions to provide an acceptable thermal indoor environment for occupants.
To support tenants in the monitoring of CO2 concentrations, ensuring adequate delivery of fresh air, CO2 monitors were installed and provided for application in densely occupied spaces. Monitoring air in this way balances the need for clean, comfortable air for building occupants while maximizing energy efficiency.
All the paints, coatings, adhesives in the interior spaces were specified to guard against high levels of breathable volatile organic compounds to further protect indoor air quality, as well as flooring products and composite wood and laminate finishes. Indoor air quality construction practices also prevented contamination of HVAC materials from particulates and other harmful pollutants while the building was under construction.