Certifications & Awards
LEED Canada for New Construction and Major Renovations (registered)
Project Team
Operator

: Motivation Power and Achievement Society

Architects

: Neale Staniszkis Doll Adams Architecture

Operator

: Sanford Housing Society
Green Building Audio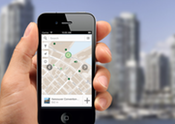 Targeting LEED Green Education Credit?
Our audio tours qualify.
Get one today!
style="font-size: 12px;">
Ken Wong and Larry Adams of NSDA Architects
Summary
In November 2012, Sanford Apartments opened its doors at Fir and West 7th Avenue in Vancouver, British Columbia, celebrating the completion of the 7th supportive housing complex under the Provincial Homelessness Initiative. This City of Vancouver and BC Housing partnership, in collaboration with operators Sanford Housing Society and Motivation Power and Achievement Society, provides supportive housing and mental health services for residents and visiting clients. In addition to a commitment to social sustainability, Sanford Apartments was designed to achieve environmental sustainability and is actively seeking a LEED Gold Standard. 
####
Site Context
Sanford Apartments is a nine storey building that sits next to the Fir Street off-ramp at the southern end of Granville Bridge on the south end of downtown Vancouver. This neighbourhood has been transitioning from low-scale commercial warehouses into high-density residential housing. The 4,270 square metre development boasts two underground levels that house minimal parking facilities and two designated parking stalls for Electric Vehicle charging. Sanford Apartments is located with walkable access to public transit as well as shopping and community resources.
Sustainability Features
Highly efficient toilets, faucets and showerheads installed, reducing water use to 43% below standard fixtures 
Building materials contain over 20% recycled content
96% of construction waste materials were diverted from landfill
Energy
Sanford Apartments uses 62% less energy than its conventional counterpart thanks to the low window-to-wall ratio. Reduced to 32% of the actual surface area and in combination with super-insulated concrete and the steel stud structure (including thermal insulating spacers), there is a reduction of heat loss or a gain depending on the various seasons. The buildings high performance envelope was designed for ease of maintenance, durability, and to minimize air leakage and thermal bridging.
Sanford Apartments meets the BC housing criteria requiring that no more than 10% of end use energy be provided by fossil fuels. Energy efficient features in each residential unit, such as central heat recovery ventilation units and radiant in-floor heating, work in conjunction with occupancy sensors in common areas and the vertical geothermal loop. In addition, metering was installed to record comprehensive measurements of the building systems for more than a year after occupancy. 
Indoor Air Quality & Atmosphere
Interior materials were chosen not only for their durability, but also for their low VOC (volatile organic compounds) content. Paints, adhesives, sealants, carpets, doors, and cabinetry were chosen to minimize residents' exposure to indoor pollutants. 
Access to the outdoors not only adds to the esthetics of the building, but also benefits its residents. Nine-foot ceilings encourage natural light to seep through all 62-units and amenity spaces. Over 93% of the regularly occupied building spaces receive at least twenty five-foot candles of natural daylight, and over 94% of spaces have direct line of site to an exterior window. The third-floor west-facing patio provides impressive views of downtown, Vancouver's English Bay, and the North Shore mountains. 
To maximize resident in-suite comfort, high performance gasket and sealant enclosures were put in place.  A "blower door test" of each individual suite was performed to ensure each unit is airtight, preventing the spread of tobacco smoke, aiding in soundproofing and the control of odour and vermin. 
Social Sustainability
Sanford Housing Society and the MPA Society are registered charitable organizations that operate in British Columbia's Metro Vancouver area. SHS's role is to develop and manage innovative, efficient, and cost-effective housing for low-income individuals and people with mental illness and/or addictions. MPA Society is a recognized leader in community mental health program delivery, and works with those experiencing the debilitating effects of mental illness and their supporters. In addition to these valuable services, residents have the opportunity to attend onsite music and art classes, access the workout room, and surf the Internet on computers provided in the lounge area.