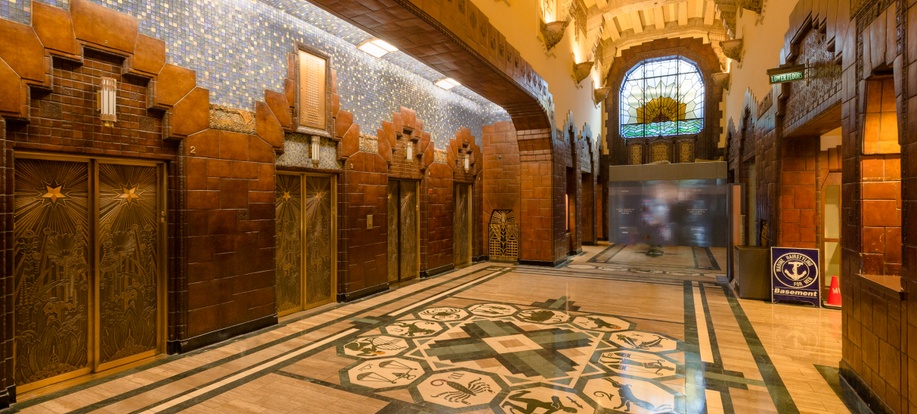 Project Team
LEED/Re-commissioning Consultant

: MMM Group

Owner

: Oxford Properties
Green Building Audio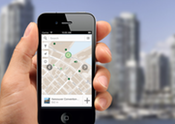 Targeting LEED Green Education Credit?
Our audio tours qualify.
Get one today!
style="font-size: 12px;">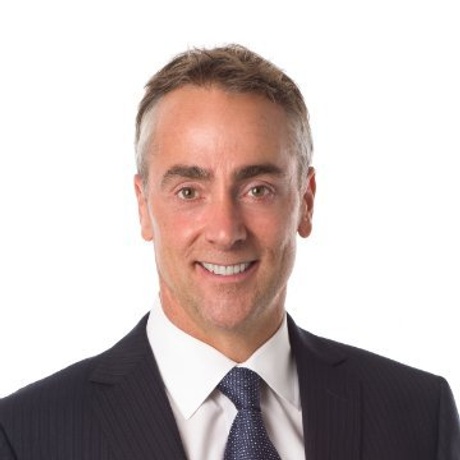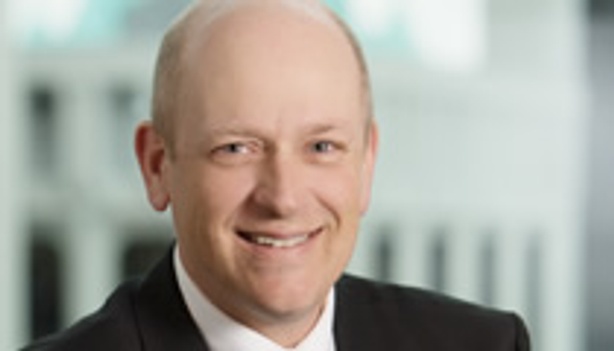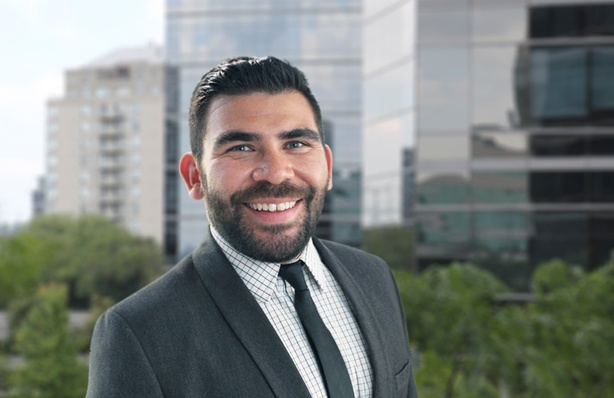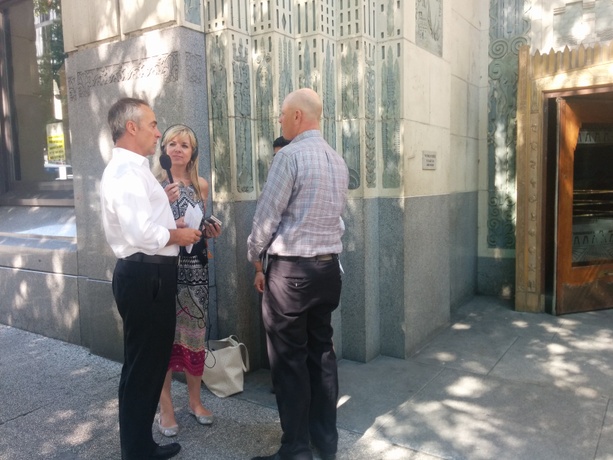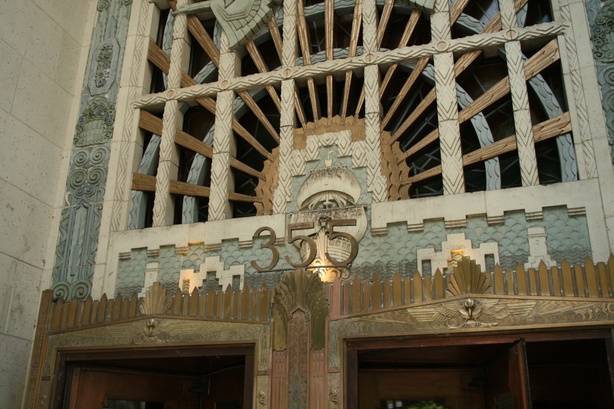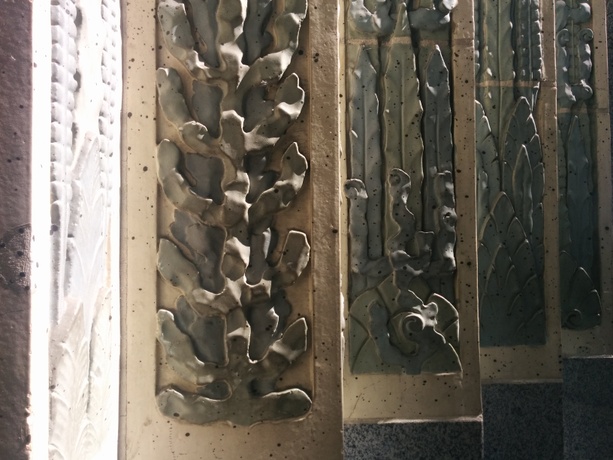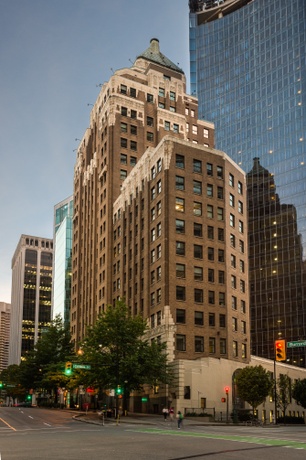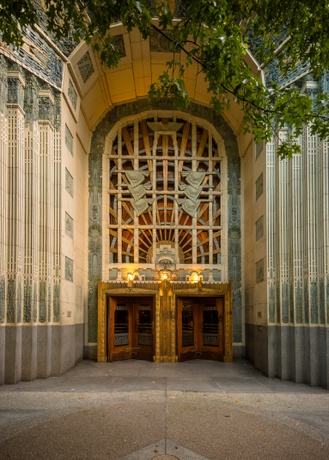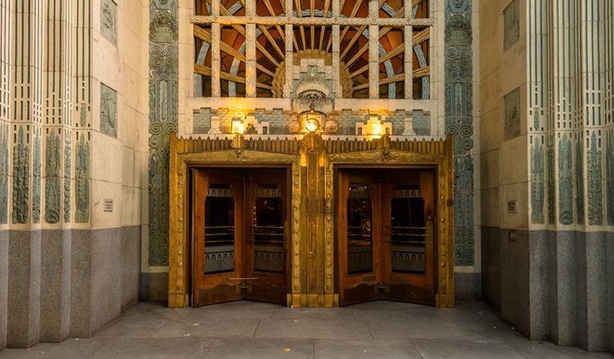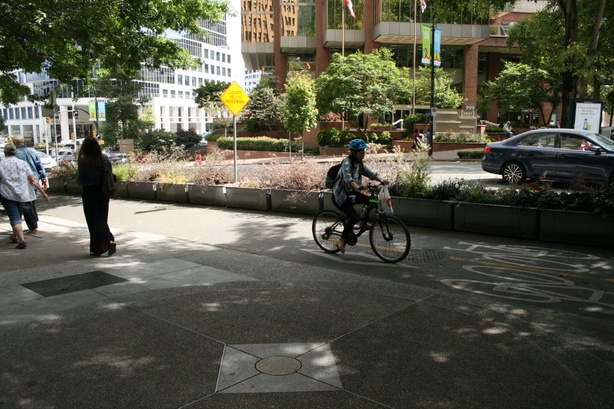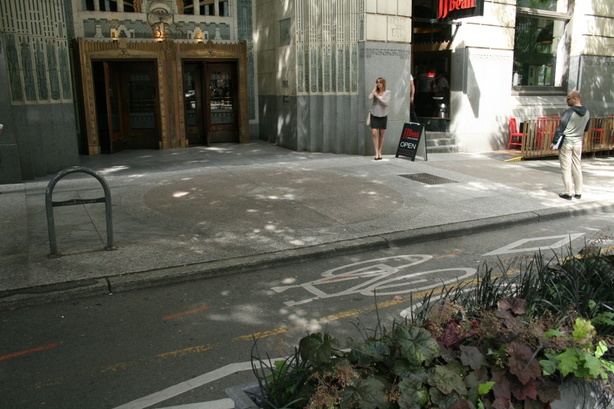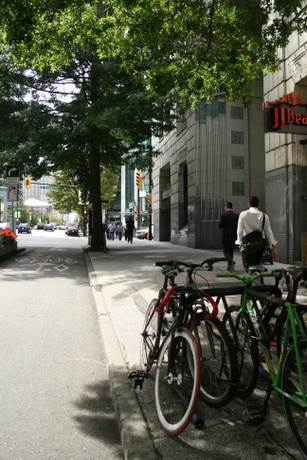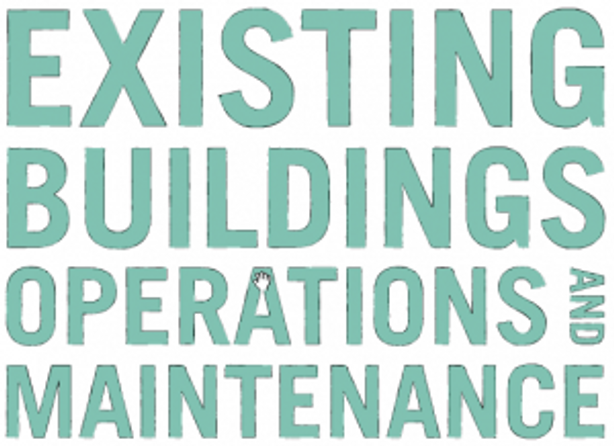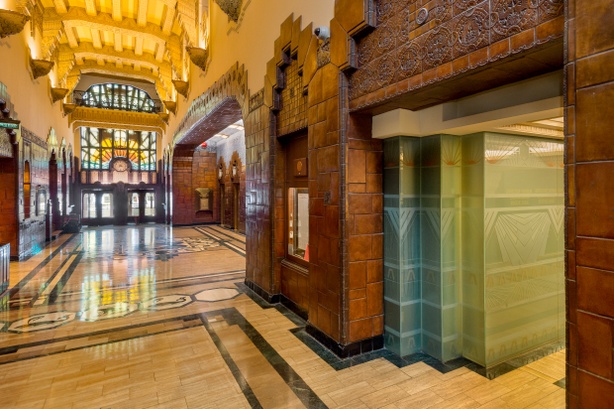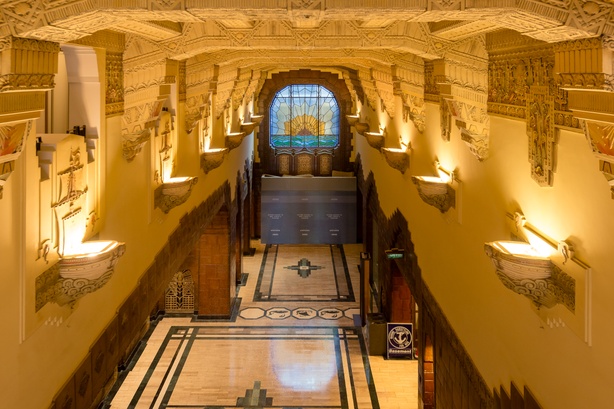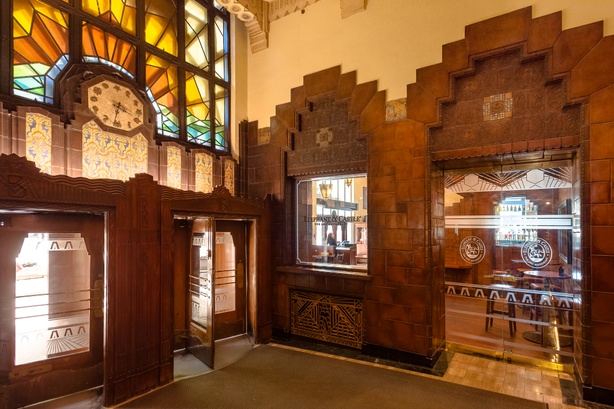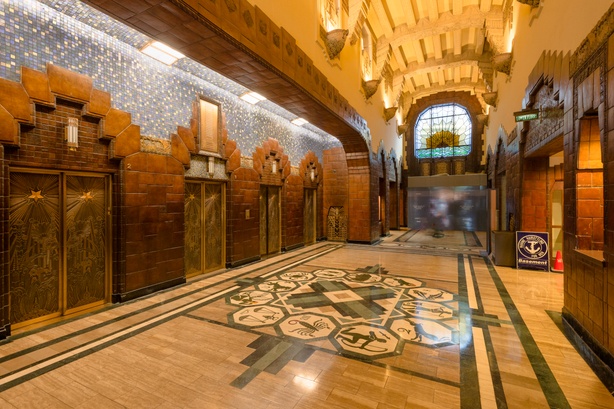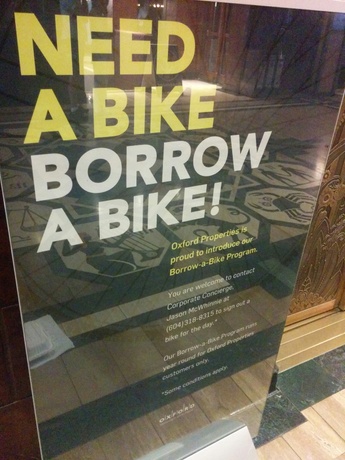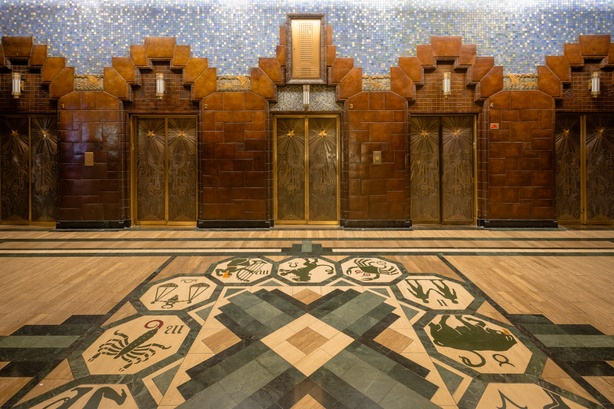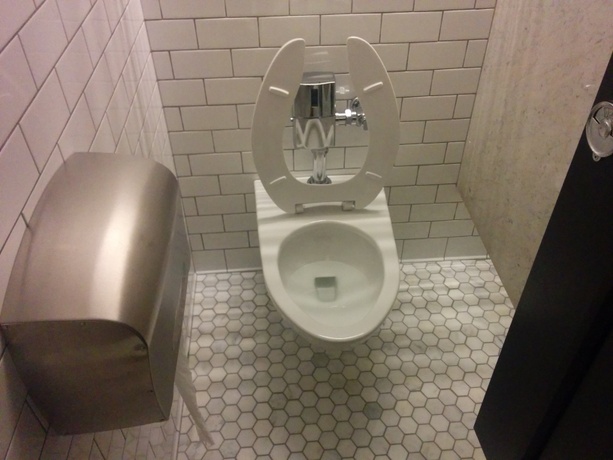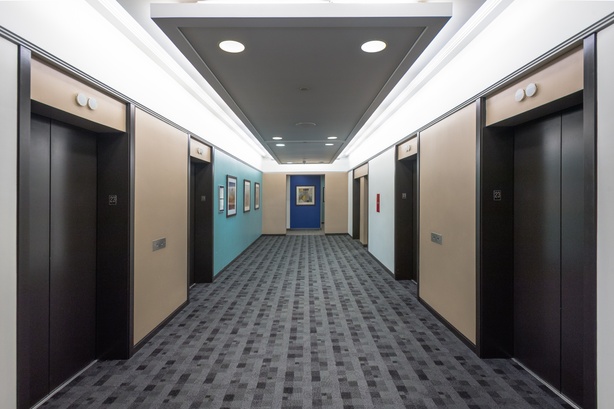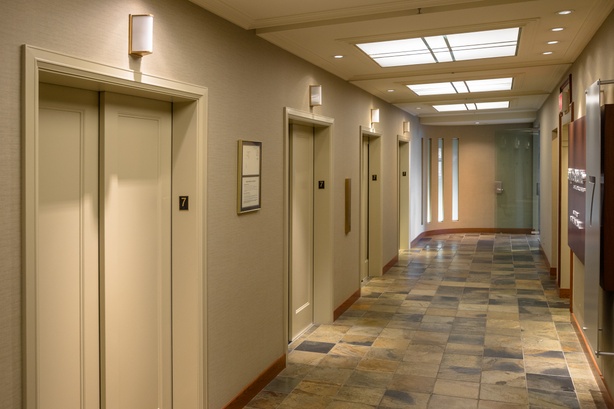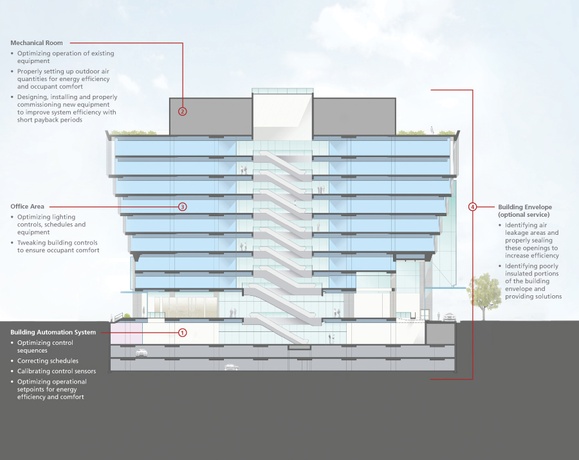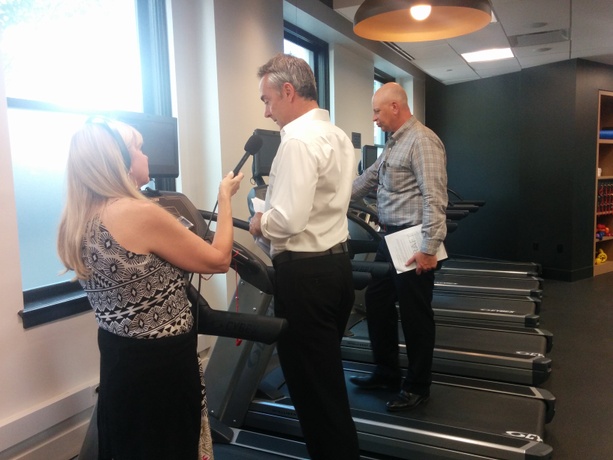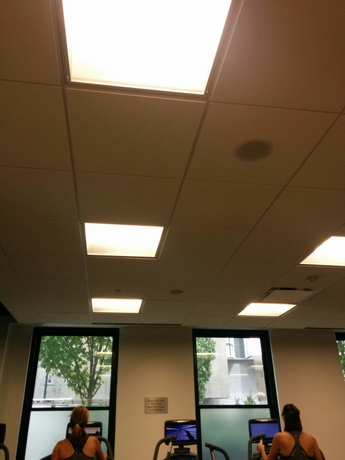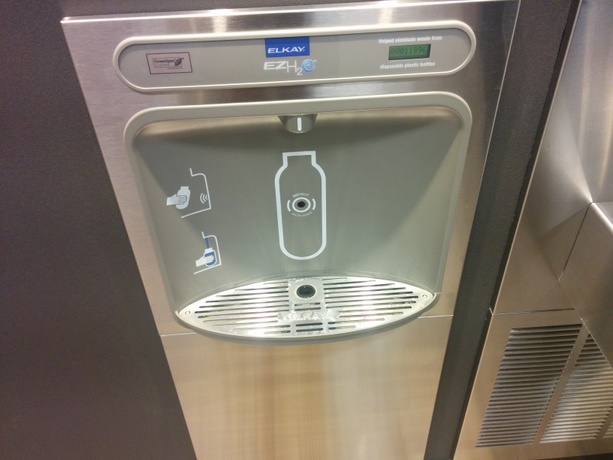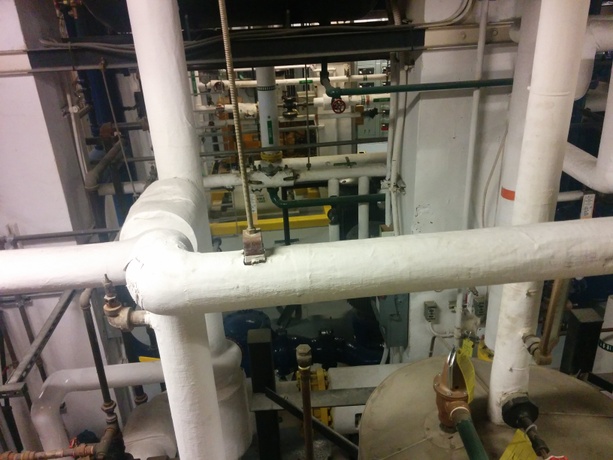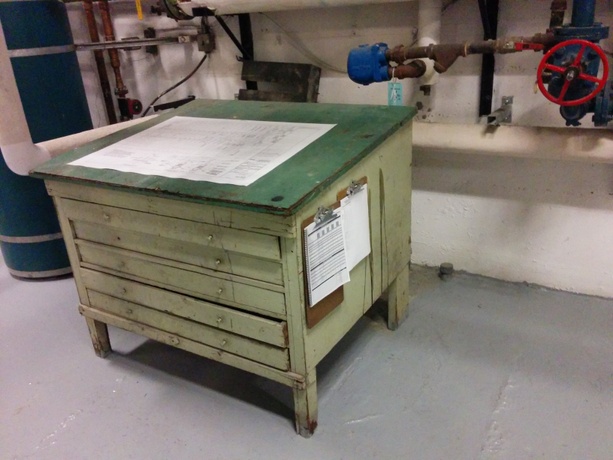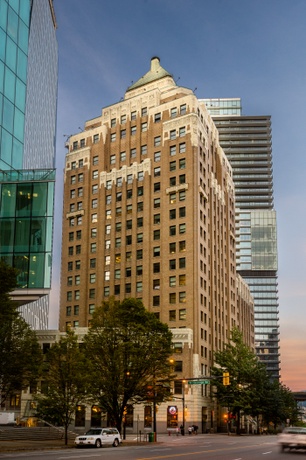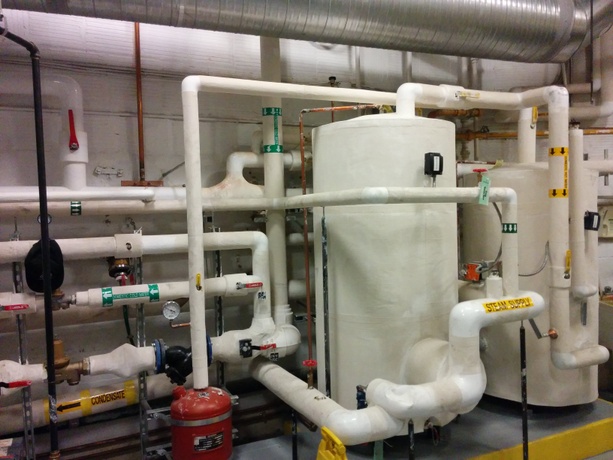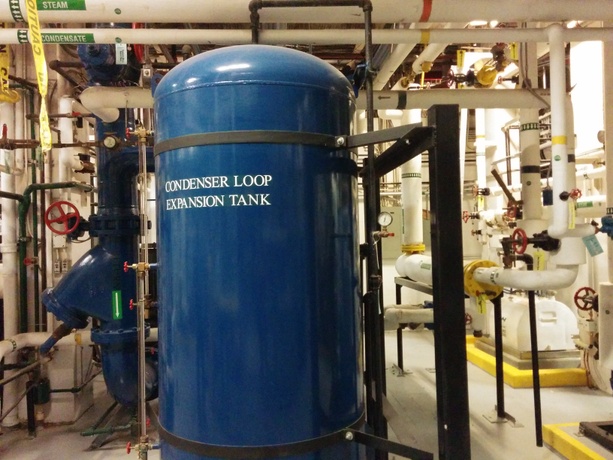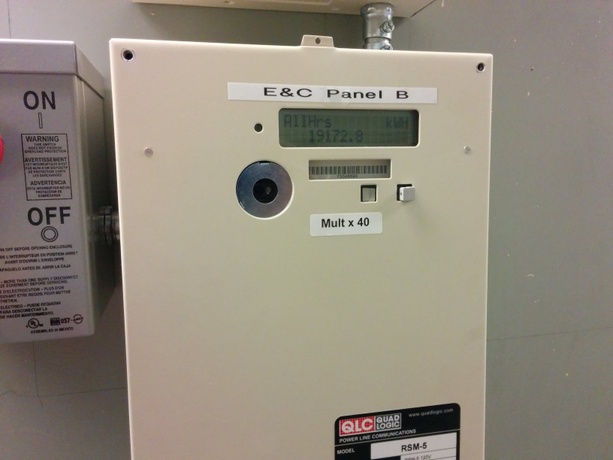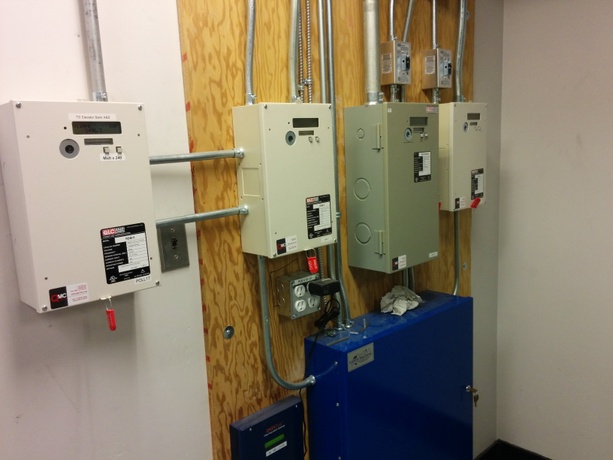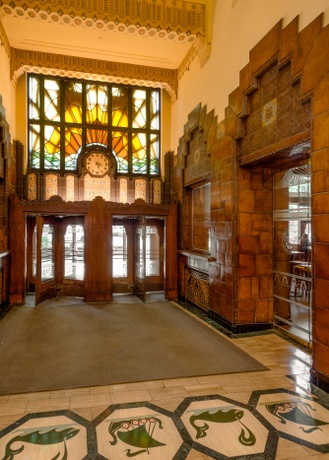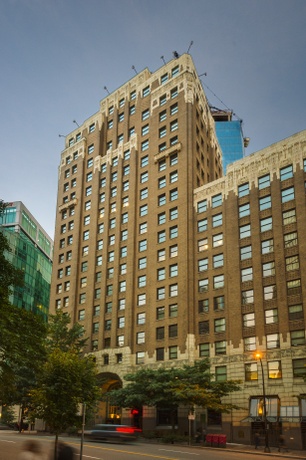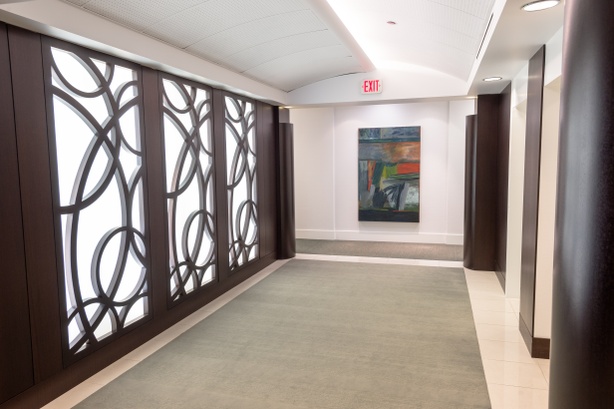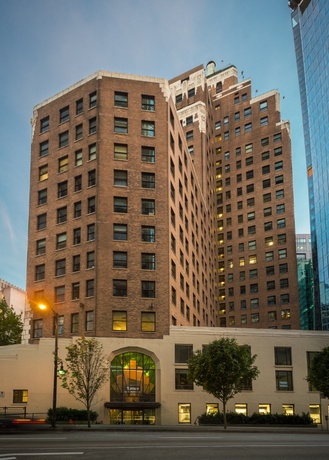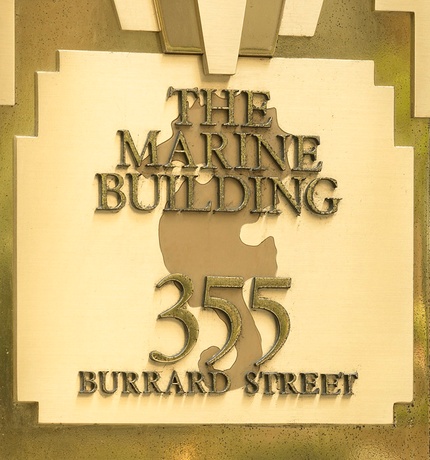 Derek Page & Steve Patrick, Oxford Properties and Juan Monterrosa, MMM Group
Summary
The Marine Building is a 25-storey, 296,000 sq/ft iconic heritage office tower. Built in the Art Deco style in 1930, the Marine Building is centrally located in downtown Vancouver BC's Coal Harbour. The building was renovated from 1982 to 1989 for stylistic, as well electrical, mechanical, air-conditioning system upgrades. In 2014, Oxford Properties committed to a capital improvement plan, complete with assessments and training through the LEED Canada Existing Buildings: Operation & Maintenance (EB:O&M) rating system. They worked with MMM Group consultants and targeted a high level of Silver certification. EB:O&M certification creates value by comparing actual performance to a three-month operations baseline period with a year of energy data. Projects re-certify every five years to ensure continuous improvements.
Sustainable Sites
With its central location, the Marine Building fosters a low carbon footprint for occupants. Proximity to Skytrain, Seabus and major bus routes facilitates transit use ease. Accessible bicycle parking on site encourages cycling to work, as well as the availability of showers in the fitness center. While parking is conveniently located at an adjacent tower, a survey of building occupants demonstrated that 75% do not travel to and from their work in a single occupancy vehicle (SOV) but instead travel by alternative transportation such as cycling, walking, transit or carpooling.
To minimize negative impacts of outdoor maintenance equipment on site, the Marine Building created a building exterior and hardscape management plan to use lower impact equipment and practices for snow removal, building exterior and hardscape cleaning and repair. Rakes, hand tools and shovels are used for leaves, planters and snow removal wherever possible.
Low-impact landscaping practices have also been implemented on site, including compliance with the Society of Organic Urban Landcare's (SOUL) Organic Landcare Standard, planting at least 75% perennial or native plants and mulching and/or composting all landscape waste.
Water efficiency
As part of the LEED investigation phase, a water audit was completed to determine where the Marine Building was over-using water. The result was a reduction in lavatory aerator flow rates from a whopping 8.5 Litres per minute (LPM) to just 1.9 LPM, a savings of 6.6 LPM on each fixture. Water closet flush rates were reduced from 9.4 Liters per flush (Lpf) to just 5.2 Lpf, a savings of 4.2 Lpf per fixture. Overall, these measures reduced water use by over 34.5%.
Energy
Oxford Properties enlisted Marine Building, as well as their nearby Oceanic Plaza, Guinness Tower and 401 West Georgia, into the Continuous Optimization for Commercial Buildings Program (C.Op.), offered by BC Hydro Power Smart in partnership with Fortis BC. The program was set up to assist commercial building owners identify and take corrective action on energy wasting operational systems and continuously monitor building performance for ongoing maintenance and improvement of energy efficiency, which reduce operating costs.
Eligible customers such as Oxford Properties received funding towards the cost of re-commissioning services to study their buildings and recommend energy efficiency improvements, as well as access to an energy management information system (EMIS) to assist in tracking their building's performance after the re-commissioning work was complete. In return, program participants agree to implement, at their cost, measures identified by the re-commissioning study that have a payback of two years or less. MMM Group Ltd. conducted the retro-commissioning investigation as part of the program, in addition to supporting Oxford Properties through the process for LEED EBOM certification.
The retro-commissioning investigation identified deficiencies and improvements in the operation of a facility's mechanical equipment, lighting, and related controls. Opportunities for corrective action were identified that could reduce energy consumption and preserve or improve indoor environmental quality.
The investigation focused on low-cost improvements with short paybacks, although major capital improvement opportunities were also identified. Major retrofit measures were beyond the scope of the Program but other BC Hydro programs provide a variety of incentives to complete the retrofits.
For each of the measures recommended below, costs, payback calculations and incentive amounts were provided to the client:
Optimization of Sequence of Operation in Building Automation System
MMM Group has been contracted to write a new sequence for the Marine Building as it did not previously have sequence of operation documents on site. Sometime in the year 2015, the Marine Building will have a new Direct Digital Control (DDC) System installed. The new sequence of operation will be programmed into the new DDC system by the controls contractor (Control Solutions), and new As-Built control drawings will show sequence of operation changes in narrative form to make them user friendly for building operators. Having these documents on site allows facilities operators to run the equipment as designed, yielding both employee time and building energy savings.
Heat Pump Loop Optimization
It was found through functional testing that the heat pump loop at Marine Building was operating at a higher temperature than required. The heat pump loop setpoints were 20°C (low) and 29°C (high). When the temperature at the loop is less than 20°C, steam valves open to allow steam to enter the heat pump loop heat exchanger to increase the temperature of the loop to 29°C.
The commissioning team suggested changing these DDC setpoints to 15°C (low) and 18°C (high), to use less steam than the previous set point values.
Marine Building has a capital plan in place to increase the capacity of the fluid cooler, resulting in a lower temperature in the condenser loop, which will save considerable energy while the heat pumps are in cooling mode.
Make-Up Air Units Supply Air Temperature Setpoints Too High
The make-up air supplies hot tempered air in the winter and filtered ambient air in the summer. During testing, the supply air temperature for the nine make-up air units was found to be too high. These high setpoints have caused some of the heat pumps to operate in cooling mode during shoulder and winter season. A simple change of the DDC setpoints from 24°C to 12°C ensures this equipment only operates in heating mode during the shoulder and winter season.
Heating Enabled Setpoint Too High
Because the heating enabled set point was set too high, the Building Automation System was enabling the steam valve to supply heating water to the make-up air units, causing a simultaneous heating and cooling process. The setpoint was lowered to enable when outdoor air temperature hits 10°C.
Leaking Steam Valve
A leaking steam valve was discovered as a lost source of energy and was repaired by operations.
Make-Up Air Units Check and Repair Heating Valves
A temperature differential was found in the make up air units when the heating valve was closed, which indicated either a passing heating valve or a defective temperature sensor. Marine Building staff had to determine whether leaking valves needed to be repaired or whether the temperature sensors needed to be replaced or recalibrated.
Cleaned Outdoor Air Louvers for Make-Up Air Units
The outdoor air louvers for the make-up air units were dirty and restricting outside air-flow to tenant floors. Dirty surfaces can affect air handling unit performance up to 5%.
Reducing Dial Switch Setting for Condensate DHW Preheat Circulation Pump
Data logging showed that the preheat system for the upper domestic hot water tank could have been activated more often. The dial switch for the condensate pump for the preheat system needed to be lowered from 120 ̊F to 100 ̊F to activate the pump more often to allow more circulation of condensate to preheat the incoming to domestic cold water before going to the upper domestic hot water tank. Continued testing and trend logging will help facilities operators ensure this system maintains this optimizing trend.
Major retrofit measures were beyond the scope of the BC Hydro Continuous Optimization Program, but other BC Hydro programs provide a variety of incentives to retrofit Variable Frequency Drives (VFDs). A VFD, or variable speed drive, installed on a motor can reduce its runtime, creating efficiencies and equipment longevity. Any application that doesn't need to be running at full speed can be controlled with a VFD to allow the speed of the motor-driven equipment to match the load requirement, which cuts down on energy use and costs. The following measures, were recommended:
VFD on Condenser Pump
The condenser pump circulates condenser water to the heat pump loop and runs at a constant speed. A variable speed drive would greatly reduce the pumping power of this 60 HP-rated pump, when loads were low.
There were additional measures identified to be considered in future retrofits, which include:
. Upgrade DDC System to a Newer and More Robust DDC System (to be installed in 2015)
. Replace Undersized Fluid Cooler or Increase Cooling Capacity
. Provide Additional Connections to the Lower DHW Tank and Fitness Centre Hot Water Tanks to Domestic Hot Water Preheat System
Energy Star The Marine Building achieved a score of 84 in the Energy Star Portfolio Manager. Thousands of buildings in Canada have registered with the Energy Star Portfolio Manager, which allows tenants, facilities managers and the general public to know where commercial buildings (and homes) rank in their energy performance relative to other buildings across Canada. In order to maximize their performance, buildings need to have up to date building operations recorded for reference and for future recordings. Having a reference with clear explanation of operation strategies, sequences of operation and preventative maintenance activities is essential not only for energy efficiency but for the efficiency of facilities management.
Indoor Air Quality
Inadequate temperature, humidity, lighting, excessive noise, indoor air contaminants of numerous varieties and insufficient outdoor air intake are some key factors that affect indoor air quality in office buildings.
Utilizing I-BEAM helps the Marine Building operators manage, operate and maintain their building with IAQ in mind, while ensuring that energy efficiency projects are compatible with healthy indoor air, as well as within the facilities' budget. I-BEAM is a comprehensive tool that can be used to solve problems, respond to complaints, and as a reference tool for specific issues, or for training, maintenance, housekeeping, renovations, etc.
Green Cleaning
With over 100,000 chemicals registered with the EPA for cleaning purposes, and only a fraction of these studied for their health impacts, phasing out toxic chemicals from the cleaning supply is essential for indoor air quality.
The Association of Physical Plant Administrators (APPA) has a cleanliness assessment and audit utilized by the LEED EBOM standard. Measured out of five, EBOM recognizes projects achieving an audit score of three, with one being the highest level of cleanliness (called 'Orderly Spotlessness').
To eliminate and minimize potential adverse health impacts associated with pest prevention and elimination, the Marine Building has implemented an Integrated Pest Management Plan with monthly inspections, and preventative measures that allow the project to avoid chemical pesticides.
Solid waste management
Marine Building undertook a waste stream audit to create a baseline from which to reduce their waste production.
In addition to regular recycling for …each floor in the Marine Building has at least one organics collection (green) bin for food waste. An Environmental Ambassador is designated by Oxford Properties to liaise between the tenants and property management with the goal of reducing waste generation.
The project has committed to ongoing consumables and durable goods policies and a purchasing policy to source reduced mercury lamps for building fixtures.
Large impacts on waste reduction and environmental and occupant health can be achieved when changes in cleaning practices and products are targeted. A high performance cleaning program was implemented as well as a custodial effectiveness assessment. Specific environmental performance standards have been adopted for cleaning products and materials, cleaning equipment and for integrated pest management.
Tenant engagement
Occupant pride can be harnessed for increased engagement and behaviour change, a key strategy for ongoing environmental performance of buildings.
Occupants are regularly informed about sustainability via lobby and elevator installations. A Marine Building green team has been assembled, meeting monthly to create and coordinate environmental programs, and to optimize participation. The green team is constantly on the lookout for additional engaging strategies pertaining to energy, water, resource conservation and waste reduction.
What building owners can do
Older buildings can greatly benefit from a comprehensive review such as the one taken on by Marine Building to determine multiple improvements in equipment, scheduling, and settings.
For building owners who recognize the long-term financial value of a green retrofit, gathering data is key. Anthony Esposti, Senior Manager of Corporate Financing at Business Development Bank of Canada says energy-saving fixtures usually pay for themselves within two to six years. In order to ensure that retrofits actually deliver those savings, building owners need the following pieces of information:
• Baseline data on the building's energy and water use before the retrofit;
• Recommendations on equipment to reduce baseline use;
• Projected energy reductions and cost savings, as estimated by an engineer
• A means to collect and monitor data on the building's energy and water use after the retrofit
A number of consulting companies provide this type of service, but financing for existing buildings can provide a challenge to pay for these services with the recommended equipment upgrades.
Esposti advises landlords to inquire about retrofit financing options with their current lenders. Using information on the benefits of green buildings from sources like the Canada Green Building Council and Natural Resources Canada may aid in a loan request.
BDC is currently looking into ways to assist entrepreneurs reduce their companies' greenhouse gas emissions and increase energy efficiency. Esposti also urges building owners to contact Business Development Bank of Canada with regard to financing as they "do have money available for doing things aside from mortgage financing."
Sources: Business Development Bank of Canada, EPA, FacilitiesNet, MMM Group, Oxford Properties
What you can do
You don't have to be an energy manager or a property manager to improve the performance and environmentally responsible operations of your home. A simple online search yields myriad resources and tips on how to conserve energy, water, and reduce waste and toxins in your home. Below are just a few to help get you started. Using readily available online tools, you can create benchmarks to help you understand your consumption patterns and identify ways to reduce them.
Energy benchmarking
Homeowners can track energy consumption using BC Hydro's smart meter online tracking.
Save energy
-To save about 10 percent on your heating bill in colder months, program your thermostat to set back the temperature by five degrees for eight hours each night. The ideal temperature for when you're away and sleeping is 16°C
-Plug all your adapters for equipment that needs charging into a power bar, then turn it off with a single switch not in use
-Check out "smart" thermostats, such as Nest Learning Thermostat, which learn your daily routine and automatically adjust the temperature for you
-CFL bulbs use approximately 75% less energy and can last up to 10 times longer than standard incandescent bulbs (about 8,000 – 10,000 hours compared to 1,000 hours for incandescent lights)
Check out the new array of colour temperatures of CFL bulbs and make the switch
Carbon footprint benchmark
Create an estimate of how many tons of carbon dioxide and other greenhouse gases your household's choices create each year. There are several carbon footprint calculators, including this one from the Nature Conservancy
Carbon footprint reduction
-Consider how far your food travels to arrive on your plate. Reduce 'food miles' by sourcing and purchasing food locally and organic as much as possible. Check what produce is in season using websites like: www.eattheseasons.com
-Look into local flight-free vacations by bike, car, or train for a low-impact holiday -Find the cleanest, most fuel-efficienct vehicle to meet your needs at: www.epa.gov/greenvehicles
-Reducing your utility bill also reduces your carbon footprint. -Track your bills online to find ways to conserve that work for your household
Water benchmarking
-Potable water consumption can be recorded using manual meter readings or via calculators such as the one provided by the [Alliance for Water Efficiency[(http://www.home-water-works.org/calculator)
Water conservation
-Ask your local municipality or local utility if they have water savings kits, or else find the following in your local hardware store:
-Low-flow shower heads, which save 9 to 16 litres per minute (or more) compared to conventional shower heads
-Kitchen and faucet sink aerators -Toilet tank bags to displace and save water per flush on conventional toilets
Waste Reduction
-Recycle unwanted electronics such as cell phones, print cartridges, laptops, tablets and digital cameras by using a cost-free environmental fundraising program called Think Recycle, which helps the David Suzuki Foundation raise funds while promoting responsible disposal through refurbishment, recycle and reuse
-Use refillable containers and reusable grocery bags
-Avoid disposable cleaning products; opt for reusable cloths and mops
-Be entertained, inspired, and informed by a couple's documentary on their waste-free year: http://cleanbinproject.com
-Replace your garbage pail with a smaller bin to shift awareness about household waste production
-Go for paperless billing and request a stop delivery on unaddressed admail from Canada Post
Eliminate toxic chemical use
-Identify the areas of your home where toxic materials are used such as cleaning, pest management, yard care and find alternatives such as:
-Organic fertilizers and integrated pest management in the garden; plant companion plants, such as marigolds, to stave off pests
-Compost yard trimmings and food waste to give landfills an enormous break, while also creating soil
-Use coffee grounds in the garden to boost nitrogen levels and repel pests
-Discover how many cleaning applications can be satisfied with combinations of baking soda, lemon, vinegar, olive oil, castile soap, borax and other natural benign ingredients
-Many websites have recipes to make your own cleaning products, including The David Suzuki Foundation: www.davidsuzuki.org/publications/resources/2011/green-cleaning-recipes
Sources: BC Hydro, Clean Bin Project, David Suzuki Foundation, EPA