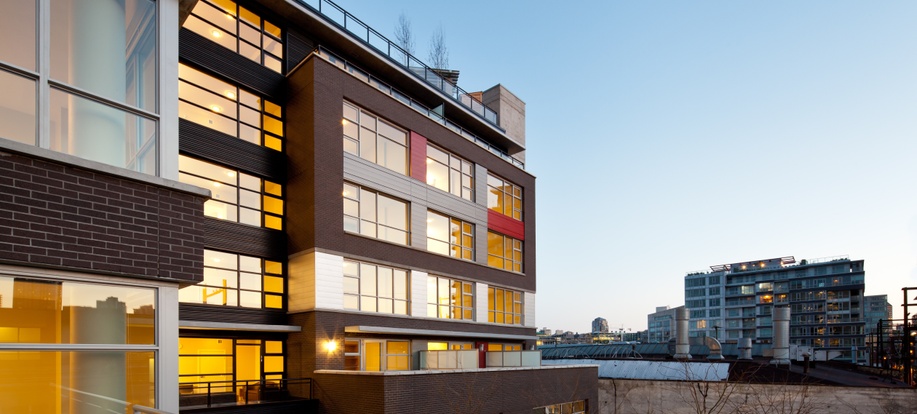 Marguerite Ford Apartments - 215 West 2nd
Certifications & Awards
LEED Canada for New Construction and Major Renovations (registered)
Project Team
Building Science Professional

: RJC

Environmental Advisor

: Active Earth Engineering Ltd.

LEED Commissioning Authority

: CES Engineering

Contractor

: Ledcor

Landscape Architect

: Eckford & Associates

Civil Engineer

: Delcan

Mechanical Engineer

: AME

Structrual Engineer

: RJC

Electrical Engineer

: Acumen

LEED Consultant

: Recollective

Development Manager

: Terra Housing Consultants

Architect

: DYS

Client

: Sanford Housing Society
Green Building Audio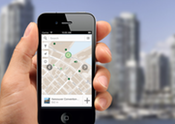 Targeting LEED Green Education Credit?
Our audio tours qualify.
Get one today!
style="font-size: 12px;">
Jay Burtwistle of Recollective and Matt Younger of AME Group
Summary
Located at 215 West 2nd Avenue, Marguerite Ford Apartments is a social housing project in the growing South East False Creek Neighbourhood of Vancouver, BC.
As part of the Provincial Homelessness Initiative, this non-market residential development project assists people who are homeless or at risk of homelessness so they can stabilize, regain independence and move into permanent housing.
Named in honour of long-serving Sanford Housing Society board member and Vancouver City Councilor Marguerite Ford, this multi-unit residential building offers 147 units of housing in studio and one-bedroom apartments on 10 levels. It includes a single level of underground parking, with the main floor housing the new offices of the Sanford Housing Society and its supportive programming.
Significant features:
Accessible green roof
Heat recovery for ventilation air
Solar domestic hot water
High performance building envelope (building enclosure)
High efficiency heating from neighbourhood energy utility
Annual greenhouse gas (CO2) reduction of over 210 tons
Targeting gold level certification in the Leadership in Energy and Environmental Design (LEED) program
Sustainable Sites
The building was conceived as an "L" shape oriented towards West 2nd Avenue and Cook Street, enclosing a landscaped courtyard adjacent to the lane serving as an outdoor residential amenity space.
The project's massing creates an attractive, pedestrian focused and active lane, and the building is conveniently adjacent to public transportation hubs and plenty of cycling infrastructure.
The green space on site, such as the landscape treatment of the courtyard, is environmentally sensitive, with drought-resistant plantings that direct storm water run-off to nearby bio-swales. The accessible green roof extends Design Service Life (DSL) of roofing membrane while creating a pleasant green space for occupants.
Energy Efficiency Goals
In line with BC Housing's steadfast energy saving targets, Marguerite Ford Apartments targeted a high optimization of energy performance. In order to reduce the building's carbon footprint, or greenhouse gas (GHG) emissions, the goal was set to have no more than 10% of end use energy deriving from fossil fuels.
The project utilized multiple strategies both to save energy and reduce GHG emissions.
Exhaust heat recovery created a resource from 'waste' heat. Highly efficient interior and exterior lighting design was incorporated as well as the use of energy efficient appliances throughout the project.
'Demand controlled ventilation' created further efficiencies, as compared to conventional heating and ventilation building schedules. The 'variable speed drives' (VSD) in HVAC equipment pumps increased efficiencies in equipment compared to conventional control methods. Solar domestic hot water heating provides considerable energy savings. Additional efficiencies come from being connected to a District Energy System called the False Creek Neighbourhood Energy Utility, located just under the Cambie Bridge.
From a GHG reduction standpoint, all of these features result in an annual reduction of over 210 tons of CO2. From an energy savings standpoint, the project's energy model identified an overall cost savings of more than 54% of the ASHRAE 90.1 1999 standard, helping the project achieve a high Optimize Energy Performance score in the LEED rating system.
A Durable Building
With durability in mind, the building was designed with a 50-year life expectancy for materials and building structures. A building durability plan was created and detailed to address quality of design and installation of building components, as well as lay out future maintenance requirements to ensure a long-lasting building. Finally, the building envelope was commissioned to ensure the achievement of both energy and performance integrity.
As with all LEED Multi-Unit Residential Building projects, particular attention was paid to creating a continuous air barrier between suites, which is a crucial component to separating each suite from potential odours and/or environmental tobacco smoke of neighbouring suites.
Social features
Some design and construction features of the Marguerite Ford Apartments were taken on for the community's social benefit.
The design layout of the building on the site was executed in such a way as to create a public amenity. The building mass at the southern-most corner was set back to create a small "pocket-park" for public use.
Construction of the Marguerite Ford Apartments itself included programming in the social economy. The contractor and subcontractors responsible for building this project participated in the BladeRunners youth employment program to provide basic subsidized training and work experience in the construction industry for individuals who are employment disadvantaged to facilitate entry into the labour force.
Sources: C.E.S. Engineering Morrison Hershfield Terra Housing