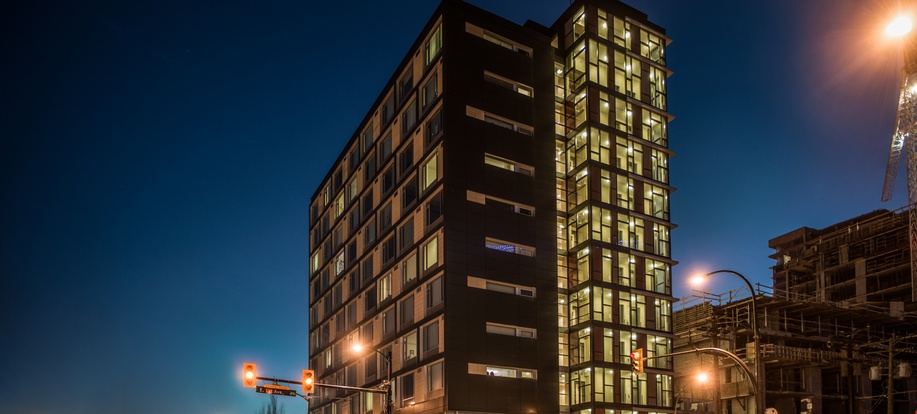 Certifications & Awards
LEED Canada for New Construction and Major Renovations (registered)
Project Team
LEED Consultant

: Sustainability Solutions Group

Architects

: GBL Architects, Inc.

Owner and Operator

: Lookout Emergency Aid Society

Electrical

: MMM Group

Mechanical

: Stantec Consulting Ltd.
Green Building Audio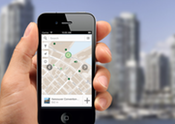 Targeting LEED Green Education Credit?
Our audio tours qualify.
Get one today!
style="font-size: 12px;">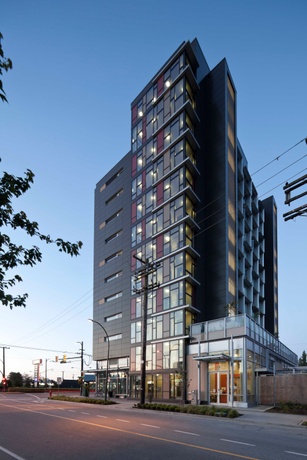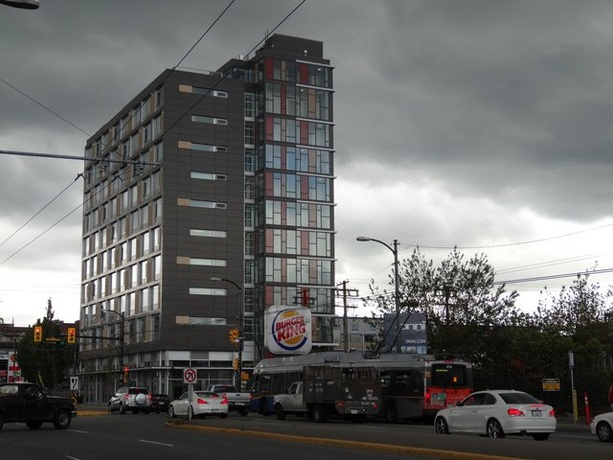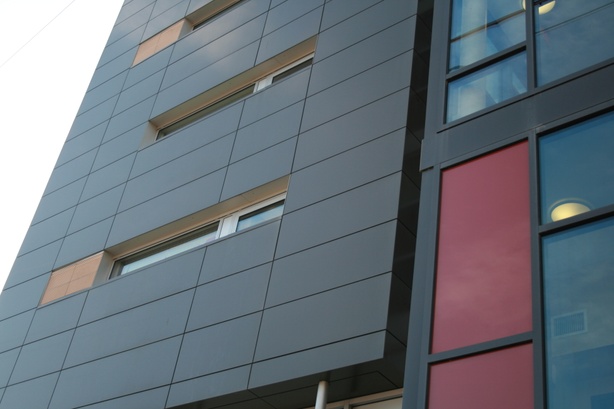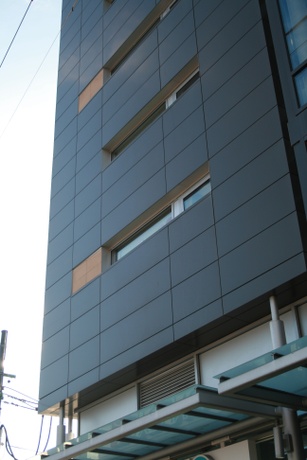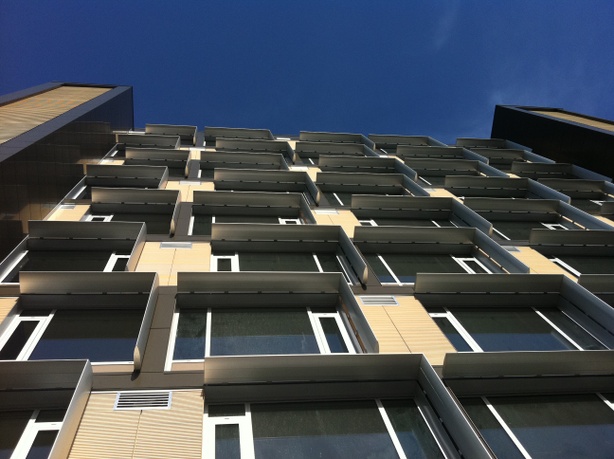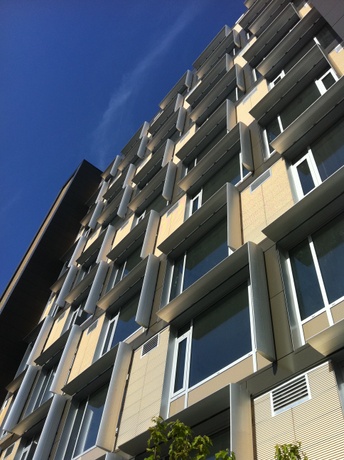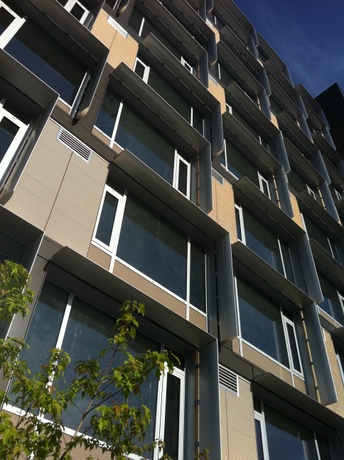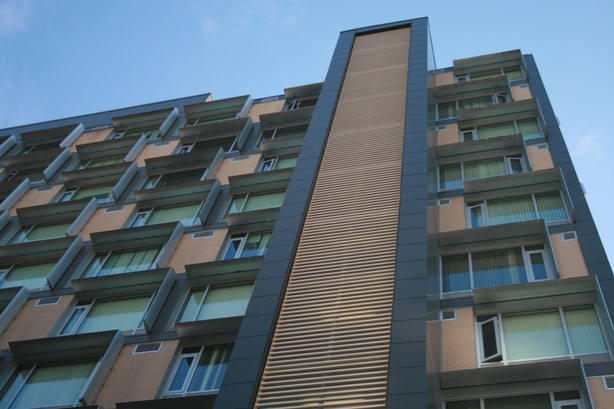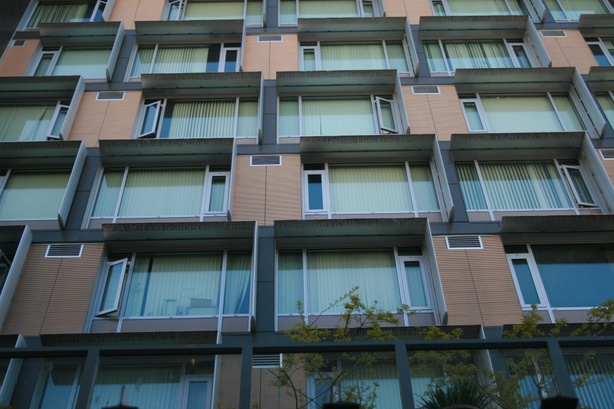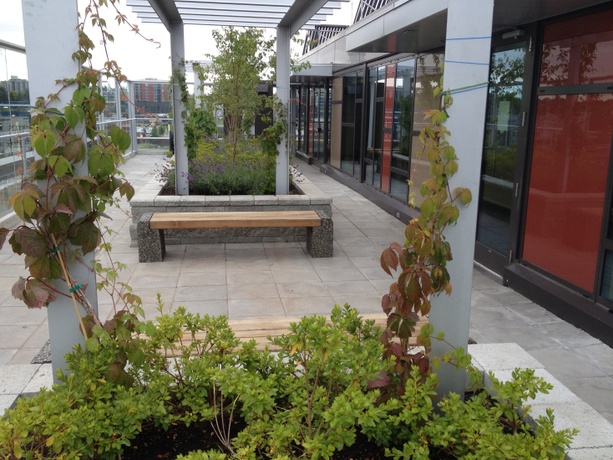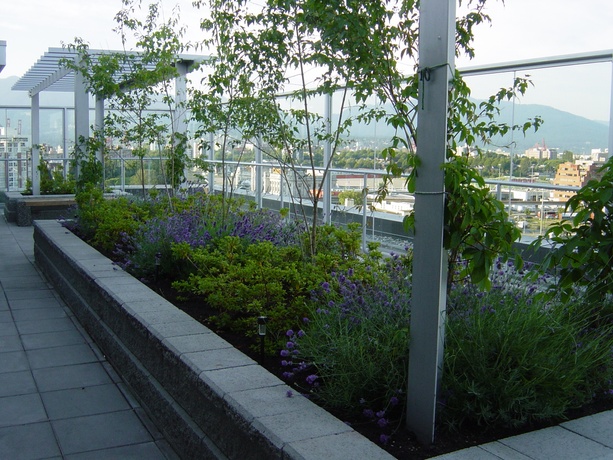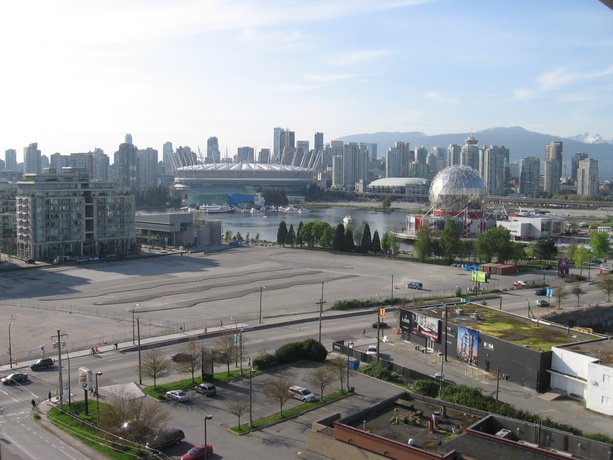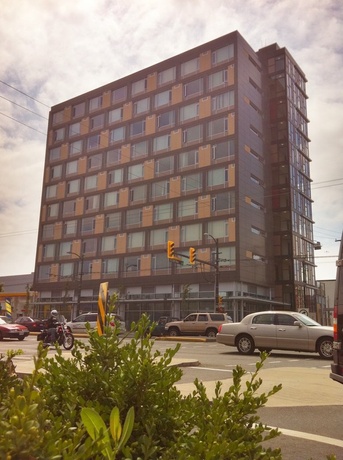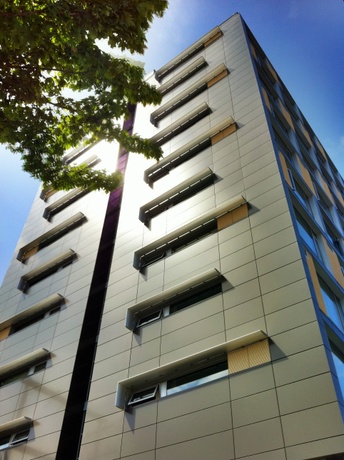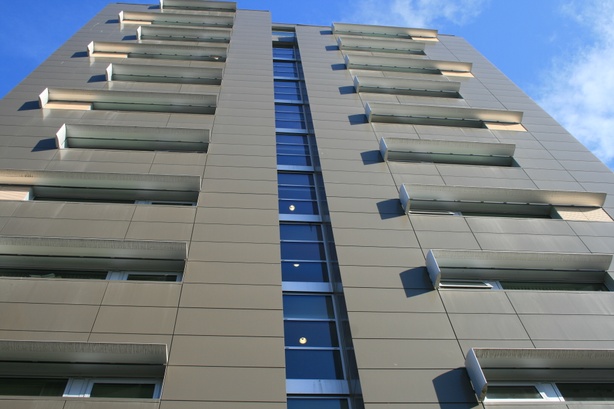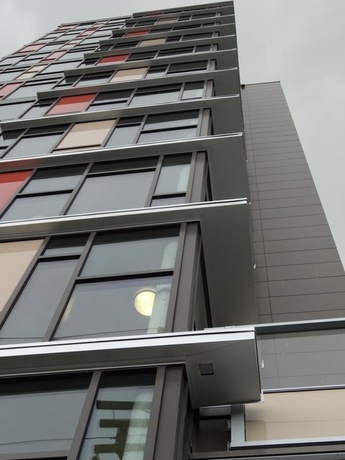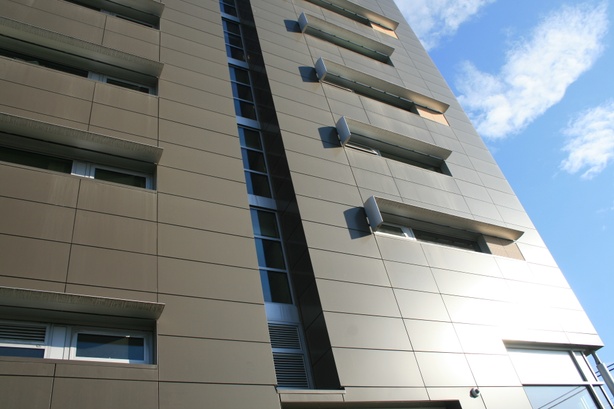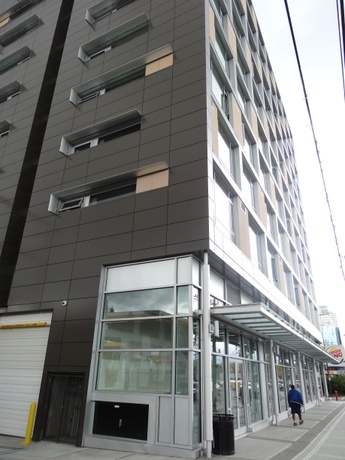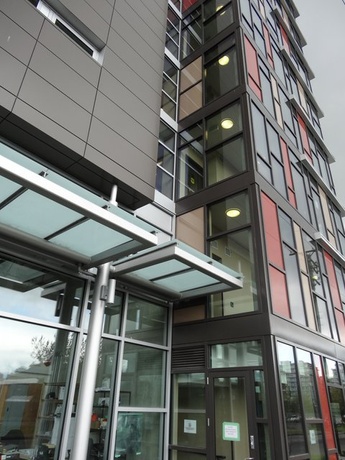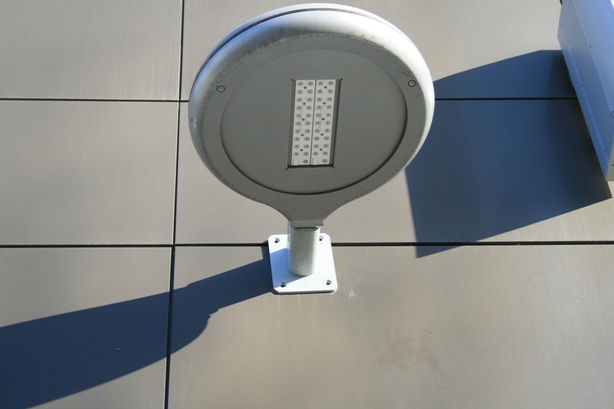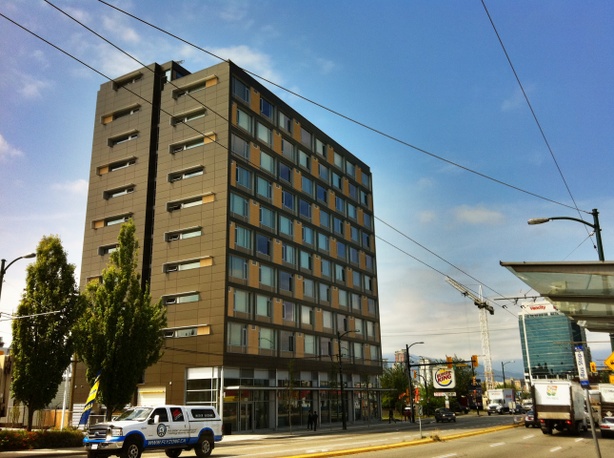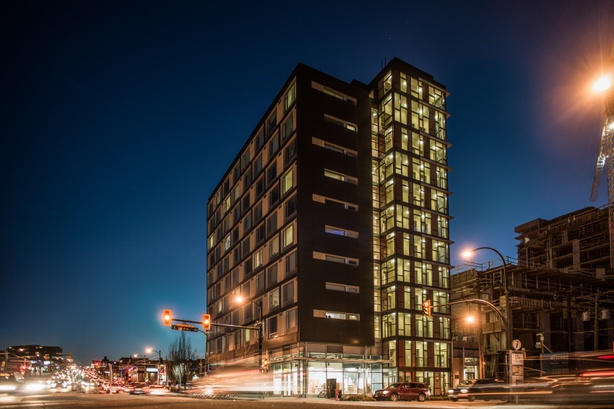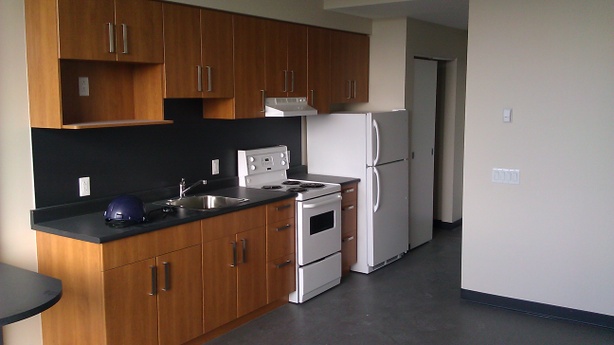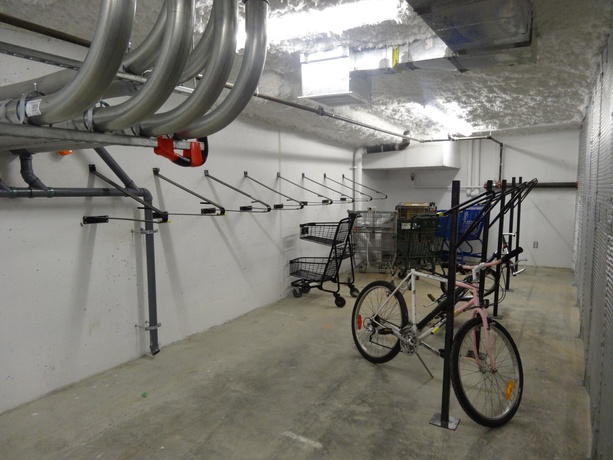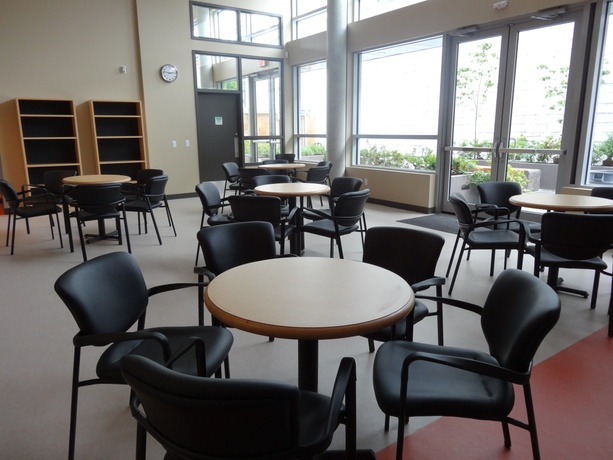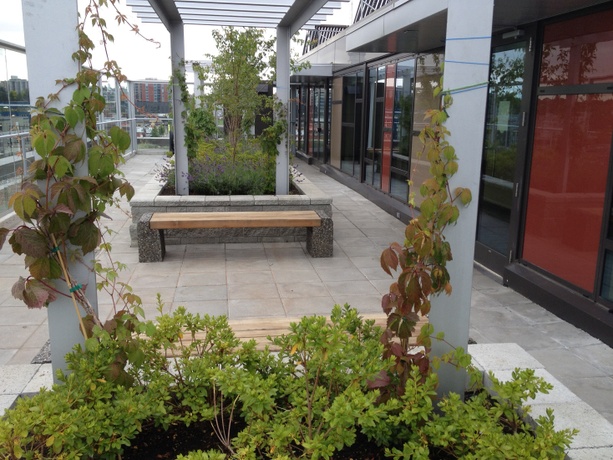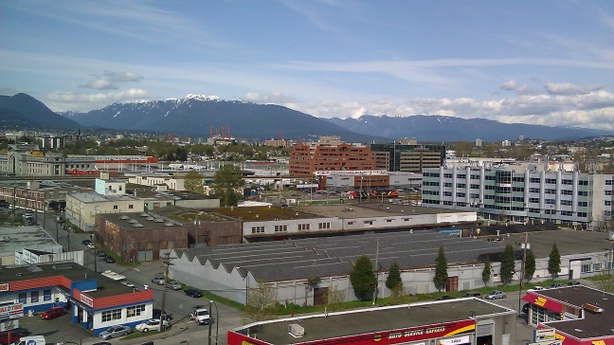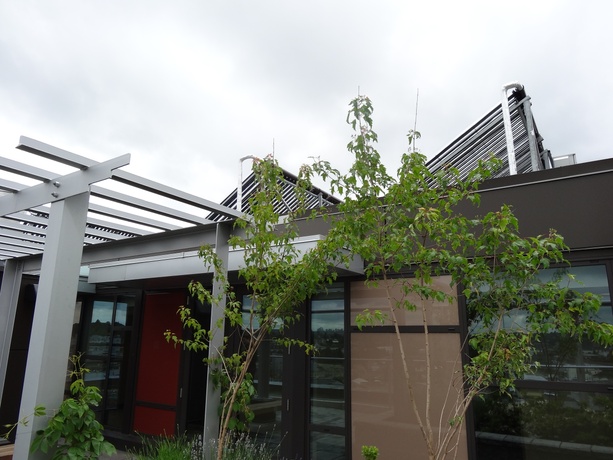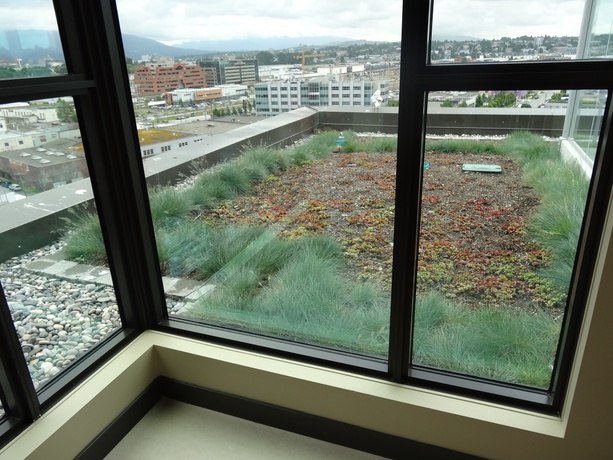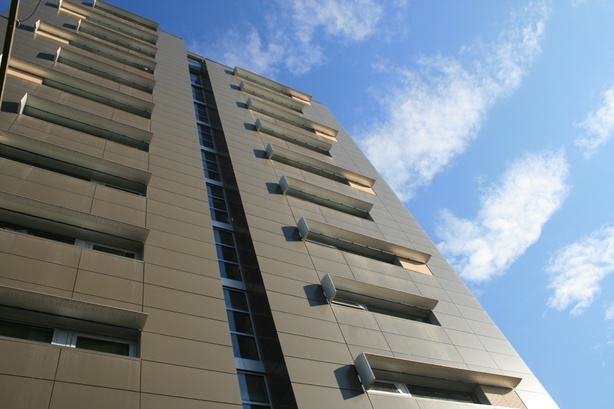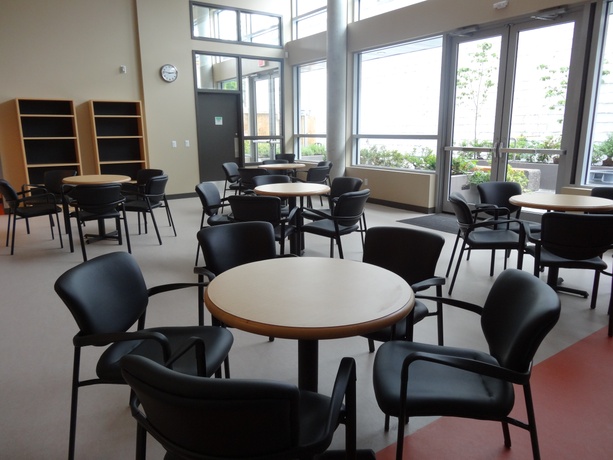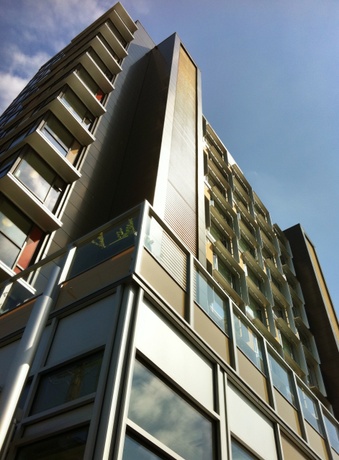 Audio Tour - Jeremy Murphy, Sustainability Solutions Group & Christine Williams, Lookout Emergency Aid Society
Summary
First Place was designed with the intention of creating a welcoming building that tenants are proud to call home. Specifically designed to house individuals who were homeless and having few, if any housing options, the features included in First Place contributes significantly to people successfully ending their homelessness, and provides them a home for life.
Operated by Lookout Emergency Aid Society, First Place is located at 188 East 1st Avenue. This multi-use project consists of 129 housing units in a 60,000 square foot 12-storey concrete building. The project includes below-grade parking, retail spaces as well as recreation and administration areas with integrated support services for people who are homeless or at risk of homelessness.
Designed to fit into its surroundings through a balance of residential expression of function and durability, the building was conceived as a home where residents are provided options for living, as well as options for privacy, individuality, socialization and learning, and with a sense of identity reflecting the community that lives there.
Tenants often are challenged with a variety of health conditions that isolate and stigmatize them. First Place incorporates activity and training space where tenants, with staff support, can improve their lifeskills, such as nutrition and wellness, through on-site community kitchens augmented by fresh organic herbs and vegetables grown by the garden club, or through participating in the walking club. Tenants participate actively in the building, through volunteering as fire wardens or their recycling programs, improving their health while practicing green environmental principles.
Notable Features
In-slab radiant heating
560 square foot solar collection area
4,500 square foot green roof
Participant in the Neighbourhood Energy Utility (NEU) Program
Green building materials and finishes
Vancouver Design Panel's list of "Exemplary Projects"
Pursued goal of carbon neutrality as far as budget would permit
At least 47% better than Model National Energy Code for Buildings (MNECB)
Virtual store of green cleaning products to support tenant ongoing green practices.
Integrated Design
The evolution of the project's design was facilitated by integrated design workshops, where all aspects of energy efficiency, natural ventilation and water saving strategies were incorporated. The building sought to provide the utmost in areas of carbon neutrality, energy, reduction of fossil fuels and other LEED requirements, in as far as possible within budgetary constraints.
Durability
A green building should be a durable and long-lasting building. First Place was designed to have a service life of 100 years. Spaces and uses were designed to be flexible over time to meet changing needs such as aging in place, changing family and resident mix, and the incorporation of adaptable and accessible units.
Fixtures and finishes were also specified with durability in mind. The project's flooring, for instance, is predominantly linoleum. Avoiding carpet in this case, avoids a potential allergen sink, maximizes durability and creates an ease of maintenance.
Energy and Greenhouse Gas (GHG) conservation
The mechanical systems at First Place incorporate the use of the Neighbourhood Energy Utility. This utility is a heat source for all on-site systems in non-commercial areas, providing heat for radiant floor, ventilation and domestic hot water. With the exception of the option of natural gas for a future commercial application within the retail footprint of the building, there is no use of natural gas on site for space or water heating. The accomplishment of this design goal greatly contributes to the project's savings of greenhouse gas (GHG) emissions.
It is important for a non-profit housing project to have efficient systems that are also durable. In response to this need, mechanical systems were designed for long life expectancy and minimal operator interactive requirements.
Additional opportunities for significant energy conservation at First Place come from the use of efficient lighting technology. Lighting systems were designed to exceed the requirements of ASHRAE 90.1 (2004) IES standards and recommended practices. The project utilized high efficiency indirect fluorescent lighting sources, electronic ballasts, and low voltage lighting control and dimming, with LEDs incorporated in the interior accent lighting. Exterior lighting on the building's perimeter and main entrance include compact fluorescent, metal halide and LED luminaires.
Controls for lighting systems also contribute to overall energy savings. Daylight sensing was integrated with the overall system to maximize energy conservation. Indoor lighting is controlled by lighting control such as occupancy sensors in all common rooms, with exterior lighting controlled by photocell with time clock override.
Water Efficiency
The plumbing design incorporated the use of low-clog dual flush toilets, low flow (1.5gpm) showers, low flow (1.0gpm) lavatories, and low flow (1.8gpm) kitchen faucets to address water efficiency goals set out by the Canada Green Building Council's LEED water efficiency credits.
Isolation valves were provided on every system, every riser and every fixture to enable maintenance to be completed on any portion of the system without interrupting service to other areas of the building.
Indoor Environmental Quality
Emphasizing daylight, ventilation and acoustic separation for a comfortable indoor environment.
Overall, the highly livable and comfortable spaces of First Place provide residents with ample daylight, views, and quality construction and finishes.
The need for light is a most human attribute. In response to this need, glazing was incorporated as much as possible to ensure substantial daylight brightens interior spaces, to create a warm ambience in individual and common areas. Natural light has been incorporated into each unit with extra height as well as into the communal living spaces and circulation with open-ended corridors. The elevator lobby on each floor offers residents views and surveillance of their surroundings. The vertical stairwells have been opened to the outside world with glazing, and the lower and upper rooftop decks provide excellent opportunities to connect to the outdoor environment for views and social interaction.
The team worked together to create a healthy and safe environment for tenants, free from VOC (volatile organic compound)-emitting materials with superior ventilation, smoke control and security.
The ventilation system was designed to provide ducted tempered outdoor air (O/A) to each suite at a rate of one air change per hour, with all other occupied spaces at rates equal to current ASHRAE standards (ASHRAE sets a series of well recognized standards and guidelines relating to HVAC systems).
The exhaust from each residential washroom is ducted back to a heat recovery section in the main ventilation unit to assist in energy and operational savings. Corridor ventilation was also provided to ensure most odours and sounds are contained within each suite.
With resident comfort in mind, the building was designed to the required levels of acoustic standards to protect from outside noise coming in, and between individual homes.
Particular attention was paid to ensuring high quality construction and finishes, which complements both the LEED program and Lookout Society's desire to foster highly livable and comfortable spaces that encourage resident interaction and care for one another.
Sources: Lookout Emergency Aid Society, Scott Construction Group, with design intent provided by project design team