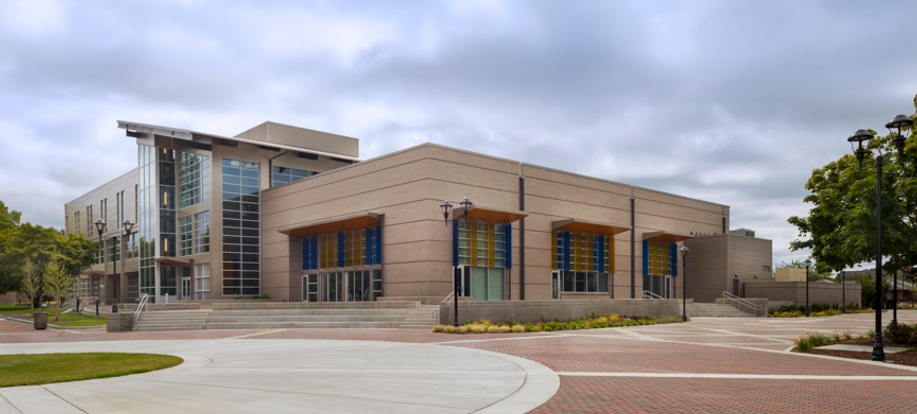 Centralia College TransAlta Student Commons
Certifications & Awards
LEED For New Construction - Gold
Project Team
Acoustical

: Sparling

Civil Engineering

: Saez Consulting Engineers Inc.

Structural Engineering

: PCS Structural Solutions

Landscape Architecture

: Gladner and Associates

LEED Consulting

: StudioPoint 253

Electrical Consulting

: Wood Harbinger Inc.

Mechanical Consulting

: Wood Harbinger Inc.

Design Architect

: Rovelstad Architects

Architect

: MSGS Architects

Owner

: Centralia College
Green Building Audio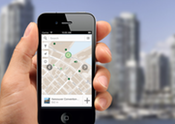 Targeting LEED Green Education Credit?
Our audio tours qualify.
Get one today!
style="font-size: 12px;">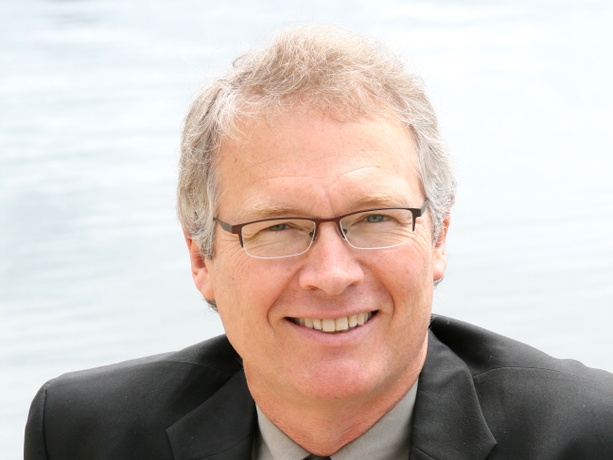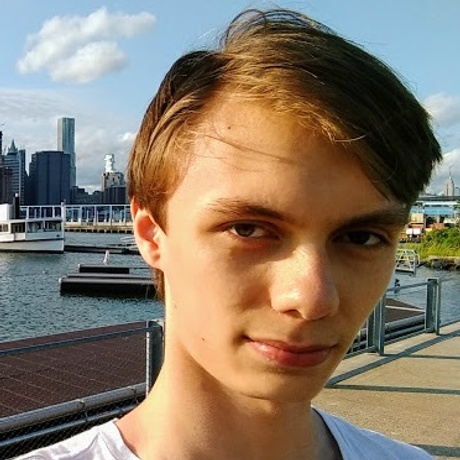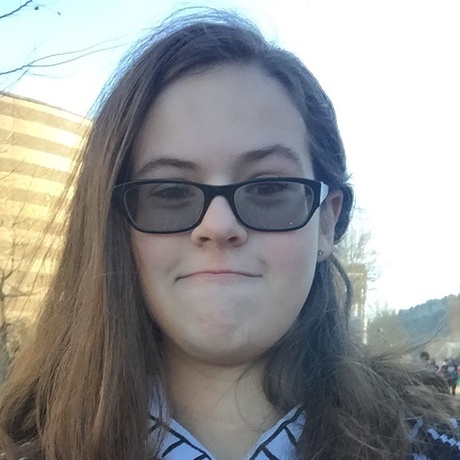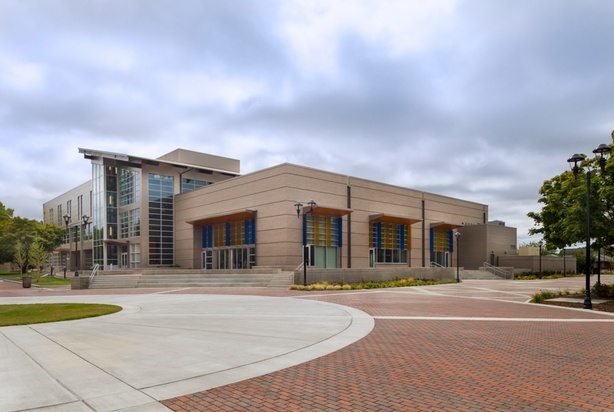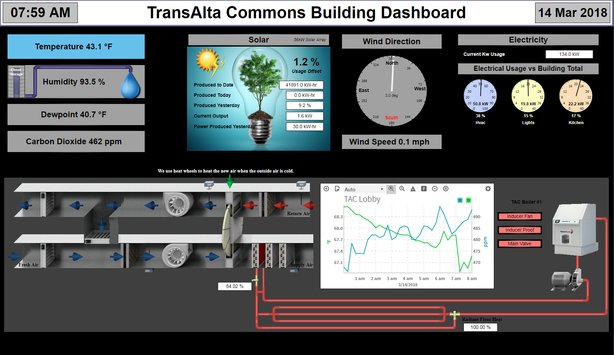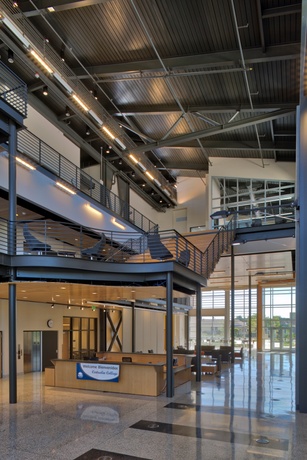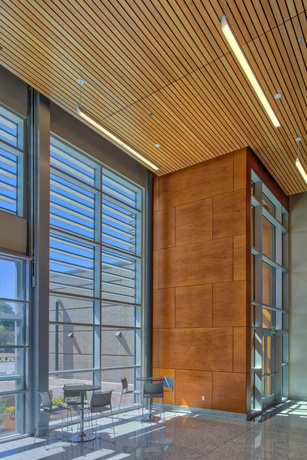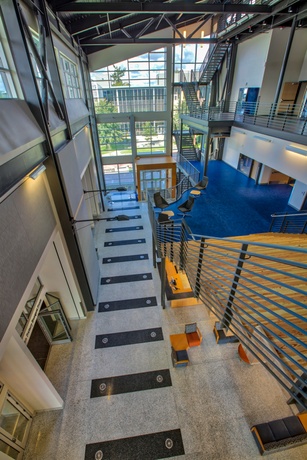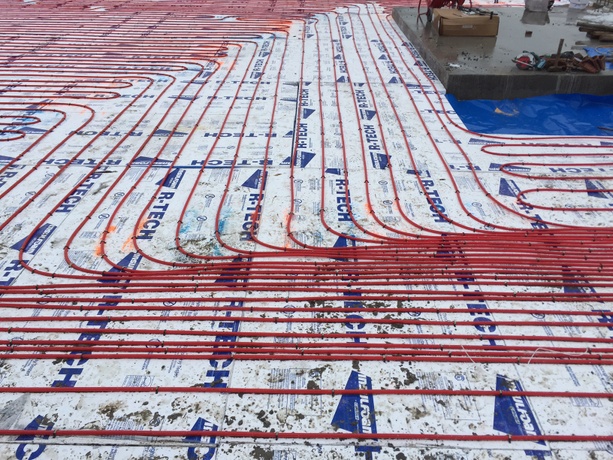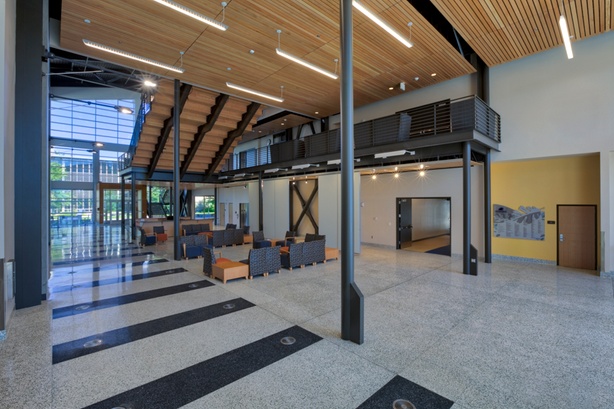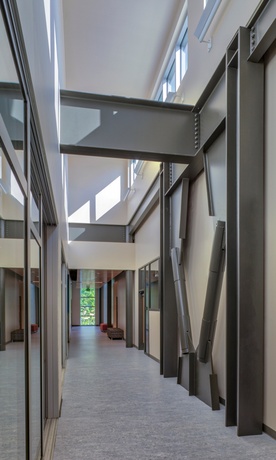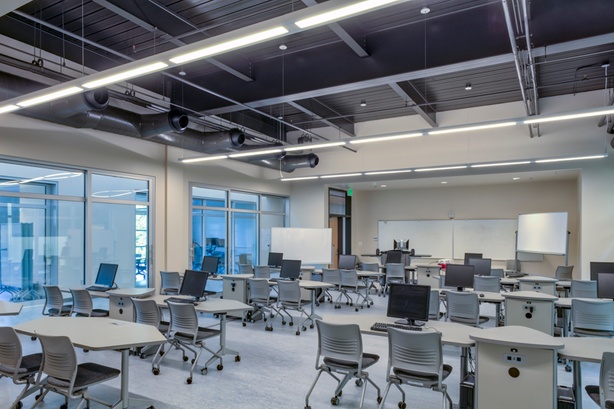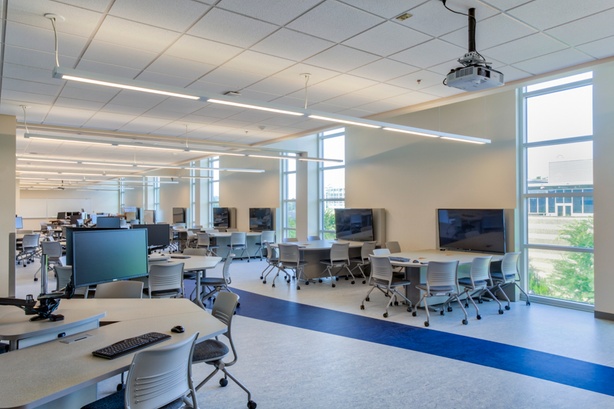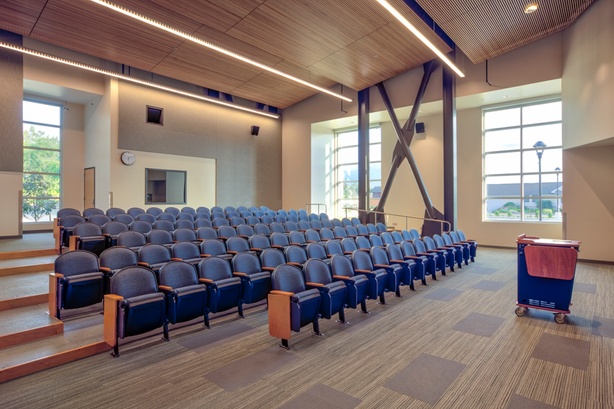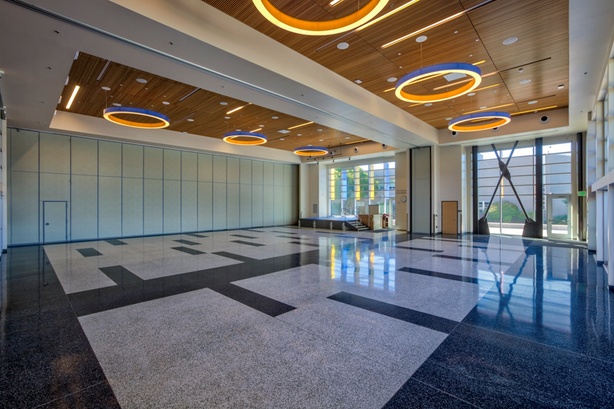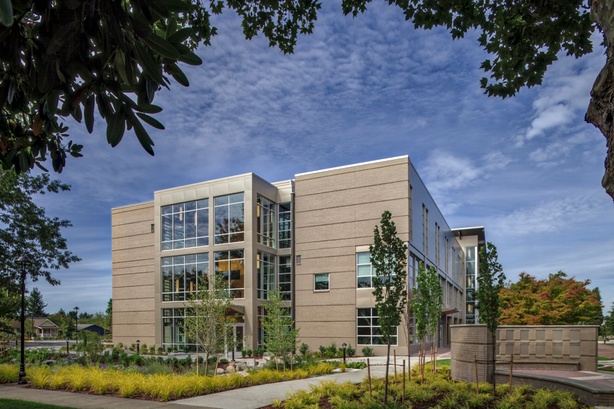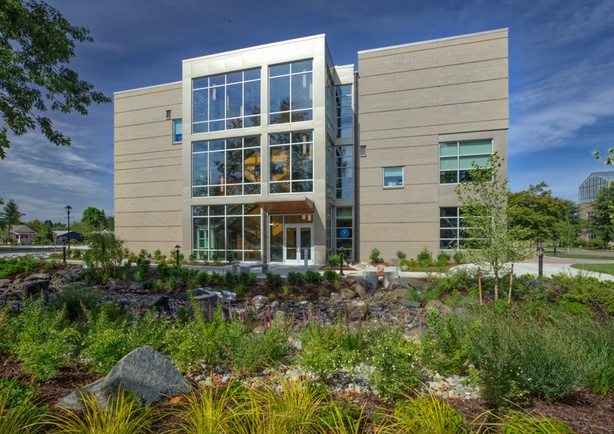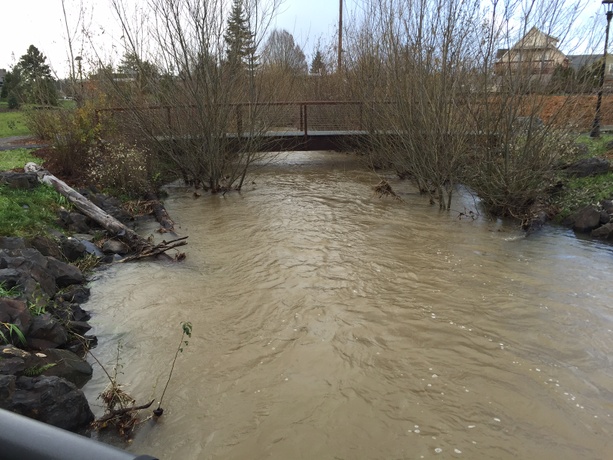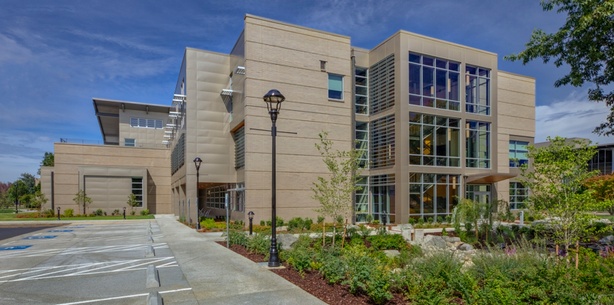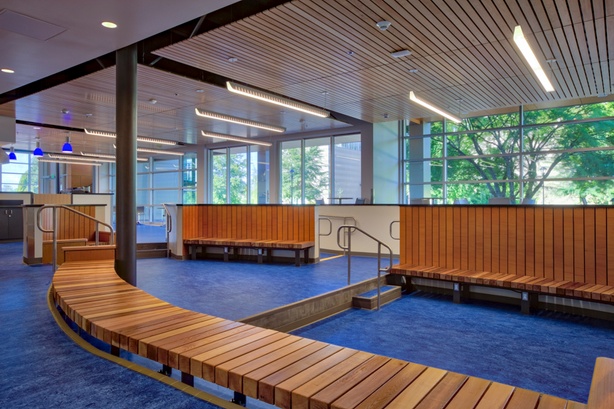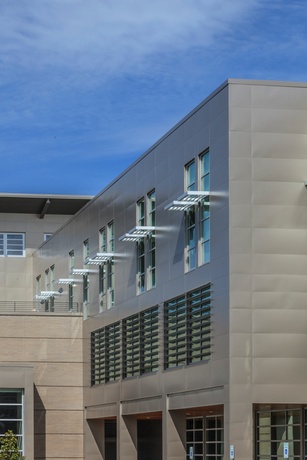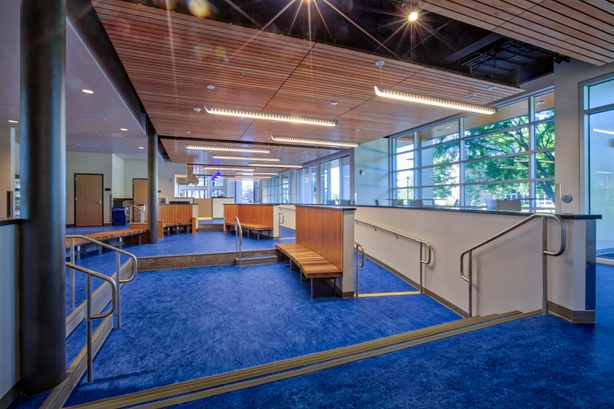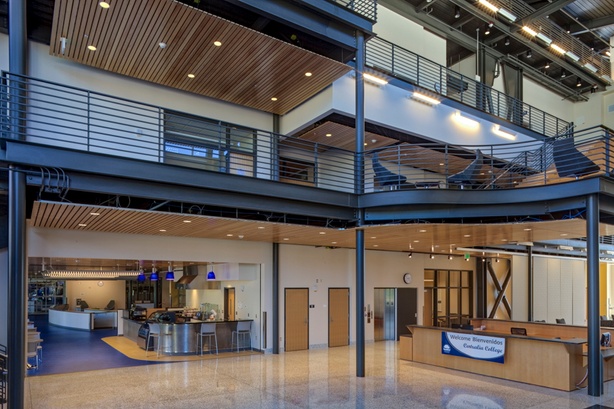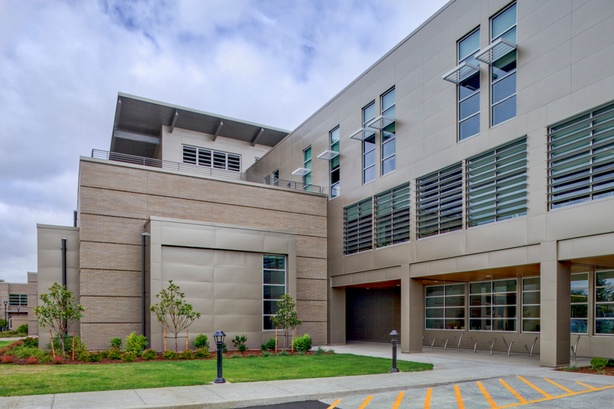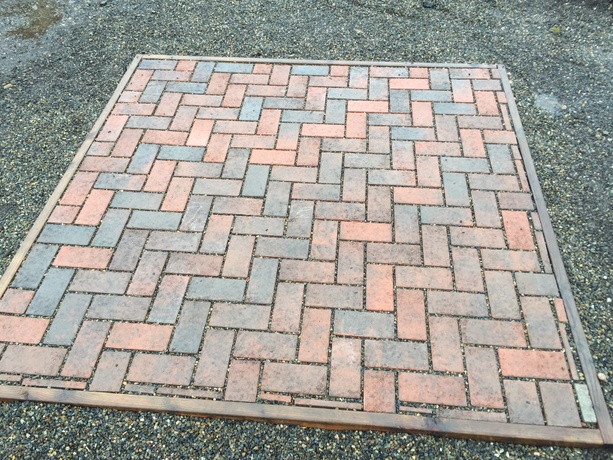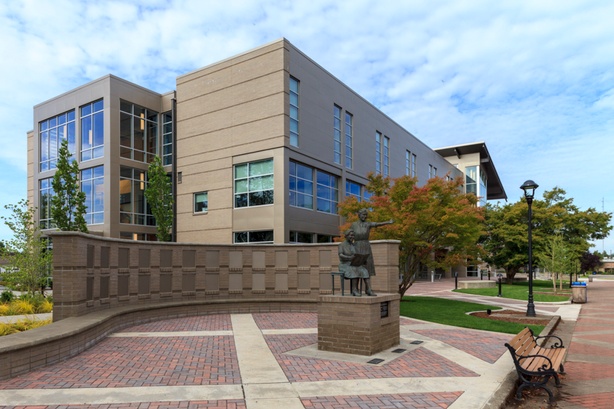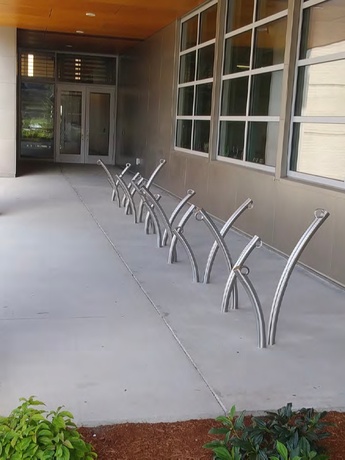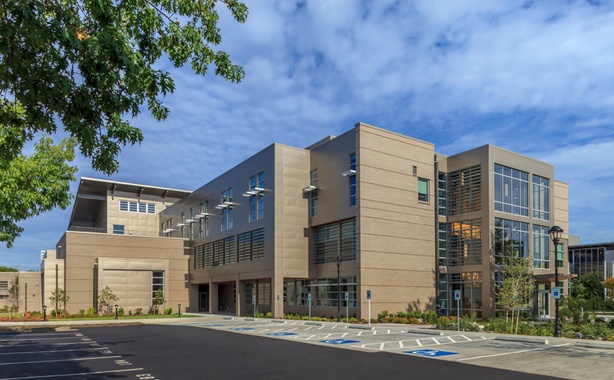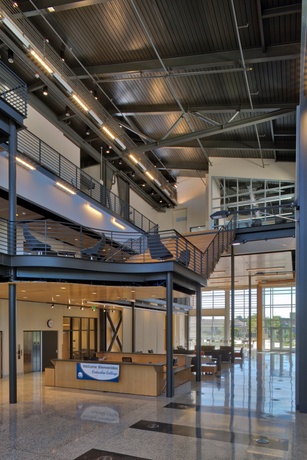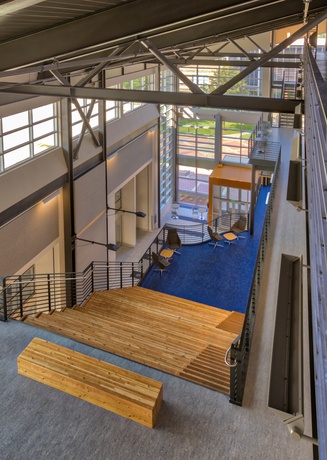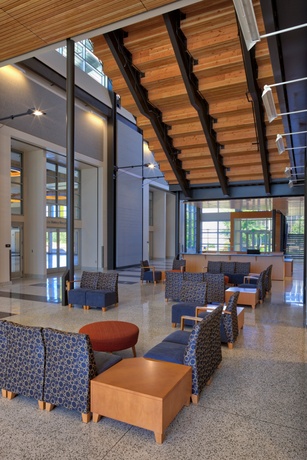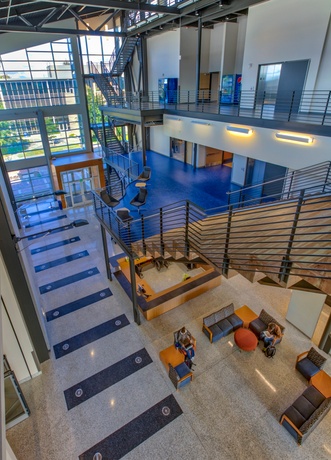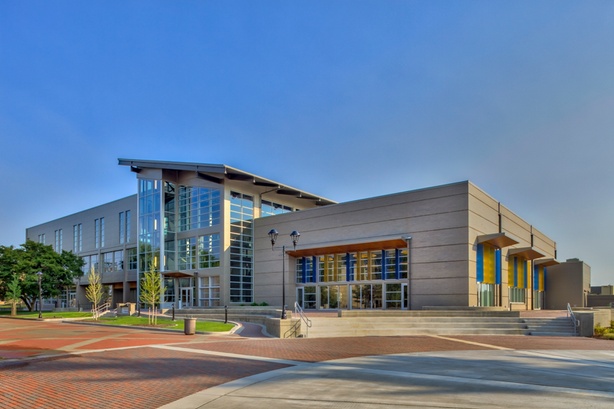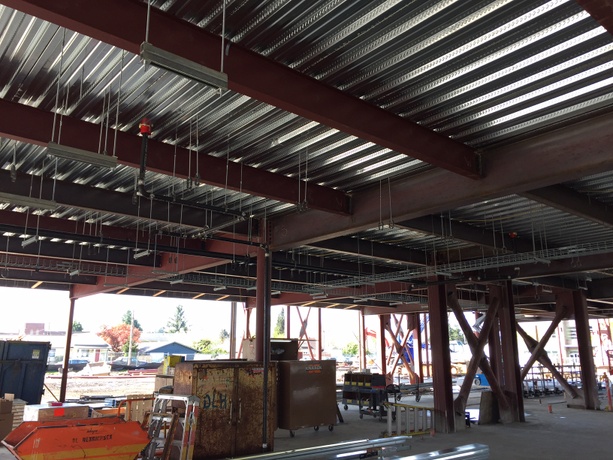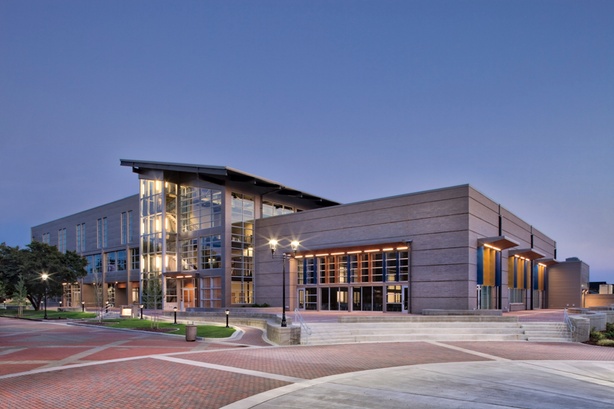 Bill Sloane of MSGS Architects, Ashton & Tyler, students at Centralia College
Summary
The Centralia College TransAlta Student Commons (known on campus as the TAC) features 69,873 square feet allocated over a three-story facility. The building features a bright and spacious atrium bathed in natural daylight and anchored by a striking suspended wooden staircase known as the learning landscape. In addition to providing updated classroom and office spaces, the building also functions as a hub for services needed by students, including the campus cafeteria which can be used as a 500-seat dining and meeting space, a bookstore, and offices for admissions, registration, and financial aid. The building achieved 3rd party certification via the US Green Building Council, at the Gold level in their Leadership in Energy and Environment Design (LEED) standard.
Green Building Highlighted Features
Proximity to public transit, facilities to encourage cycling and carpooling
Management of storm water through the use of a rain garden composed of native plant species, and pervious pavement and pavers
Extensive use of recycled building materials and a 97% diversion of construction waste
Extensive daylighting
Hydronic floor heating system combined with a variable refrigerant flow system
Air quality management system managed through a passive system of vertical lift doors and louvers
Sustainable Site
The building is centrally located on the college campus. With the large number of students who make their way to the campus every day access to sustainable transport is a major consideration. Local bus service provided by Twin Transit provides transit within Centralia and Chehalis, while the L.E.W.I.S. Mountain Highway Transit provides transportation to surrounding communities. Both of these bus services stop at the campus, less than a quarter mile from the TransAlta Student Commons. These provide affordable options for students, staff, and faculty to make their way to the college which reduces the demand for single occupancy vehicles.
The TAC also introduces 50 accessible bike racks surrounding the building. The bike racks are located on the north and south sides of the building, and to create an accommodating atmosphere for cycle commuters who may be discouraged by the rainy climate of central Washington they are covered by overhangs. Shower facilities are provided to further encourage cycling.
In order to further reduce the reliance on single-occupancy vehicles, the prime parking spots closest to the building are reserved for carpool and vanpool parking. Because there are so many options to reduce car use, the parking area does not exceed local zoning requirements.
This project incorporated a number of efforts to ensure site development impacts were lower than that of a conventional building. This includes using high-albedo roofing materials which are highly reflective or lighter in color than traditional roofing materials. This reduces the heat island effect typical in urban environments. The project also features a high amount of open space including both pedestrian-oriented plazas which students and staff can freely move though, as well as vegetated open space and a naturally designed pond.
Water efficiency
Water efficient landscaping
Centralia is built partially on a on a floodplain, while the TAC is not within the 100 year flood plain it is technically within the China Creek drainage basin. This makes storm water management a priority for both the city and for the Centralia College campus. Because a large building introduces a large amount of impervious surface area, managing storm water is a critical mitigation in preventing environmental impact.
The east side of the building features a rain garden. When it is not raining this attractively landscaped array of native species of plants and river rocks resembles a dry lake bed. When it is raining, the rooftop of the building, which has a slight slope towards the garden collects water which is drained by two large drainpipes into a stream which passes under the sidewalk and into the rain garden. After a heavy rainstorm the rain garden is briefly transformed into a small pond. The water then naturally infiltrates into the ground typically over the course of 8-12 hours. This treats the water that falls on the roof as a valuable natural resource rather than a just a problem to be dealt with. On clear days seating is provided for students to enjoy this natural environment.
The walkways and plaza areas surrounding the building are made with a combination of pervious concrete and pervious concrete pavers. The pervious concrete is immediately identifiable by its porous appearance. This type of pavement allows water to soak through it and into the soil below. Other areas employ previous pavers which are like cobblestones, that have gravel between them. The gravel allows water to pass through into the groundwater below.
The combined effect of the rain garden, and pervious paving prevents rainwater from flowing into the city's storm water system, which relieves stress on this critical infrastructure during times of heavy rain. This reduces the need for the city to construct larger storm drains and can prevent flooding in other parts of the county, and reduces the amount of standing water.
Water use efficiency
In addition to the innovative landscaping of the rain garden, and the use of native species of plants, further measures were taken to reduce the consumption of potable water for irrigation. This includes landscaping and the use of an irrigation system that uses weather sensors to use irrigation only when necessary. This lead to a reduction of potable water use of over 53%.
To ensure efficient indoor water use, the project engineers created a model estimating water use for plumbing fixtures. It was found that the TAC could save over 660,000 gallons of potable water by specifying low flow fixtures throughout the building, in the public washrooms, cafeteria kitchen sinks and showers as well as water-efficient toilets and urinals. This practical measure represents a 31% reduction in use and saves enough water to fill an entire Olympic swimming pool every year.
Materials and Resources
A building that provides dedicated areas for collecting and storing recyclable materials will encourage the people using the building to recycle. The TransAlta Commons building has extensive facilities for recycling, including space for bins throughout the building and a recent audit showed that half of the waste was being successfully diverted from landfills.
The building makes extensive use of wood including the large glued laminated timber (glulam) beams throughout the building and panels used on the desks and ceiling accents in the administration office. All of the wood used during construction was sourced from certified sustainably harvested sources. This means that the forests will be able to generate wood in perpetuity.
By using recycled materials when available, a market for waste diversion is supported. Over 35% of the materials used in construction was recycled. In addition to this extensive use of recycled materials the builders had a strong focus on responsible construction waste management, recycling over 97% of the construction waste generated by the building, thereby diverting it from landfills and reducing material consumption.
Energy Performance
Green buildings work as an entire system to ensure energy conversation measures work together. To ensure that the project was exceeding standard energy performance the design team conducted a whole building energy simulation. By employing efficient lighting and heating strategies the project was able to reduce total energy usage by a 30% over a conventional building, providing a substantial reduction in use of electricity and natural gas.
Anyone who walks into the Atrium will immediately be struck by the amount of natural light that fills the space. The architects included a large amount of window space in the building so that as much daylight would come in as possible. Research has demonstrated that when people feel connected to the outside they feel and stay healthier, and this feature of the building provides a good learning environment. The third floor of the building where most of the classrooms are, features clear story windows, which are vertical windows that function as skylights. This brings light into interior spaces including hallways and classrooms.
The natural light directly reduces the use of electricity. While every light fixture in the building uses light-emitting diode (LED) light sources. While these fixtures use less than a quarter of the electricity of traditional incandescent fixtures they also employ photo sensors to detect ambient light from outside. On a bright day the lights will shut off automatically which greatly reduces electricity usage.
In order to further reduce energy consumption, solar panels with a capacity of 56 kWh were installed on roof of the adjacent library building. These panels generate about 3% of the electricity used by the TransAlta Commons.
The mechanical systems of the building further reduce energy usage, especially in heating costs, where a 60% reduction in natural gas usage was achieved through the use of a hydronic heating system. This is a system which heats the floor with hot water pipes in the concrete. This is a highly-efficient system, which requires very little energy to keep warm. It also provides a great deal of comfort creating an even heat distribution. The building also makes use of a variable refrigerant flow system. This is a system of ducts that redistributes heat within a building, moving cool are to areas that are too warm, and warm air to areas that are too cool. The combination of these systems greatly reduces the energy used compared to a typical building using a forced air heating and cooling system.
Indoor Environmental Quality
In addition to harvesting of daylight and ambient heat mentioned above, the comfort of the internal environment is greatly impacted by air quality. Materials used in construction were selected to be low in volatile organic compounds (VOCs). Conventional paints, sealants, and adhesives include chemicals that release into the air, especially immediately following application. Traditional manufactured wood contains formaldehyde, and the wood selected for this building, including the glulam used extensively throughout the building, is formaldehyde-free. Many VOCs are harmful to human health in high concentrations, and can make people irritated and uncomfortable.
The building was cleared of all construction materials and debris and its ventilation systems run for two weeks through filters which were then replaced with new filters prior to occupancy to further ensure that air quality was not affected by construction.
A significant aspect of the building is the attention paid to keeping levels of CO2 within a healthy range. High levels of CO2 can easily occur during high-traffic periods, and can contribute to feelings of sleepiness which is not conducive to a good learning environment. The CO2 levels are managed through a clever passive system. The north end of the building features large vertical-lift doors which open automatically when CO2 levels get too high. Simultaneously, east-facing louver windows at the top of the atrium open. Because hot air will rise from the heated floors, a passive flow of clean air is brought into the building. This fresh air intake system also functions to regulate temperature and works along with the previously mentioned systems through a direct digital control system.
Energy usage and air quality are displayed in real time to anyone walking through the atrium through a building dashboard which is a large display showing energy usage, production from the solar panels, indoor and outdoor temperature and humidity, and the status of the heating and ventilation systems. The level of CO2 can also be viewed in parts per million. This dashboard functions as an educational resource the users of the building, giving them a moment to pause and reflect upon the care that was taken to ensure that the TransAlta Commons is not only providing them with a healthy place to learn, but is also minimizing its impact on the natural environment.