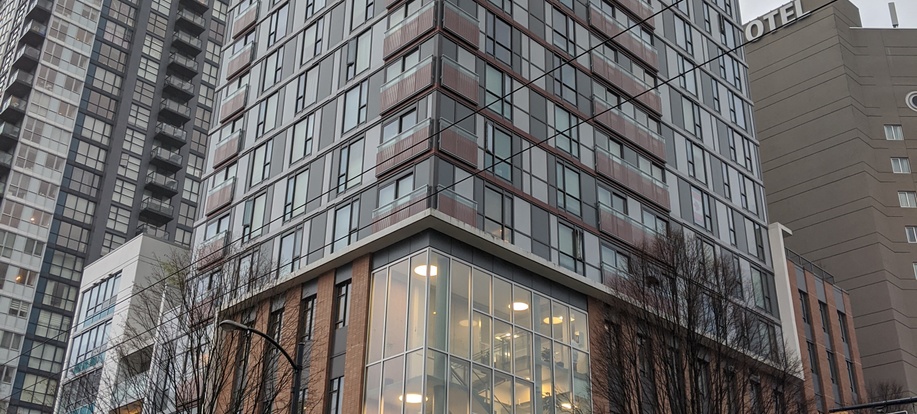 Project Team
Sustainability Consultant

: Recollective

Developer

: Wall Financial

Architect

: Endall Elliott

Norman Disney and Young

: Mechanical Engineer

Nemetz S/A

: Electrical Engineer

Citywest Engineering

: Civil Engineer
Green Building Audio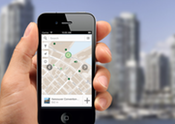 Targeting LEED Green Education Credit?
Our audio tours qualify.
Get one today!
style="font-size: 12px;">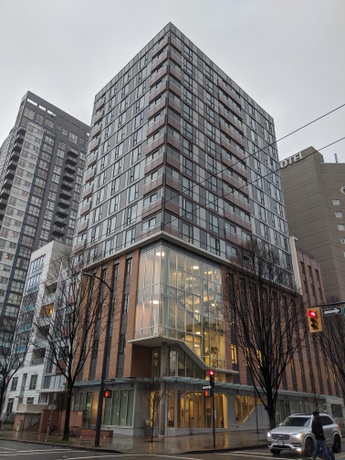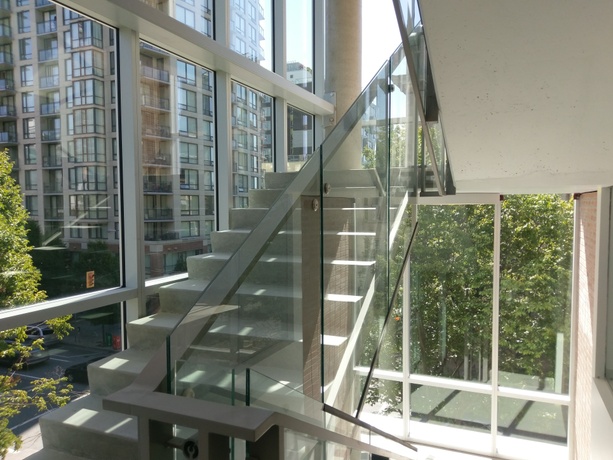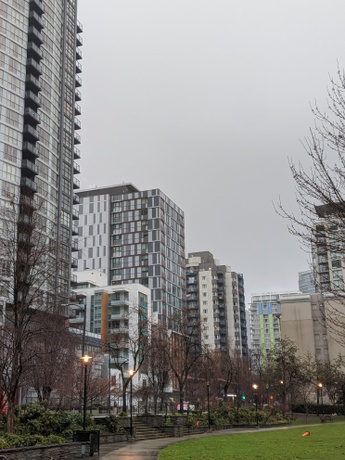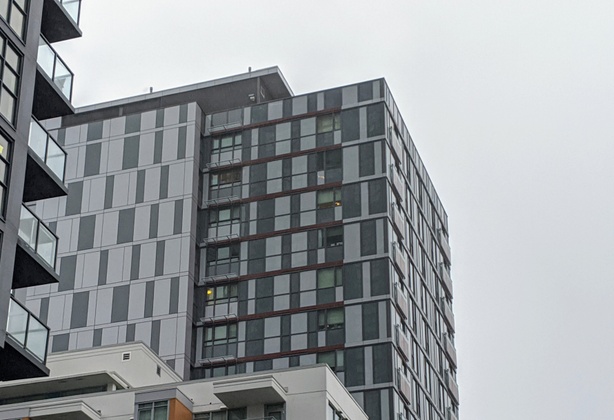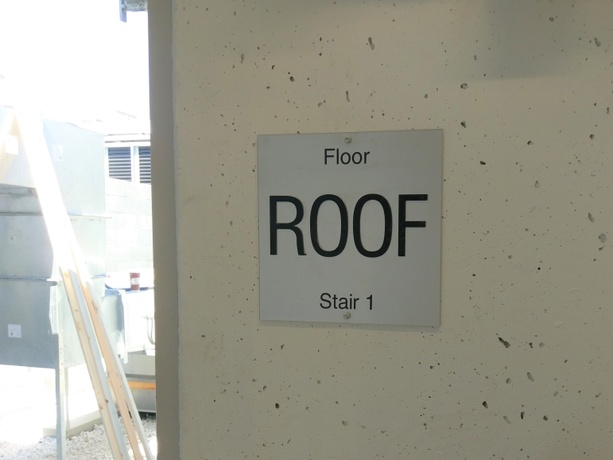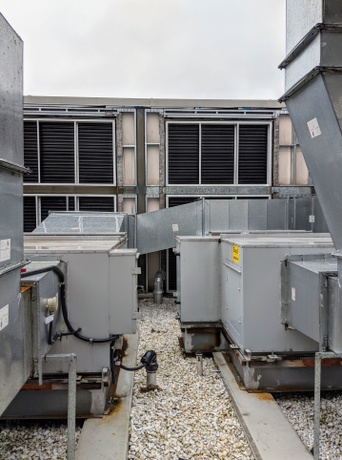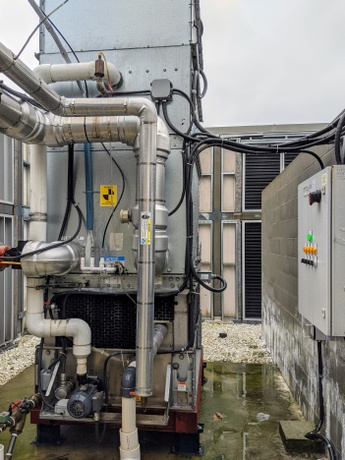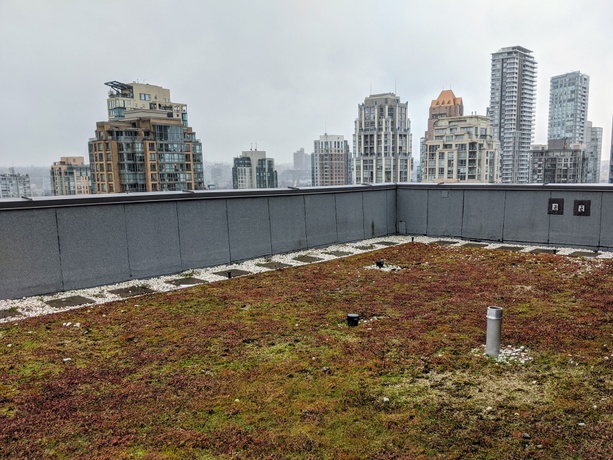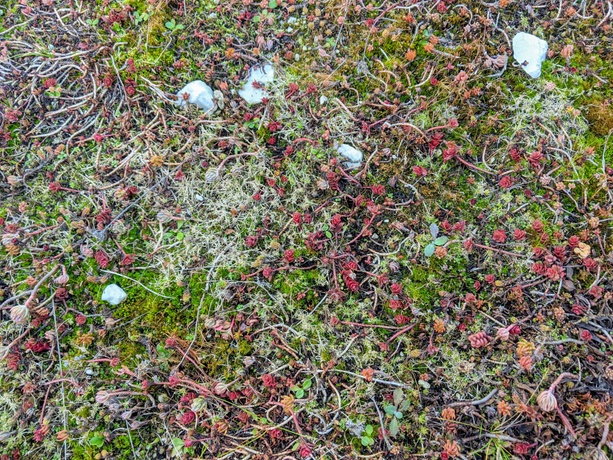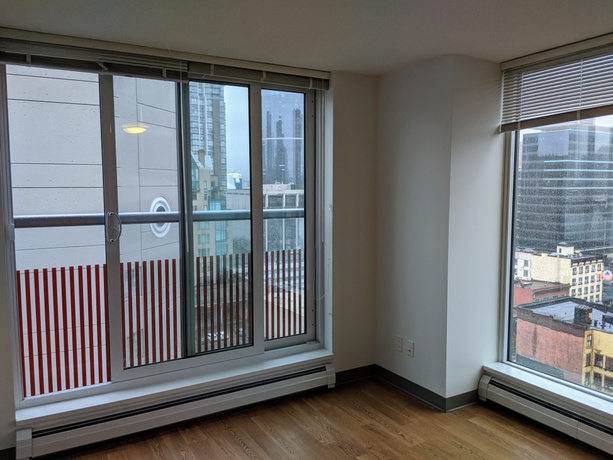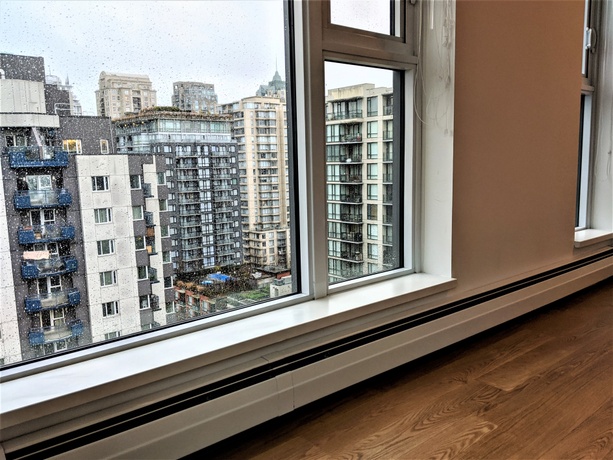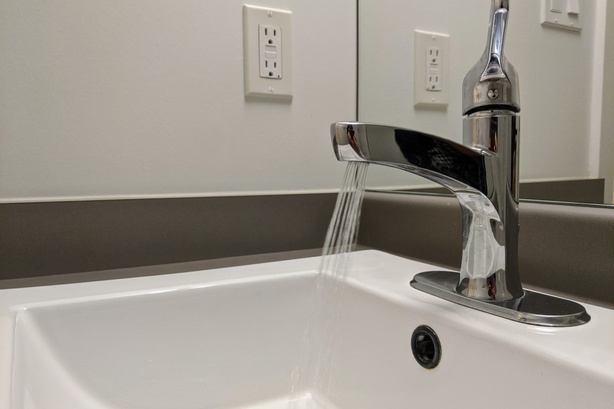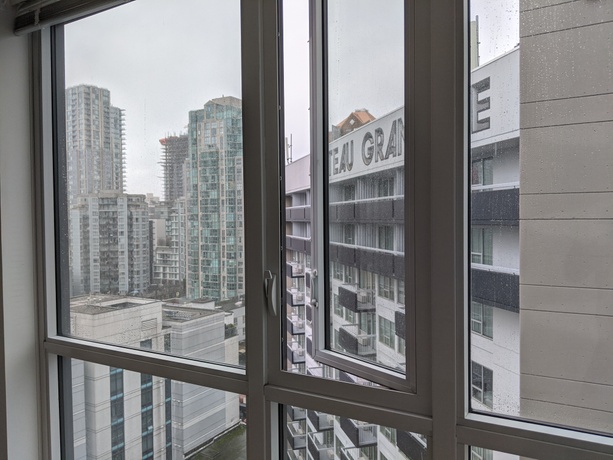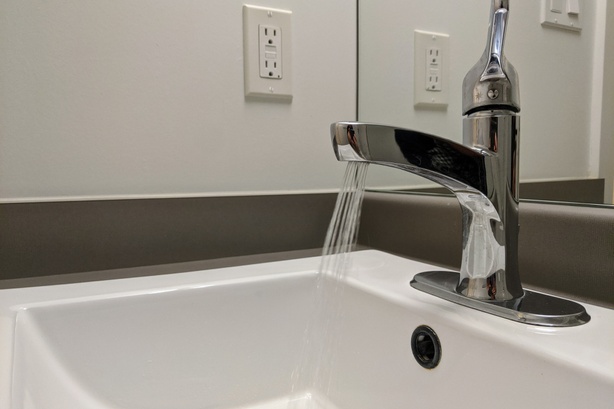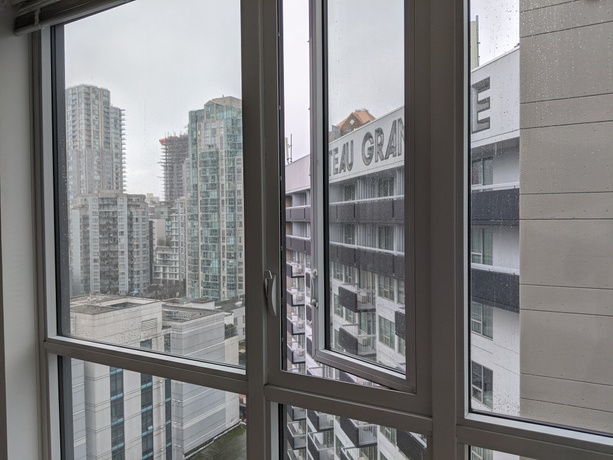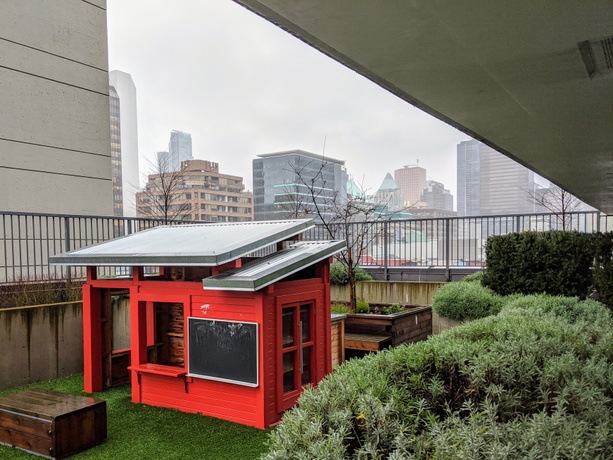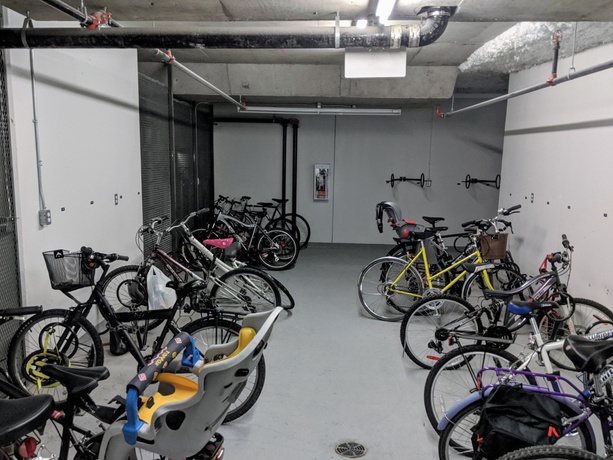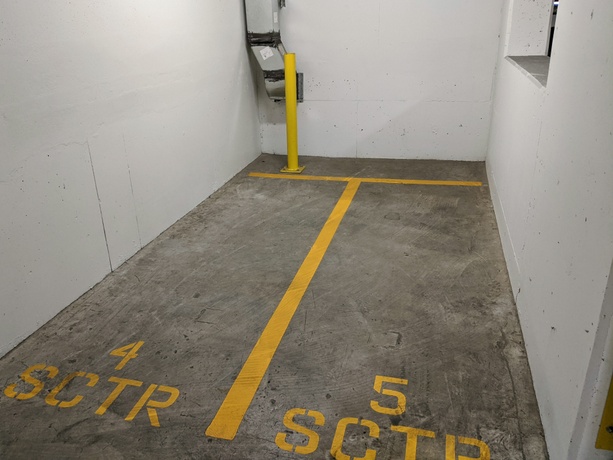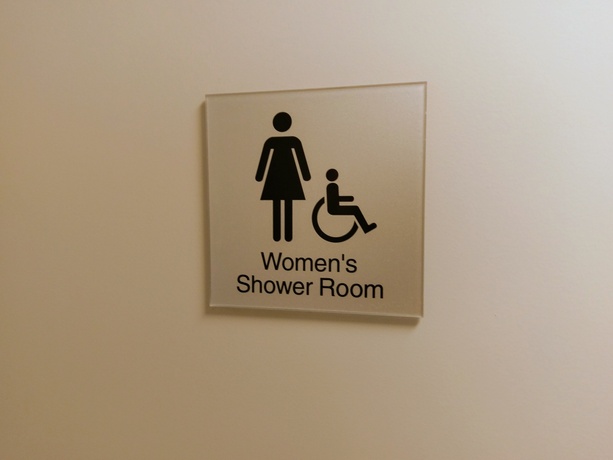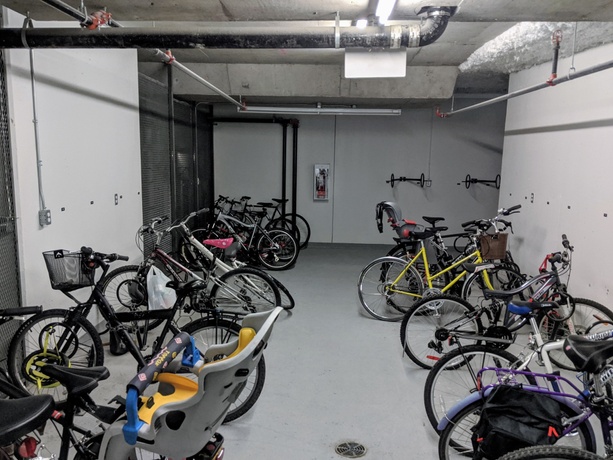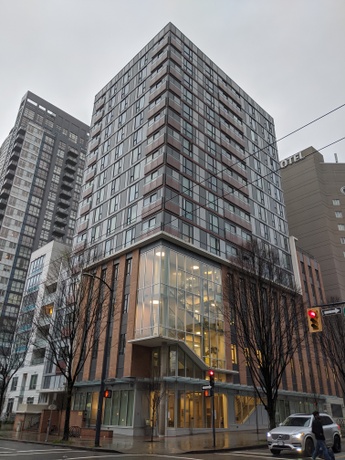 Chi Zhang of Norman Disney and Young Mechanical Engineers and Tim Tewsley of Recollective Consulting
Summary
This 15-storey affordable housing development is in the Downtown South neighbourhood at 1105 Seymour Street. It caters to low-income households offering 81 units, including:
· 18 studios
· 44 one-bedroom apartments
· 19 two-bedroom family apartments
The building is funded through Community Amenity Contributions, and will have service partnerships with Positive Living BC , AIDS Vancouver , and SWAN with non-profit space on the lower 4 floors.
The building was constructed by Wall financial corporation and is owned and operated by the City of Vancouver.
The project is targeting LEED Gold certification.
Key Sustainability Features
· Lowered parking requirements encourages residents to use transit or active transportation methods.
· Bicycle parking and shower facilities
· Electric Vehicle charging stations
· Green roof
· High-performance glazing
· HRVs in each suite
· Low-flow residential DHW fixtures
· Part of Vancouver's supportive housing strategy
Vancouver's supportive housing strategy
Vancouvers supportive housing strategy focuses on increasing supportive housing in neighbourhoods with significant homeless populations – while targeting specific populations (such as youth, women, seniors, and urban indigenous people).
Sustainable Sites
The location of this project right in the urban core provides easy accessibility to extensive services and amenities, such as transit, shopping and medical care. Channeling development to urban areas with existing infrastructure makes the best use of our limited land resource and preserves habitat.
Employees and tenants are provided with bicycle parking, change rooms and showers to encourage cycling.
Outdoor amenity spaces provide an intermediate space between private and public realms for tenants and their families to relax, play, and form community bonds.
A green roof at the top level extends the service life of the roofing, provides some habitat for wildlife, and detains a modest amount of stormwater. The green roof plantings are a variety of sedums, a low-water use species that can go dormant in the summer to survive the dry season.
Building Materials & Resources
To meet energy efficiency standards and be sufficiently durable, the building envelope must be properly designed for moisture management. A durable building plan was created for this project, with ongoing inspections during construction to ensure the roof, walls and various other building envelope components were correctly built.
The construction team worked diligently to divert as much construction and demolition waste from the landfill as possible, resulting in over 85% waste diversion to re-use and recycling.
Installed products contained a high percentage of recycled material, or were harvested and manufactured regionally to reduce the carbon footprint associated with material transport.
Envelope
High performance glazing was used with average center of glass insulation level of U-0.32. Roof insulation was an average of R-28.
Energy
The building at 1105 Seymour street was designed to achieve 36% energy savings with respect to an ASHRAE 90.1-2007 reference building.
The predominantly LED-based lighting design reduced overall lighting power requirements, and used lighting controls such as occupancy sensors and dimmers to further reduce electrical usage.
Energy required to heat domestic hot water was reduced via low flow water-conserving plumbing fixtures, with hot water provided by high-efficiency gas-fired boilers.
Commercial and common area air handling units are equipped with variable frequency drives (VFDs) allowing them to adjust fan speed based on demand.
The heat in residential suites is provided via radiant hot-water baseboards and suites are ventilated with heat recovery ventilators (HRVs). These ventilation units use the heat in exhaust air to pre-heat incoming fresh air, resulting in a system that recovers well over 50% of the outgoing heat.
Indoor Environmental Quality
HRV units provide a constant stream of fresh, filtered air to every unit.
Low-VOC paints, coatings, adhesives and sealants were used in the construction of the project; these choices will contribute to healthier indoor air quality by reducing off gassing of chemicals into the interior spaces.
Floorscore™ certified flooring was installed in this project. Products certified to this standard are third party tested and ensure occupants are not exposed to identified chemicals of concern.
Air Tightness for Indoor Air Quality
Multi unit residential buildings pursuing the Leadership in Energy and Environmental Design programme are required have strict air tightness requirements that are verified with an air leakage test prior to the construction finish stage. Each suite has a carefully detailed, continuous air barrier, with its construction coordinated between trades to ensure minimal gaps. This design inhibits the migration of smoke and other odours and helps mitigate the potential for sound transmittal and pest migration between suites.